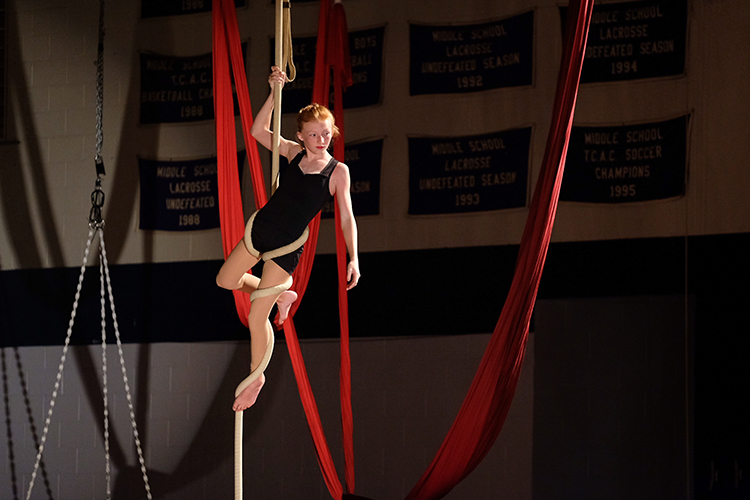 The City of Vero Beach Recreational Department recently hosted a high-flying Heroes & Villains-themed 48th annual Aerial Antics Youth Circus performance in the gymnasium of the Gonzalez-Lobo Activities Center at Saint Edward's School.
More than 200 children from the Aerial Antics Camp and Performing Arts Department shared the spotlight, showcasing the talents of local participants in the gymnastics, dance and circus instruction programs, with some also stepping into the limelight for a solo trick.
The non-competitive Aerial Antics program enables participants from age 3 through young adults to take part in programs at the Centerstage Acrobatics Complex and, twice yearly, demonstrate all that they have learned. The Recreation Department's philosophy utilizes fitness benefits to "promote self-esteem, leadership and performing experience through skill-building and positive encouragement."
The summertime Aerial Antics Circus is the culminating activity of the nine-week summer camp and incorporates dance techniques with acrobatic elements showcasing strength, balance and flexibility. Choreographed dance moves were enhanced with partnered adagio tricks that flex the students' strength.
Aerialists performed jaw-dropping feats high above the mat – on the trapeze, Roman Rings, Spanish web, aerial hoops, silks, and various other aerial equipment.
The multi-day performance featured villains and heroes performing the routines choreographed to iconic music that dramatically gave rise to the imagery of such heroes as Superman, Batman and the Ghostbusters, all battling the villainous evil that lurks.
The dynamic team of instructors determines each Aerial Antics theme, explained Patty Howard, assistant recreation director. Her cohorts are Angie Holshouser, Julie Norman and Liz Matthews.
"Every year, we all come with ideas. We look at music selections and what we think we can do as far as choreography. Then we pick the one that resonates with us all," said Howard.
She added that after nearly 50 years' worth of performances, the most challenging part for them is coming up with something that they haven't already done.
Howard, who is herself a product of the program, said the value goes far beyond the tumbling mats. It keeps children active, helps them build strength, and gives them something to do during the summer, after school and during spring break.
"It's also an opportunity for an arts education that a lot of these kids wouldn't otherwise have. It's a very unique program. I don't believe there's another recreation department in Florida that does something like this," said Howard.
"Most of all, these kids have the best time. They have so much fun. They are proud of themselves, and it builds their self-esteem," she added.
Kennedy Torrent, home from the University of Central Florida for the summer, agreed wholeheartedly. The 19-year-old first tumbled onto the Aerial Antics mat at just 3 years old and recalls that when she first started, she was shy and afraid of heights.
Last year, just days before the summer performance, Torrent sustained an injury and couldn't perform. While heartbroken, she said it just made her work harder so that she could come back.
While she loves the thrill of performing, Torrent said she comes back year after year because of her fellow participants.
"I grew up with these girls. I consider them my sisters," said Torrent, a computer science major.
"What I've learned in Aerial Antics has carried over into college. It's a great way to meet people who are into what you are into. I immediately found a dance team and knew they would become my people right away," said Torrent.
Fall gymnastics and aerial registration will be held on Aug. 20, beginning at 8 a.m. at Leisure Square with participants performing in the annual Aerial Antics Holiday Drama on Dec. 4 at the Vero Beach High School PAC. The Recreation Department will also host the 62 annual Halloween Parade and Costume Contest on Oct. 29.
For more information, visit covb.org.
Photos by Joshua Kodis and Stephanie LaBaff