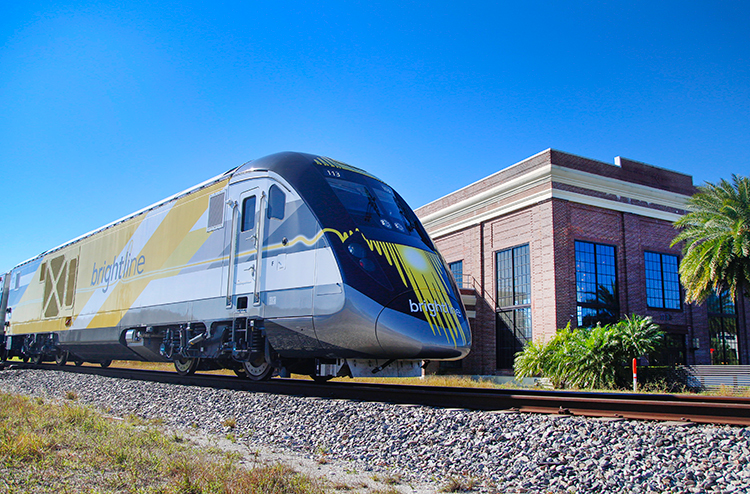 Brightline won't complete construction on its $2.8 billion extension of high-speed passenger train tracks to Orlando by the end of 2022, as once expected, a company spokeswoman said.
Instead, construction on the 170-mile-long extension will continue into 2023 and the initiation of passenger service between South Florida and Orlando will be pushed back further into next year.
"We expect to reach substantial completion in early 2023 and begin revenue service shortly thereafter," Brightline spokeswoman Katie Mitzner said last week.
However, the $33 million replacement of the 97-year-old St. Sebastian River Railroad Bridge is still expected to be completed by the end of this year, Mitzner said in an emailed response to questions.
As recently as July 25, Brightline's construction advisories reported Brightline intended to complete construction on the high-speed train tracks to Orlando by the end of 2022.
Brightline is improving the Florida East Coast Railway tracks from West Palm Beach to Cocoa and building new tracks along State Road 528/Beachline Highway from Cocoa to the Orlando International Airport.
The project includes installing a second set of tracks in the FECR right-of-way and upgrading the safety measures at railroad crossings to meet Federal Railroad Administration standards for high-speed passenger trains.
Brightline has engaged in construction activities throughout downtown Vero Beach for several weeks.
On Monday, Brightline closed the railroad crossing at 16th Street/17th Street through Sunday, August 28 for the installation of a second set of tracks and a variety of safety mechanisms and signs.
Traffic is being detoured to the 12th Street railroad crossing via U.S. 1, Brightline's August 3 construction advisory says.
Brightline also closed the 65th Street railroad crossing in Winter Beach from Friday (Aug. 5) through Aug. 19. In addition, Dixie Highway will be closed north of 65th Street from Saturday, Aug. 13 through Aug. 19.
Once the project is complete, Brightline plans to operate 32 passenger trains per day at speeds of up to 110 mph through Indian River County en route between Orlando and South Florida.
In South Florida Brightline currently operates passenger trains at speeds of up to 80 mph with stations in West Palm Beach, Fort Lauderdale and Miami.