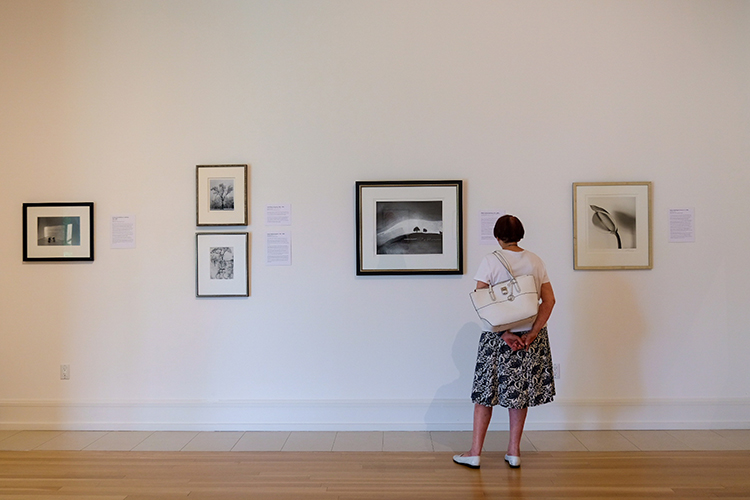 The Masters in Black & White exhibition at the Vero Beach Museum of Art, a little gem of a show, is on display through Sept. 11 in the Stark Gallery, featuring selections from the vintage photography collection of Vero Beach resident Elizabeth Stewart.
"She's really a very active and generous collector to us at the museum," says Anke Van Wagenberg, VBMA senior curator. "She's been collecting this vintage photography of masters from the past and today. The works are magnificent. It's great fun to work with such a knowledgeable collector."
Van Wagenberg says Stewart allowed her to select which pieces to include.
"That's always the hard part. I tried to collect and display attractive images for a wider audience. We always try to please everyone," she explains.
"We have a lot of summer campers in the building. And I thought all of these works were really appealing to a wide audience, from still life to landscapes. Some landscapes are very pictorial; they're almost painterly."
Children are likely to be drawn to two in particular.
"That little boy with the wine bottles is one of my favorites. Henri Cartier-Bresson (1908-2004) is a very famous French artist," says Van Wagenberg.
"Rue Mouffetard" 1954 brilliantly showcases why the artist was renowned for capturing street photography at what he called "the decisive moment."
In it, a little French boy, attired in belted oversized shorts and a sweater, his knobby knees and hands displaying a residue of grime, walks toward the camera with a self-satisfied grin, enormous wine bottles cradled expertly on each arm, as two little girls look on, seemingly with glee.
"That's a very classic image," says Van Wagenberg. "And he's such a naughty boy. I think he maybe stole those bottles and he's extremely proud to have taken them."
Children are also the centerpiece in "Broken Mirror" c. 1940, taken by American Helen Levitt (1913-2009), this time in New York City's lower East side.
It, too, is an excellent representation of street photography, capturing a slice of urban America. In the foreground, a group of very young boys plays together by a street curb, as behind them, adults and older children carry on with their daily lives.
What's immediately striking, especially in light of today's helicopter parents, is the element of danger.
"I think it's a broken mirror frame that they're holding. It's almost as if they're posing for a picture, like it comes so naturally to them," says Van Wagenberg, referencing a toddler on a tricycle, perfectly positioned within a frame held upright by two, only slightly older, boys.
One boy, standing in the street with his back to unseen traffic, and another squatting on the curb are picking up broken mirror shards with their bare hands – yipes.
Of those with a still life quality is "4 Apples" 1983 by German-born Lilo Raymond (1922-2009), who entered the Greenwich Village art scene after fleeing Nazi Germany.
A master of shadows and light, Raymond's depiction of four apples on a tabletop, suffused by light, is representative of her minimalist style.
"It reminds me very much of a 17th century Dutch still life, where artists in genre painting would take very ordinary objects and make them into something special; see something else in them," says Van Wagenberg.
Hungarian-born André Kertész (1894-1985) emigrated from Paris to escape Jewish persecution. He also landed in Greenwich Village, eventually residing in a top floor of 2 Fifth Ave., where he used a telephoto lens to take a series of photographs, including "Washington Square Park" 1954.
"That's the view from his window. He's one of my favorite artists," says Van Wagenberg. "That image, with all the spirals, reminds me very much of a design for a New Yorker Magazine cover."
Shot from above, the composition is awash in spirals, from its snow-covered paths, on which can be viewed a woman in the top left and a man more central, to the curvatures made by benches, fences, decorative streetlights, and even the curvature of the leafless trees.
"I thought it was so interesting," says Van Wagenberg. "He was very much part of this bohemian culture. It really is fantastic art."
Of course, there are a couple by the legendary Ansel Adams (1902-1984) including "Oaktree, Snowstorm, Yosemite Valley" 1948 of a magnificent oak tree whose snow-covered branches are captured in lacy grandeur.
"That's a favorite because Ansel Adams was so instrumental in developing photography as an art form. He considered using the camera almost like a paintbrush," says Van Wagenberg.
"He was commissioned by the government to go into the National Parks and photograph them. He was the first artist to do that, so it's really of significance."
"Mt. Williamson, The Sierra Nevada, from Manzanar, California" 1944 was taken at the Manzanar War Relocation Center, where Japanese Americans were incarcerated.
"There are lots of pictures from other photographers there, but they always took pictures of the camp and the people living there," Van Wagenberg explains.
"But this is a picture looking out of the camp; so actually, the view of the Sierra Nevada mountains, the view that the people who lived in the camps had."
Against the majestic mountains, the bleakness of that camp life is underscored by the rocky barrenness surrounding them.
"He always had very original ideas and original viewpoints," says Van Wagenberg.
Another exceptional photograph is "Two Trees on Hill with Shadows, Paso Robles, California" 1974, by American William Garnett (1916-2006). A pilot with some 10,000 hours of flying, Garnett was an early aerial photographer.
"That's such a great photograph. It looks so painterly," says Van Wagenberg. "And actually, what you see is the shadow of the trees seen from above. It's an aerial view of the edge of the cloud landscape."
The curved lines, seemingly pencil-drawn, that swipe above the trees, she explains, are the plow lines on the landscape.
"So you're looking at the trees as if they're seen from the side, but they're actually seen from above. You're looking at the shadow. It's a really very clever image," she says. "Not a lot of people had done this for artistic photography."
Among works by living artists is "Portraits of Solitude" 2004 by Sebastião Salgado, born in Brazil in 1944, which captures the splendor of an Antarctic iceberg, seemingly carved, Salgado says, as a medieval castle.
The joy of dance comes into play in "Lo non ho mani che mi accarezzino il volto (There are no hands to caress my face)" c. 1960, by Italian Mario Giacomelli (1925-2000).
Photographed from above, it's a study of black and white, as a group of men in long black cassocks, seen against an all-white background, joyfully dances in a circle.
"He was commissioned by the Catholic church to photograph life in monasteries and seminaries," says Van Wagenberg. "So these are young men studying to be priests, and this is what they do for fun."
An entirely different dance form is portrayed in the iconic "Martha Graham, Letter to the World, Kick" 1940, by American Barbara Morgan (1900-1992), whose relationship with Graham lasted more than six decades.
"It's a classic image; the silhouette, the dance, and the motion. It's amazing," says Van Wagenberg. "It's such a composition. It became an iconic image in their careers; for the dancer as well as for the artist."
Van Wagenberg says she chose "Carey, Farmington, Georgia" 1996 by American Mark Steinmetz (b. 1961) as the quintessential summertime image, portraying a young woman in a simple frock seen resting on a grassy field.
"And even without summer colors, you know what the colors are. You don't miss the colors in most of these images," she says.
All works were made using the gelatin silver print medium, an analog process introduced in the 1880s. A description at the entrance to the exhibit includes a QR Code to access a video about the process.
For more information, visit VBMuseum.org.
Photos by Joshua Kodis