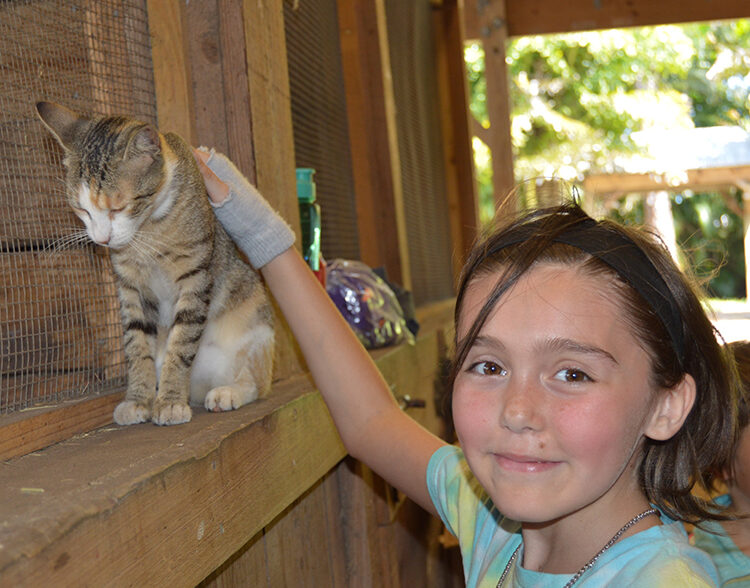 The pitter-patter of children's feet mixed with the clomping of horses' hooves and squawks of exotic birds at the seventh annual Back to School Family Fun Day hosted by LaPorte Farms in Sebastian. The summertime event is always a great way to get little ones geared up and excited about heading back to school in just a few short weeks.
Youngsters and adults visited with some of the many LaPorte Farms critters, which include a llama, a marmoset monkey, tortoises and a zebra, as well as more typical barnyard animals such as goats, geese, pigs, horses and cows. And the children were invited to pet, feed and cuddle with the animals, much to their delight.
In addition to visiting the menagerie of animals that call LaPorte Farms home, the children spent the morning riding on a train, taking pony rides, having their faces painted and building crafts at the Home Depot workshop.
The Learning Alliance's Moonshot Rocket blasted in for the day, offering a scavenger hunt for the little ones, who also enjoyed interacting with Moonshot, TLA's furry blue literacy puppet liaison. In the meantime, their parents visited with the local nonprofit booths, which were on hand to pass out information about their various programs and services.
At the end of the fun-filled afternoon, the Rotary Club of Sebastian handed out the colorful bookbags stashed on the wraparound porch of the main house. Each backpack was filled with donated school supplies, and any that were left over will be distributed to local schools for teachers to hand out.
"Seven years ago, someone asked me if there was some way I could help children when they go back to school," recalled LaPorte Farms founder Laura LaPorte. She noted that there are many children in this community whose parents are struggling and cannot afford the supplies their children need at the start of the school year.
"I couldn't afford to buy all this stuff, so I got sponsors, and we've been doing this ever since," said LaPorte.
Back to School Day is just one of the many community-oriented events hosted at the handicap-accessible petting zoo off Roseland Road, which opened to the public in 1994. The nonprofit Friends of LaPorte Farms hosts a number of events at the farm.
Upcoming events planned include Splash Zone on Aug. 20, a Kids Fishing Tournament Sept. 3, a Special Needs Western Hoedown Sept. 17, Pumpkin Carving & Scarecrow Building Oct. 15, and a Fall Festival Oct. 29. Regular hours are 8 a.m. to 2 p.m. Monday through Friday, and 8 a.m. to 4 p.m. Saturday and Sunday.
For more information, visit LaPorteFarms.com.
Photos provided