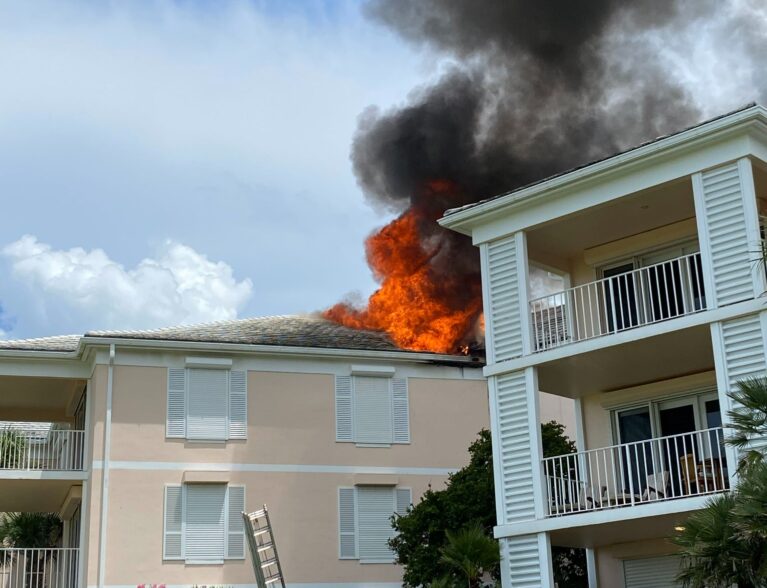 INDIAN RIVER COUNTY — Firefighters put out a blaze that led officials to evacuate the Southwinds Condominium complex on the barrier island Thursday afternoon. No injuries were reported from the fire, which sheriff's officials suspect was caused by lightning.
Two families were displaced from the fire, Indian River County Fire Rescue Bureau Chief Richard Marini said. It was unclear if Red Cross South Florida Region was helping the families.
"Only two families were living in the building at the time," Marini said. "The rest of the building was vacant."
Indian River County Fire Rescue crews and sheriff's deputies responded to the blaze about 1 p.m. at the condominium complex in the 2200 block of North Southwinds Boulevard, Marini said. The sheriff's office released a picture on its agency Facebook page that showed flames and smoke billowing from the roof of the condo.
Firefighters extinguished the flames – which were contained to the attic and spread to the roof of the 15-unit southeastern condo building – within four hours, Marini said. Marini said several units were uninhabitable because of extensive water damage from fire hoses.
The damage led fire crews to shut off power to the building. The State Fire Marshal was investigating the cause of the blaze.
Indian River County received scattered showers, along with lightning, Thursday. National Weather Service in Melbourne officials put out a weather alert earlier in the day advising residents of 40 mph winds and to seek shelter.