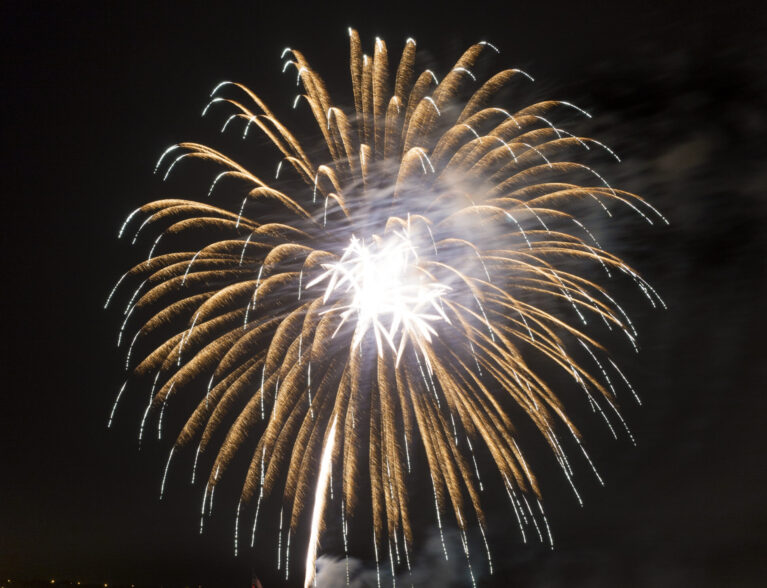 It's all about the Fourth of July in the coming days. It begins with the First Friday Gallery Stroll. The monthly event will be held from 5 p.m. to 8 p.m. Friday, July 1, in the area called the Vero Beach Art District. There, you'll find a sweet environment as you stroll along 14th Avenue from 21st Street to 18th Street. You're invited to duck into galleries and perhaps join the artists in a libation while viewing their work. Artists are always happy to talk to you about their work – their inspiration, their techniques and more. While everyone will be in a patriotic mood, the Vero Beach Art Club Gallery will present the exhibition "Red, White & Blue" at the Art Club Annex and Gallery, 1903 14th Ave. Admission to all the galleries is free. For more information about the "Red, White & Blue" exhibition, call 772-231-0303 or email [email protected]
Water lovers, take note: The "Swim to the Wreck" invites you to swim, kayak or paddleboard a quarter mile into the Atlantic Ocean to the S.S. Breconshire. There, your effort will be rewarded with a champagne toast at the flag on the sunken ship. The schooner-rigged ship sank in April 1894 when it was sailing from New York to Tampa. Now sitting among reefs, schools of fish and other marine life, the wreck become an attraction for snorkelers and paddle boarders. The "Swim to the Wreck" begins 8 a.m. and lasts until noon on Monday, July 4. Meet at Sexton Plaza beach, 1025 Beachland Blvd., Vero Beach. You do not need to RSVP, just "show up," as organizers say. For more information, visit the organization's Facebook page, "July 4th Swim to the Wreck." And if you are so inspired, consider heading to Costa d'Este Beach Resort and Spa and signing up for its 60-minute kayak tour (complete with fins, mask and snorkel) of the wreck. Costa d'Este is at 3244 Ocean Dr., Vero Beach. Call 772-562-9919 or visit Costadeste.com.
"Freedom Festival 2022," the 51st Annual Sebastian 4th of July Celebration, begins with an opening flagpole ceremony at 8 p.m. Monday, July 4. A big two-hour parade then starts at 8:30 a.m., going from the Community Center at Davis Street and Central Avenue, to Riverview Park. During the parade, be sure to keep an eye to the sky because at 9:45 a.m. the Air Sports Flag Sky Dive Landing will happen just east of Riverview Park. Then, from 10 a.m. to 8 p.m., you'll have plenty to do with entertainment, food, beer, craft booths, vendors, games and plenty of playful competitions. A Hula Hoop Contest runs 10 a.m. to 11 a.m.; a Chowder Contest runs 11 a.m. to 2 p.m. at the Gazebo; a Watermelon Eating Contest (no hands allowed) will be held 1 p.m. to 2 p.m. at the Bandstand; a Water Balloon Throwing Contest will be held 2:45 p.m. to 3:15 p.m.; and a Karaoke Contest (with a $50 grand prize and $20 second place prize) will be held 3 p.m. to 5 p.m. Entertainers feature Kenny Williams & Company from 11 a.m. to 1 p.m.; Rip Tides Band from 2 p.m. to 5 p.m.; and Bobby Owens Band playing country, blues and oldies from 6 p.m. to 9 p.m. Fireworks will dazzle you at 9 p.m. Freedom Festival 2022 is presented by the City of Sebastian, the Lions Club of Sebastian and the Sebastian Masonic Lodge. Riverview Park is at 820 Indian River Dr., Sebastian.
"Boom on the Lagoon" Fourth of July Celebration will be held 5 p.m. to 9 p.m. Monday, July 4, at Riverside Park in Vero Beach. Bring lawn chairs and blankets to enjoy music by Johnny and the Blaze, food trucks, face painting, children's activities, a hula hoop contest, an Uncle Sam Cam contest and pie eating contests. Fireworks begin 9 p.m. with synchronized programmed music on 103.7 FM. Wine and beer available for purchase. The event is presented by the City of Vero Beach in collaboration with Mulligan's Beach House and other local businesses and community members. Riverside Park is at 3001 Riverside Park Dr. For more information, go to the event's Facebook page, "Boom on the Lagoon."