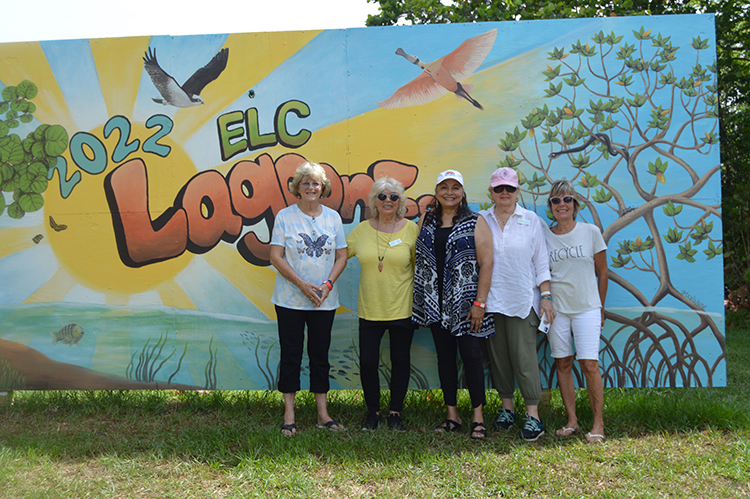 The Environmental Learning Center was alive with more than just the chitter-chatter of the myriad creatures that call the 64-acre island nature park home during the return of LagoonFest, previously known as Eco-Fest.
With the recently completed Thomas R. Schidel Education and Event Pavilion serving as the backdrop, eco-friendly exhibitors and vendors showcased their work along the Oval – the grassy area leading to the new building – and engaged attendees with creative activities to help them understand the importance of taking care of our natural environment.
Young and old alike could get their hands wet at the Touch Tank, searched for marine life in the pond with dip nets, went on treasure hunts, made a variety of craft items, and played in a drum circle. Others posed for pictures in front of the LagoonFest mural created by Teala Krapfl or got out on the water via canoes and pontoon boat rides.
There was also a performance by the Vero Beach Pipes and Drums, and little ones enjoyed story time with authors Piper Johnson and Camy De Mario.
"We wanted to host a community festival that focused on the health of the Indian River Lagoon and how we can all be part of the solution," said Barbara Schlitt Ford, ELC executive director. She noted that the event supports their goal of educating, inspiring and empowering people to be active stewards of the environment and their own well-being.
Ford said the activities provided "creative, hands-on, fun ways for people to learn about some of the causes of the problems that we're having and then how we can each make better choices in our daily lives to help alleviate that and to protect and restore the natural world."
Although this event took place in May, Ford said that the next LagoonFest will take place April 1, 2023, which will allow other environmentally minded nonprofits to collaborate at events throughout the month of April, which has been set aside to celebrate the Earth.
For additional information, visitdiscoverelc.org.
Photos provided