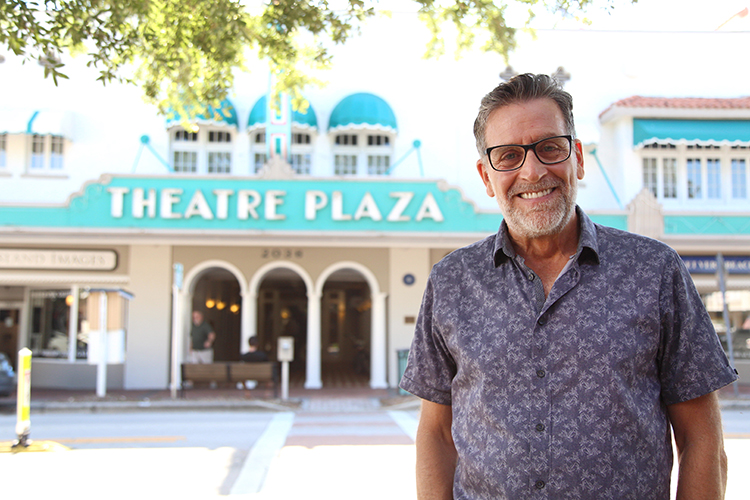 Lights, camera, action! After a multi-year hiatus, the fifth Vero Beach Film Festival is ready to roll cameras and celebrate independent films, as the cinematographic extravaganza returns to venues in Downtown Vero Beach June 9-12.
Listed on the Filmfreeway.com "Top 100 Film Festival" directory, VBFF has resumed with a few changes, most notably a changing of the guard. While many of the festival's dynamic crew have remained, Jerusha Stewart, founder of the formerly named Vero Beach Wine and Film Festival, passed the baton to board president David Yakir.
While still very present at events leading up to the 2022 festival, Stewart has turned her sights toward a new endeavor near and dear to her heart, as CEO and co-founder of Take Your Seat, an equity acceleration enterprise.
"I always talk about Vero as being beautiful. It is the most magnificent community, but having the kind of art, museums, major theaters, community theaters and dance companies makes it even more so," says Yakir.
Yakir brings a lifetime of experience in the entertainment industry, including as a writer and director of theater and television. He says that the musical revue "Only in America," the original "Smokey Joe's Café," and television programs such as "We Interrupt This Week" and "Song by Song," are among the notable productions he worked on.
Despite having spent a number of years working to integrate technology into advertising, Yakir says he always knew that he would someday return to the entertainment industry and realized that the VBFF was just the right project to return him to that earlier career.
Over the years, Yakir has used his creativity as a business strategist in media, entertainment and digital marketing, making him uniquely qualified to propel the film festival forward.
Yakir has been a podcast host on iHeart Radio's "Yak About Today," which focuses on the Baby Boomer generation, and more recently he has turned its focus to promoting and educating listeners about the festival.
And, while they may have dropped the word wine from the film festival's name, Yakir promises: "There will be wine."
He explains that the decision to rename the festival was twofold – to appeal to a broader audience and to attract filmmakers who had not previously submitted their films, "because they think we're a wine festival that shows movies."
Wanting to rebuild the festival while still honoring its roots, organizers have scaled things back a bit, says Yakir. They have limited the screenings to six venues on or near 14th Avenue in Downtown Vero Beach, enabling attendees to, in some cases, walk from one screening to the next.
The Heritage Center will serve as the festival's hub, with films being shown at the Courthouse Executive Center, Vero Beach Women's Club, Commission Chambers at the County Administration Complex, Vero Beach Theatre Guild and the Majestic 11. The Women's Club will also serve as a Hidden Cellar lounge for Cinema Premier VIP pass holders.
Yakir says that the most challenging aspect of the four-day film festival for ticketholders will be selecting which films to watch.
When they decided to move forward with plans for a 2022 film festival, he envisioned 50 films at two venues. However, the selection currently features some 100 films in categories such as feature, documentary, environmental and short films.
Two special categories, Next Up and Vero Visions, both to be screened at the Theatre Guild, provide young filmmakers and Vero-centric filmmakers with a platform to showcase their work and expose festival-goers to new topics and ways of thinking. Additionally, a Vero Visions party at the Heritage Center will follow the opening night presentations of Vero Visions.
Adhering to its premise that "film unites us," the films accepted into the festival are of a high caliber.
Films include the Cannes World Film Festival winner "Delivering Hope," and range from cartoons and iconic silent films to thought-provoking documentaries.
The festival opens with a special Par la Mer (Evening by the Sea) event at the Grand Harbor Beach Club. Additionally, filmmakers, sponsors and VIPs will be feted during a Filmmakers' Welcome at Edgewood Eatery.
As in the past, a big draw for film buffs is the opportunity to talk with the filmmakers in intimate settings, such as the round table discussions that are scheduled to take place at the Women's Club.
New York radio personality Scott Shannon will present "Worst to First" at the Theatre Guild, a documentary about the launch of New York City's Z100, the most successful radio station in history, followed by a Zoo Crew 1980s Dance Party at the Heritage Center.
And the granddaughter of the legendary silent film comic Harold Lloyd will present the century-old film "Safety Last," at the Vero Beach Theatre Guild. This special showing of one of the actor's most famous films will be followed by 'Tastings: Wine and More' at the Heritage Center.
What would a film festival be without cartoons? The sons of the late Myron Waldman, a legendary animator, will screen some of their father's work, including "Betty Boop," "Popeye" and "Casper the Friendly Ghost," iconic childhood favorites as beloved today as when they first made it onto the screen.
Also at the Theatre Guild, Ballet Vero Beach will host the screening of a collection of dance films shot in Florida. Among them are "Rhythms of Our Day" and the world premiere of "Pourquoi," both original films featuring BVB dancers, and a series of promotional films to raise awareness of water issues, performed by several Florida-based dance companies.
At the Women's Club, Carrie Maynard-Lester, executive director of the Substance Awareness Center of Indian River County, will present "The Addicts Wake," about a rural town grappling with addiction, joined by the film's director, Michael Husain.
A special presentation of "Feeling Through," nominated for a 2021 Academy Award for Best Live Action Short Film, and the documentary short "Connecting the Dots," about why and how the film was made, will be shown at the Theatre Guild.
The festival will close with an Awards Ceremony at the Majestic 11, presenting the juried and audience awards, followed by an After Party at Hurricane Grill & Wings.
Yakir says they hope to continue to grow the festival by partnering with local nonprofits and engaging young filmmakers from local high schools and Indian River State College.
"We're not putting on a festival for the festival's sake. We're putting on the festival for Vero's sake," says Yakir.
Films will begin showing Thursday, June 9 and will continue throughout the weekend. For more information and tickets, visit vbfilmfest.org.
Photos by Kaila Jones