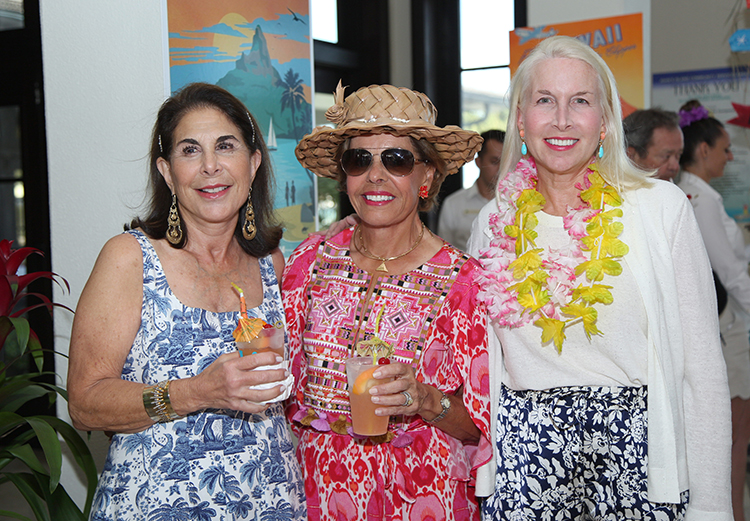 A colorfully attired crowd of some 675 guests were welcomed to paradise with tropical drinks, hula dancers, fabulous food and entertainment at the John's Island Community Service League's Island Hop Gala.
The event, which was spectacularly co-chaired by Leslie Hodges and Ross "We're gonna party like it's 1999" McConnell, took place outdoors, with festively decorated tables set up around the pool and from one end of the John's Island Beach Club to the other, cooling ocean breezes enhancing the crystal-clear evening.
"I asked for the best beach party possible, and boy did they deliver," said outgoing JICSL president Betsy Fox, crediting the co-chairs and their committee for creating an extra-special memory for everyone in attendance. "I want to do it all over again!"
Fox also had high praise for the John's Island staff, led by David Colclough and Chef John Farnsworth, along with their banquet and facilities staff, who she said "provided the delicious dining and incredible services at cost, which leaves more for our agencies. Their generosity and time and expertise saves us more money than you can possibly imagine. I truly don't know what we would do without them."
Partiers were once again thrilled to be together, following the COVID cancellation of their 2020 gala and thwarted 2021 plans. Undeterred those years, the JICSL was still able to raise and distribute more than $1.2 million in 2020, and more than $1.5 million in 2021.
This year, the Service League distributed nearly $1.5 million in normal cycle grants, strategic grants and scholarships. Fox credited their board treasurer, Karen Keating, for keeping them all "on the straight and narrow. Every penny is watched, and properly counted."
Additionally, Fox said Michelle Julian, the Island Hop treasurer and incoming grants co-chair, "was on top of every cent which came in and every cent which went out. She didn't miss a name or a number."
Included in this year's fundraising was a fall solicitation letter that generated $865,000. Sallyan Pelletier led a sponsorship committee that brought in $200,000, and the gala and other events such as Bridge and Masters Par 3 Tournaments netted another $600,000.
Fox said that for the past four years, Terry Osteen has been at the helm of the Tambourine Shop, an upscale thrift store featuring items from John's Island residents, which netted $250,000 this year. "She has taken the shop to a level of success which we never thought possible," said Fox.
She noted that grant co-chairs Lynne Whipple and Ellen Kendall presided over some 60 volunteers in the "complicated, detailed, time-consuming grant review process. I am so grateful for the countless volunteer hours they have provided for us. I want to be sure their teams know how much I appreciate them and how impressive the grants presentations were."
Karen Drury has assumed the position of JICSL board president, having served on the board in the past and as chair of previous scholarship, events, opening and closing luncheons, and gala committees.
"Karen is one of the smartest and most prodigious workers I know. The upward trajectory of where she will take the Service League from here has no limits," said Fox.
Photos by Kaila Jones