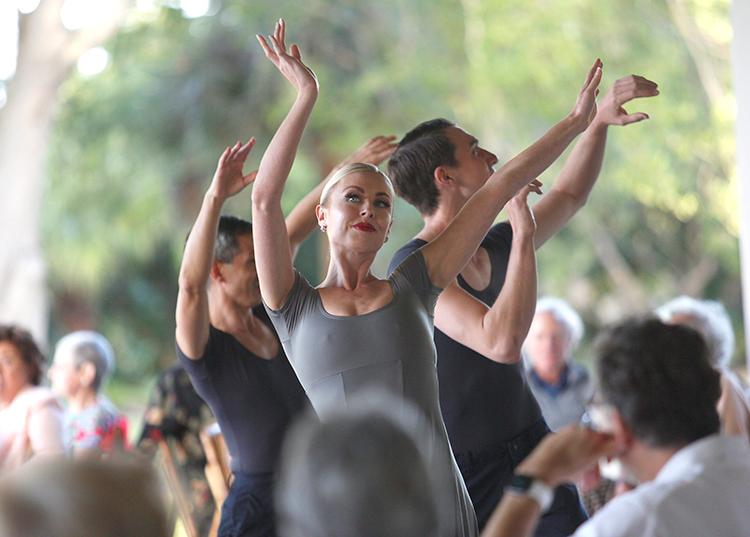 Ballet Vero Beach is a bit like the children's book "The Little Engine that Could," which teaches the value of optimism and hard work, steadily chugging along despite cuts to state and local arts funding, and creatively coping with COVID by performing outdoors.
To celebrate its success, as BVB heads into its 10th anniversary year, its Ballet Under the Stars fundraiser at Tree House Vero Beach was a decidedly festive affair. Proceeds benefited the nonprofit organization's education and community engagement initiatives.
The casually elegant event, chaired by BVB board members Sue Sharpe and Shelly Jenkins, was highlighted by jazzy and joyful performances by ballet master Camilo Rodriguez and resident dancers Katherine Eppink and Anders Southerland.
The evening also featured a lavish selection of hors d'oeuvres catered by Adrienne Drew, a signature 'Firebird' drink, a live auction, and entertainment by the fantastic Dave Capp Project, that had everyone showing off their own dance moves.
"They really did make my job very, very easy this evening," said Adam Schnell, BVB founder and artistic director, of the co-chairs. He also had high praise for the BVB dancers, staff and volunteers, adding, "It takes an inordinate amount of effort to put on evenings like this and our entire season, and we could not do it without them."
Schnell said that when he started Ballet Vero Beach nine years ago, he did not know what a 'hashtag' was, adding with a laugh that he needed to ask his students what it meant.
"But we now have a hashtag at Ballet Vero Beach that's #InspiredByOurSurroundings," said Schnell. "We really try to take our art form and use it to better the community."
In addition to recognizing the generous event sponsors, he pointed out representatives of some of the organization's many partnerships, including several from the Learning Alliance, which has been instrumental in the Stage to Page program, that uses arts integration techniques to combat our community's early literacy issues.
A newer partnership with Indian River State College involves a fellowship initiative working with Alex Kanter, Master Instructor of Theater, where young dancers will earn AA degrees paid for by BVB while receiving training in the science of teaching, and ancillary literacy arts integration with the Learning Alliance.
Marty Mercado, executive director of the Hope for Families Center and a former dancer, Gifford Youth Achievement Center's Angelia Perry, executive director, and Barbara Pearce, executive assistant, represented two organizations that benefit from BVB's Ticket Donation program, introducing the arts to a segment of the population that would otherwise be unable to attend performances.
From the school district, he applauded School Superintendent David Moore, "an amazing and innovative person" for weathering "a rough couple of years," and Cindy Emerson, director of instructional innovation, for helping to make the district "a world class education space."
Relating the story behind the signature Firebird cocktail, he said next year, in addition to performing the Sleeping Princess for first-graders, they will unveil a third-grade matinee, a retelling of Firebird that updates Stravinsky's.
"It's got a dual setting of a playground and the fantasy world that the Firebird lives in," said Schnell. He said ballet master Rodriguez has devised a world where a teacher becomes the Firebird, and a boy becomes the evil sorcerer.
"We really believe in the power of the arts to change lives and we really believe that it's the key to all of us going forward towards a better society," said Schnell.
Sutherland shared his personal experience as a child, growing up in an underserved community in Seattle, where he was introduced to the arts through an outreach program offered by Pacific Northwest Ballet.
"I really, truly believe that arts have a really special place at the intersectionality of justice and education," said Sutherland. "And so, I believe that it's really important for us to support that.
I wouldn't be here without that, and a lot of other kids wouldn't be as well."
For more information, visit balletverobeach.org.
Photos by Kaila Jones