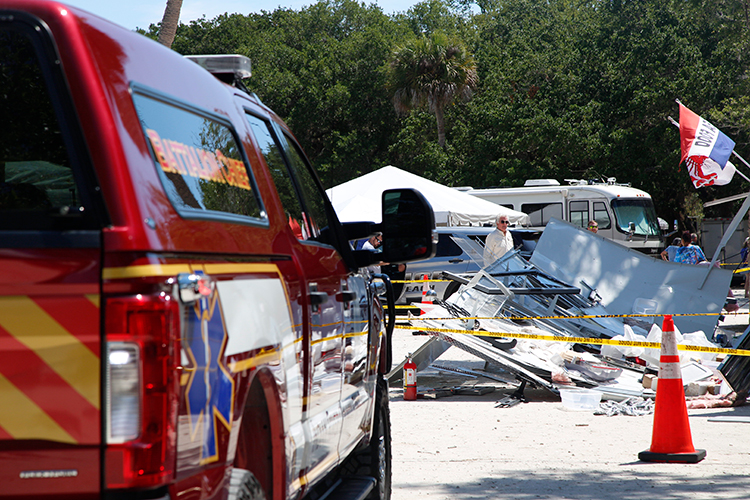 VERO BEACH — Michelle Dietterick remained in critical condition Friday after her food truck exploded last weekend at the Vero Beach Seafood Festival, according to her husband Scott Dietterick. Indian River County Fire Rescue crews said the flash fire that ripped apart the food truck was the result of a propane explosion.
Michelle Dietterick remained at the Orlando Health Regional Medical Center Critical Care Unit six days after the incident, her husband Scott Dietterick said in a Friday update. Scott Dietterick, of Port St. Lucie, created a GoFundMe fundraising page Monday to raise money for his wife's medical expenses.
Michelle Dietterick was inside of her food truck, called "Michelle's Catch of the Day," that she owned with her husband when the incident occurred, Vero Beach police said. The explosion left Michelle Dietterick with severe burns to her face, hands, arms and legs.
"She has broken bones in her face and had a lung collapse," Scott Dietterick said on the GoFundMe page. "Michelle will have a long recovery, and we are asking for donations to help with Michelle's expenses. Thank you in advance for your kind donation to help with Michelle's recovery."
As of late Friday, nearly $15,000 had been raised out of a $25,000 goal, the GoFundMe page showed. Several people left words of support on the page, wishing Michelle Dietterick have comfort and a speedy recovery.
What happened
Vero Beach officers responded to reports of a concession trailer explosion at 8:56 a.m. May 14 at Riverside Park, a police report showed. Witnesses reported smelling propane moments before the food truck exploded, Vero Beach police spokesperson Master Officer Darrell Rivers previously said.
Officers arrived and found Michelle Dietterick semi-alert, conscious and lying on the ground. Police gave Michelle Dietterick medical treatment until Indian River County Fire Rescue crews arrived.
Assistant Fire Chief Sean Gibbons previously said the explosion caused a flash fire, which quickly burned itself out before fire crews arrived. Michelle Dietterick was flown to Orlando Health Regional Medical Center.
Police talked to workers at the event, which ran from 10 a.m. to 5 p.m. May 14 through May 15. The food truck was going to be a vendor at the seafood festival, police said. The explosion did not impact the opening of the festival.
A festival worker spoke to the owner of the trailer earlier about the gas odor, police said in a report. The employee told police that the trailer had two 100-pound tanks outside and that one of the tanks felt empty.
The worker walked away, and a short time later heard the explosion, reports show. Mike's Garage & Wrecker Service removed the debris from the food truck.
"We appreciate all the prayers, love and support during this difficult time," Scott Dietterick said. "Thank you all."
The state fire marshal continues to investigate the explosion.
Photos by Kaila Jones