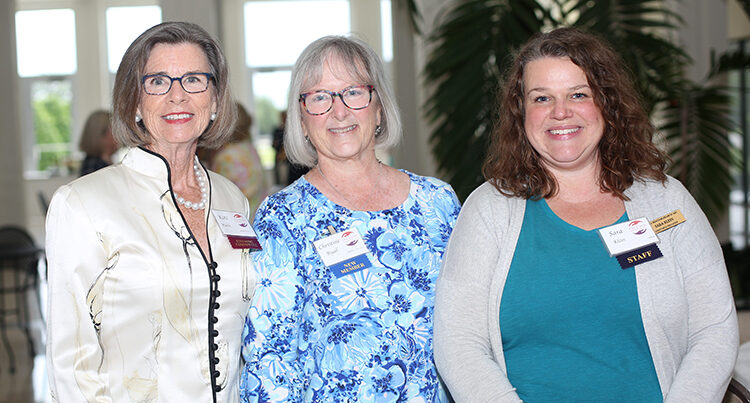 Members of the Circle, a philanthropic cadre of women who support the Vero Beach Museum of Art educational outreach programs, gathered recently to determine which programs they would fund in this coming season.
"There's a renewed energy, excitement, enthusiasm, vitality in the Circle," said Becky Torbin, outgoing chairwoman of the steering committee, thanking everyone who had a part in the group's achievements.
"This is the culmination of a season in evaluating the programs that have been presented for funding," said Torbin, adding that there were five programs under consideration and a total of $36,250 to award.
Before she provided an overview of each of the programs, Robyn Orzel VBMA director of development, commented that despite the great challenges over the past couple of years, the Circle had risen above them all.
"The Circle's funding of these programs is a way for you to endorse what we're doing as an organization and it's helping us to achieve the results that we want to achieve with all of these populations," said Orzel.
Once the ballots were counted, Torbin said members had decided to fully fund the Alzheimer and Parkinson Association Partnership and partially fund Museum Explorations.
The Alzheimer and Parkinson program launched in 2016 with Music and Movement at the Museum. Subsequent programs have included Music and Movement in the Moment, and Artful Engagement classes at Indian River Shores and Vero Beach locations.
The goal of Museum Explorations, which is available to all public, private and homeschool groups and organizations, is to "enhance visual literacy, critical thinking and socio-emotional learning through art museum experiences" via museum tours, art kits and engagement.
A Pre-K at the VBMA program, targeting local Title 1 schools, with visits on site, take-home art projects, and professional development opportunities for teachers, didn't make the initial cut, but a Circle member stepped up at the last minute to fund it.
The others under consideration were a Veterans Program, offering art experiences to veterans through three five-week classes, with course content determined by the veterans' interests; and the Senior Resource Association Partnership, which offers Artful Engagement and Movement in the Moment classes at its Vero Beach and Sebastian locations.
Torbin announced that Trudy Powers Hoffman would be the new Circle chair, with Susie Kintner in a newly created co-chair position.
While the votes were being tallied, the two ladies shared their vision for the sustainable growth of the Circle over the next five years and beyond. They were assisted by Pam Larrick and Cathy Cronin, who have worked on a comprehensive strategic plan that will be presented in detail in November.
"My first job of the 2022-2023 season is going to be to thank you for responding to our survey," said Hoffman, who proceeded to comment on some of the key results.
The model of the Circle over the past 13 years has been to have members contribute $250 or more per year and, after narrowing down the list of programs under consideration, to vote on which ones to fund. Members have donated more than $400,000 to VBMA educational programs since its inception.
Through the survey, she said members overwhelmingly agreed to raise the dues to $350 to be able to give at the same level as 13 years ago, and they also hope to double the number of Circle members in the next five years.
"That's one more friend for each one of us. I think we could do it much sooner than five years, but our goal is to do it in five years," said Hoffman.
For more information, visit VBMuseum.org.
Photos by Kaila Jones