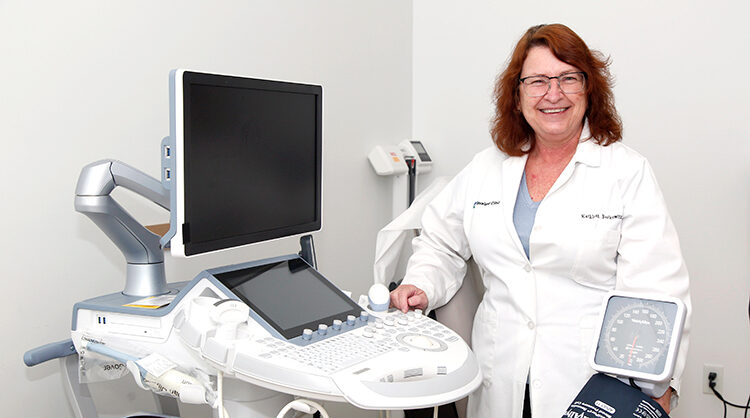 Pregnancy is tough on every woman's body, but it can be life threatening to women with medical complications and those who have babies with abnormalities requiring special coordination of care. In those cases, the help of a maternal fetal medicine specialist (MFMS) like Dr. Kathleen Berkowitz is needed.
Dr. Berkowitz recently joined Cleveland Clinic Martin Health in Tradition after serving as vice chairwoman of the Department of Obstetrics and Gynecology at Cleveland Clinic Fairview Hospital. She treats patients in Martin, St. Lucie and Indian River counties.
"I enjoy helping women with medical issues achieve a healthy pregnancy and I'm excited to join Dr. (Jeff) Chapa at Cleveland Clinic Martin Health Tradition to better serve women with high-risk pregnancies in our Florida region," Dr. Berkowitz said. "Between the two of us, we can now offer face-to-face patient care at both Cleveland Clinic Martin Health Tradition and Cleveland Clinic Indian River Hospital."
Maternal fetal medicine specialists complete an extra three years of training in high-risk pregnancies and work with the patient's OB/GYN to assist in preconception planning, consultative pregnancy management and delivery. Women are usually referred to a maternal fetal medicine specialist when an abnormality is detected during a routine scan or if there is concern for the health of the unborn baby or mother.
High-risk pregnancies can result from serious medical conditions like high blood pressure, diabetes, heart disease, autoimmune disorders and diabetes, or a history of pregnancy-related complications like premature delivery, preeclampsia and gestational diabetes.
Multiple gestations like twins and triplets are considered high risk because they increase the risk of preterm labor. Other high-risk patients are women over the age of 35 and those with a family history of a genetic disorder or birth defects.
"The most common problems we see are with high blood pressure and diabetes," Dr. Berkowitz continued. "And there are other issues where something shows up on the ultrasound with the baby that needs some explanation and coordination of care.
"Preeclampsia affects 5 to 10 percent of women during pregnancy. It's a condition where blood pressure goes up and we start to see some proteins spilling from the kidneys to the urine. In its worst form it can cause seizures, strokes and still births, and it's responsible for at least 10 percent of the maternal deaths in the country.
"This is a very common problem in the third trimester and generally it will get worse until you deliver and get better after the delivery. It is, however, one of the most preventable causes of maternal injury or death that we face, and with the right care it can be managed with a positive outcome for mother and child."
According to the Preeclampsia Foundation, thousands of women and babies get very sick every year from preeclampsia. The life-threatening hypertensive disorder occurs only during pregnancy and the postpartum period.
Preeclampsia and related disorders such as gestational hypertension, HELLP syndrome and eclampsia are characterized by a rapid rise in blood pressure that can lead to organ failure, stroke, seizures and even death of the mother and baby. It's usually diagnosed after the 20th week of pregnancy. Important symptoms that may suggest preeclampsia are headaches, abdominal pain, shortness of breath or burning behind the sternum, nausea and vomiting, confusion, heightened state of anxiety, oversensitivity to light, blurred vision, or seeing flashing spots or auras. Early diagnosis and management are key to healthy outcomes for both mother and child. Most women with preeclampsia will deliver healthy babies and fully recover.
"My job as a maternal fetal medicine specialist is to educate the pregnant mother on what to watch out for at home so they can come in for care when they need to," Dr. Berkowitz said. "I love helping women with medical conditions that might result in high-risk pregnancies preplan their pregnancy. Pre-pregnancy consultation can help design what regimen of medication is appropriate and what sort of control your blood pressure or diabetes needs to be on before it becomes an ideal time to conceive.
"Sixty percent of pregnancies are not planned, however, which is fine unless you have complicated diabetes, hypertension, thyroid disease or are recovering from gastric bypass surgery. Women with gastric bypass surgery become more fertile than before and many good gastric bypass programs now address pregnancy preplanning in their education programs.
"Planning is the best thing you can do to avoid complications, along with taking care of yourself during pregnancy. Pregnant women are very motivated to make changes in their life that they might find difficult otherwise, so I've got a beautiful opportunity of about six months of time that I can help with nutrition, exercise and medication, giving her a better understanding of how to take care of her own medical complications.
"Giving the patient control over her ability to manage her complication is an extra benefit of taking care of her and her baby during pregnancy."
Dr. Berkowitz earned her medical degree at Jefferson Medical College in Philadelphia and completed the OB/GYN Residency Program at Columbia Presbyterian Medical Center in New York City. She completed her Maternal/Fetal Medicine Fellowship at University of California Medical Center/Irvine. Having practiced maternal fetal medicine for 27 years, Dr. Berkowitz is an expert in high-risk obstetrical care and has published more than 30 articles on maternal fetal medicine topics.
Dr. Kathleen Berkowitz is accepting new patients at Cleveland Clinic Martin Health Tradition HealthPark Two, 10080 Innovation Way, Port St. Lucie, 772-345-5280, and Cleveland Clinic Indian River Hospital's Partners in Women's Health, 1050 37th Place, Vero Beach, 772-770-6116.