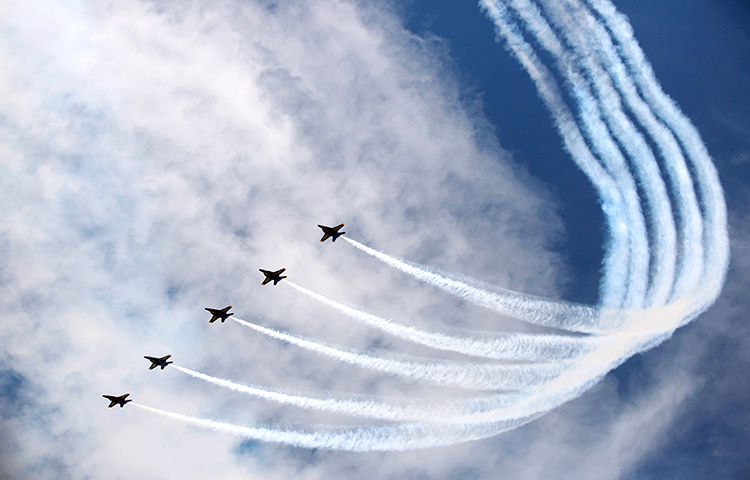 The roar of the United States Navy Blue Angels zooming overhead had been greatly missed since their last visit to Vero Beach in 2018, so their long-awaited return to the Vero Beach Air Show at the Vero Beach Regional Airport, presented by Piper Aircraft, thrilled the crowds even more than before.
Last weekend, the Blue Angels headlined the three-day Air Show with the same enthusiasm as their predecessors did 76 years ago, when the famed flight teams were founded by Adm. Chester Nimitz to showcase naval aviation. Pilots wowed the crowds as they performed precision combat and aerobatic maneuvers in their Boeing F/A-18 Super Hornets at speeds hard to fathom.
Not to be outdone, the Air Combat Command F-16 Viper Demonstration Team demonstrated the power and agility of the F-16 Fighting Falcon through a series of combat maneuvers, and the Black Daggers – a U.S. Army Special Operations Command Parachute Demonstration Team – made a graceful entrance, as they floated from anywhere between 2,000 and 13,500 feet above ground level.
Other acts included aerobatic routines, rolls, formations, and even one act that never got off the ground, as drivers managed to give the aeronauts a run for their money in a Ford F-750 truck powered by three GE J85 turbine engines with afterburners.
Aerophiles headed to the airport even before the high-flying shenanigans took off, getting a closer look at various military and civilian aircraft, taking turns sitting in the cockpit of a helicopter, and walking into the belly of a C-17.
Educational static displays, food vendors and a family activity area ensured that there was something for everyone, including extended offerings throughout the weekend. A Friday evening show lit up the night sky, and on Saturday, flight fans gathered for a post-show party at Riverside Park to meet the Blue Angels Flight Demonstration Team and grab dinner from the numerous food trucks present.
On Saturday, over at the Corporate Air hangar, Rodger Pridgeon, president and owner, hosted an Air Show watch party that also celebrated the military service and 98th birthday of World War II veteran Albert Rimar.
U.S. Army 1st Lt. Joseph Shin presented Rimar, who had arrived on the shores of Normandy on the fifth day of the Allied invasion, with a plaque and an American Flag in appreciation of his 35 years of military service.
"He's a real hero," said Shin.
The nonprofit Vero Beach Air Show, Inc., was founded to honor current and future military veterans while supporting the community, providing military education, and encouraging military recruitment. Proceeds benefit the Veterans Council of Indian River County and the charitable endeavors of three local Exchange Clubs.
To learn more, visit veroairshow.com.
Photos by Kaila Jones