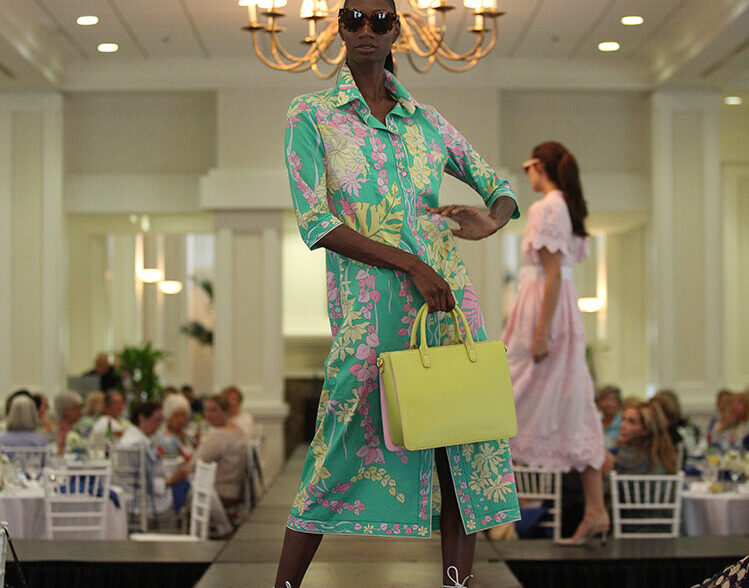 The latest in spring and summer fashions from Vero Beach boutiques took center stage once again, following a two-year forced hiatus, at the Blue Ribbon Luncheon and Fashion Show to benefit the Hibiscus Children's Center. The show, held at the Oak Harbor Club, was again produced by Miami-based Sobol Fashion Productions, whose 10 professional models showcased the designs with their customary panache.
Boutiques included Cooper & Co., Frances Brewster, Island Cashmere, J. McLaughlin, Sara Campbell Ltd., Sassy Boutique and, for the first time, Melange and Tendencies. Additionally, as guests arrived, they were greeted by 'Male Ambassadors' dressed in dapper fashions by Vernon Scott.
"We're just glad to be back," said Cathye Motta, store manager at Frances Brewster, which carries a variety of designers, including Bessie, Hin Son Wu and Connie Roberson.
"Fashion is huge. COVID's over, we're out of our pajamas and I think people are ready to dress up again and be out," said Motta. Asked about trends, she said, "I think color. Prints are big, but prints are always big in Florida. I think things are very feminine again and everything is crisp."
Another trend, a possible nod to unwanted pounds gained during the shutdowns, was the gravitation toward generous and forgiving fashions, rather than form-fitting designs, and dresses and skirts were decidedly on the longer side. Puffed sleeves and ruffles added the aforementioned femininity factor into dresses and blouses alike.
Among the Cooper & Co. fashions was a graceful, multi-colored Etro outfit, pairing a long-sleeved top and silken parero wrap that flowed gently along the runway.
Puffed sleeves to the elbow highlighted a comely, ballerina length white Veronica Beard dress with a lacy design from knee to mid-calf. Long puffed sleeves decorated a maxi length, Zimmermann peasant-style dress, with attractive eyelet designs positioned from the neckline to the scalloped hem.
Shorter Cooper & Co. dresses included a playful Sara Roka dress, with yellow vertical stripes on the sleeveless bodice, and violet and periwinkle striped flounces, reminiscent of ribbon candy, on the skirt.
Another crowd favorite was Sara Roka's blue and white striped palazzo pants with a crisp blue button-down shirt, set off with a chartreuse cloth belt. Another pants ensemble featured hot pink ankle pants with a lovely blue and white striped Maison Common wrap blouse, with puff sleeves adorned with a floral applique.
"We're showing a lot of loose and flowy," said Jenny Tipton, from Sara Campbell. "We've got lots of prints, gingham and taffeta, and we've also got fit and flair dresses, which gives you a fit on top and then it's softer through the hip."
Campbell's designs included two multi-colored dresses: the Lina, a sleeveless knee-length dress with a ruffled collar, and the Fanny dress, a charming below-the-knee dress with long balloon sleeves and a ruffled V-neck.
The designer's Clair dress, a short blue and white number with a pert bow at the neckline, was a perfect example of a fit and flair dress.
Several of their ankle-length Sheri pants were paired with a selection vibrantly colored blouses and jackets. "They're a great fit, stretchy, pull-on, ready-to-wear, washable, and they come in lots of colors," said Tipton.
New to the show were Ocean Drive boutiques Melange and Tendencies, whose fashions Dominique Reed describes as casual chic European designs, such as those you would find in the Mediterranean or south of France.
"We do a lot of linen. It's free flowing," said Reed, adding with a laugh, "It takes 10 years off your age. That's good to know."
Her shorter dresses included a cute, balloon sleeved, pink and purple kiss-designed dress, paired with a deep purple shawl, and a sherbet-colored, short-sleeved, linen day dress. Longer designs looked perfect for Florida's climate, including loose-fitting linen dresses, with varying sleeve lengths and colors.
Wide white pants with a button design down the leg were ultra-comfy looking paired with a beige top. And a white top and straight-leg linen pants were complimented by a long paisley kimono jacket.
Flowing fashions were also the hallmark of many of the J. McLaughlin designs from their brand-new collection.
"At J. McLaughlin, we've spread our wings in many different areas," said Kim Begien. "Our colors, our prints, our styles are terrific. Traditional but not traditional. They're perfect for Vero."
There were two stylish jumpsuits: the sleeveless Hermione in McLaughlin's blue, white and orange Plumage Geo design, and the sophisticated, short sleeved Eilidh jumpsuit, in Navy blue.
Their long, white hoop skirt, with its ruffled eyelet design on the bottom, was paired with a blue button-down shirt tied at the waist.
"We're very high on the dresses; dresses are very, very in this year," said Begien.
Among the dresses perfect for summer were the Christa dress in tan, which also comes in French blue, a Persian denim, sleeveless mid-length Lavinia dress, and their new Harriet dress in coral, a very lightweight silk mid-calf dress with elbow length sleeves.
The only bathing suit in the show was McLaughlin's Koa, a one-piece in Navy blue and red, with a matching kimono coverup.
Island Cashmere showcased their spring collection, including Italian vendors Caliban and Hin Son Wu, a new vendor for them.
"We've got our traditional anytime of the year, every year items," said Niki Ryba, Island Cashmere manager.
A short, collared Caliban dress of blue and beige floral, with elbow-length sleeves was first on the runway, but most of the Island Cashmere dresses kept to the longer look, with a below the knee, collared taupe dress with three-quarter sleeves and soft flounces. And, perfect for summer, a sleeveless maxi dress in muted, summertime colors simply glided down the runway.
They showcased a number of more casual yet chic outfits, pairing white pants with colorful tops, a gorgeous scarf knotted at the neck, and a stunning thigh-length, cutout leather jacket in white.
Frances Brewster outfits included ankle-length Crazy Larry pants in a pert shoe design, paired with a ruffled white blouse and blue sweater, and soft gray pants and tank paired with a flowing pink and green kimono. Elegant black pants were strikingly paired with a black sequined, Connie Roberson evening top with three-quarter length sleeves.
Eyelets took center stage with a tea-length dress in pink with scalloped edges on the sleeves and hem. And white lace Alem Bika pants had a matching white top with lace on the short sleeves.
Sophistication came into play with a classic black and white Bessi cocktail dress, as well as with a deep fuchsia, Fortuny pleated dress and matching duster, and in a softly multicolored, full-length silk skirt by Connie Roberson.
Sassy Boutique showed off two ankle-length dresses in shades of blue and brown. The first was a long-sleeved, Figue dress with a deep V-necked and ruffled skirt. The other sported a rounded neckline and this season's popular elbow length balloon sleeves.
"Figue is known for sophisticated prints that are seasonless and effortless," said Deana Marchant, Sassy co-owner with Tammy Reilly. Also illustrating the point was Figue's golden Eliza kaftan, as perfect for the beach as for dining out on a summer evening.
Other full-length dresses were the ultimate in femininity, including two C.K. Bradley dresses in blue and white – one with short sleeves and one a halter-top, both slim waisted with ruffled necklines.
"C.K. Bradley are known for their fun unique prints, always having ruffles," said Marchant.
A long Hemant Nandita dress, a line out of India that Marchant said is known for their embroidered cotton, radiated in shades of pink, showcasing a romantic resort look, with a V-neck, rouching at the waist and a high, sexy slit.
With such a great collection of boutiques, the right fashions are yours for the asking.
Photos by Kaila Jones