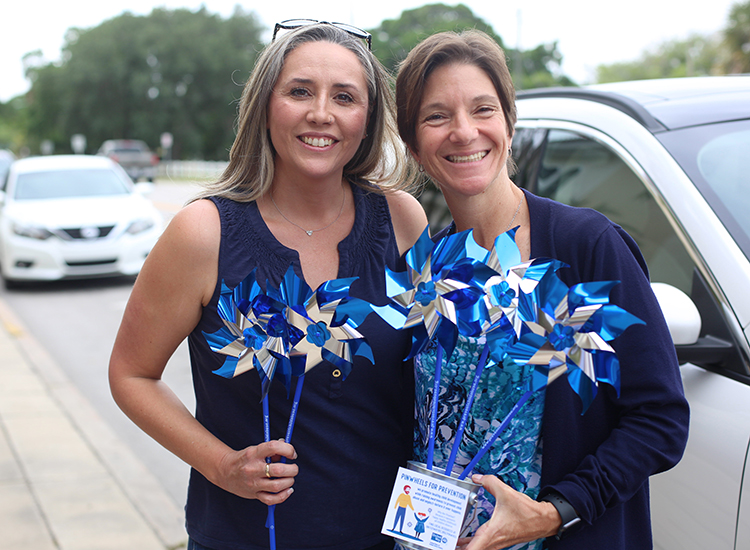 Blue pinwheels have been seen around town, spinning in the wind as a reminder that all children deserve happy, healthy childhoods. The initiative is thanks to local nonprofits, including Childcare Resources, Indian River Healthy Start Coalition, Hope for Families Center, Safe Families for Children, and Treasure Coast Community Health.
Representatives from the organizations gathered on the steps of the United Way of Indian River County recently to kick off Child Abuse Awareness Month and raise awareness about child abuse. Attendees joined in the conversation, sharing how they each work to provide services and interventions as a way to eradicate child abuse.
"Thank you all for coming to the United Way today and spreading the pinwheels all over Indian River County," said Meredith Egan, UWIRC CEO.
"It's about raising awareness. We're not going to stop child abuse without everybody working together and identifying the signs. We all need to work together, communicate, and build a system for children and families to be supported."
She noted that there are 1,500 reports of child abuse in the county each year, with even more unreported occurrences.
"We know that child abuse is a pervasive issue in our community," said Egan. "With the rise in mental health issues and stressors from financial instability as a result of COVID, we know there's much more child abuse going on that has not been reported over the past two years."
As a result, she said, the United Way has partnered with local child abuse prevention organizations to highlight "what we can do and the signs to look for to prevent and intervene in the cases of child abuse happening here in our community."
Pinwheels for Prevention began in 2008 as a grassroots effort in recognition of April as Child Abuse Prevention month.
"It invokes that spirit of childhood," said Egan. "All children should be able to live free from abuse."
Egan said that the pinwheels serve as a reminder that "child abuse is happening all the time, all around us, and that we need to look for those signs and connect people with resources. It takes an entire community to identify solutions and intervention strategies. Bringing together all these partners is the United Way's responsibility."
For a list of resources, visit unitedwayirc.org/pinwheel.
Photos by Kaila Jones