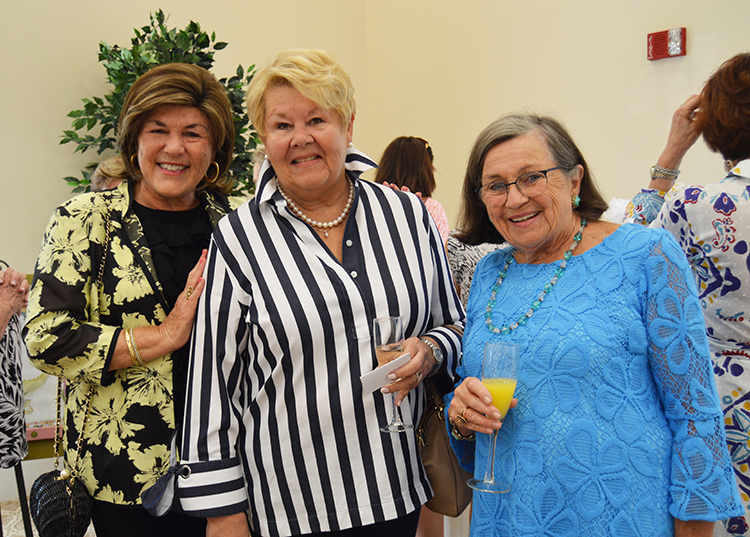 No need to go to Paris, Milan and New York. All eyes were on the runway at the Oak Harbor Club during the Hibiscus Children's Center's annual Blue Ribbon Luncheon and Fashion Show, organized by event co-chairs Henriette Churney and Barbara Rice.
Proceeds from what local fashionistas consider "The Spring Affair" of the season benefits the teens living at Hibiscus Village in Vero Beach, enabling the nonprofit to continue providing vital services to children who have experienced abuse, neglect and abandonment.
As they arrived, guests perused an impressive selection of auction items while sipping champagne and mimosas, before heading into the dining room, escorted by a bevy of sharply dressed 'Male Ambassadors' – aka husbands of committee members – wearing fashions by Vernon Scott.
"The Blue Ribbon luncheon is one of the iconic events on the Hibiscus event calendar every year," said Matt Markley, HCC CEO. He explained that while Hibiscus gets state funding, it does not cover the costs of everything the children need.
"Hibiscus never closes. We're open 365 days a year. We don't close for holidays. Not even hurricanes. We are open to children who need us because of you. Please don't ever think we take it for granted. Their hopes and dreams sometimes depend on folks like you," said Markley.
"You may not see child abuse, neglect or abandonment firsthand, but it's there. We know that it's there," said Sue Sharpe, mistress of ceremonies.
Guest speaker Jan Harrell, a longtime Hibiscus supporter, asked guests to think back to the ways they shower their children and grandchildren with love, nurturing and working with them through all of their successes and failures.
However, said Harrell, the children living at Hibiscus come from dysfunctional families.
"These children don't have a chance to learn what it's like to be loved and to have all that showered upon them. They have very traumatic lives. That's where Hibiscus comes in. We get these children that have had a bad start," said Harrell.
She noted that Hibiscus has two facilities. The Martin County shelter houses children ages birth to 12, where they have house parents to love and care for them.
Youth ages 13 to 17 live in houses at Hibiscus Village in Vero Beach, where house parents and staff work with the teens to prepare them for living independently.
"The day they turn 18, they have to leave," Harrel explained.
The goal, said Harrell, is to help them graduate from high school or earn their GED. Career Pathways to Success, Graphic Design and Culinary Skills are three of the programs offered to help these young adults learn skills needed to obtain jobs or internships when they leave Hibiscus.
"The most important thing that we do with them at Hibiscus is love them. We try to make them feel worthy because they don't feel worthy when they get to us. We have wonderful staff members and volunteers who are all very happy to participate in this and make the kids have a safe place to live and have hope for the future," added Harrell.
"These are not bad kids. These are kids that have had bad lives. We want you to understand that and help us give these kids hope," said Harrell.
The Fashion Show featured selections provided by Cooper & Co., Frances Brewster, Island Cashmere, J. McLaughlin, Melange, Sara Campbell Ltd., Sassy Boutique, and Tendencies worn by models from Miami coordinated by Sobol Fashion Productions. See Style Section.
For more information, visit HibiscusChildrensCenter.org.
Photos provided