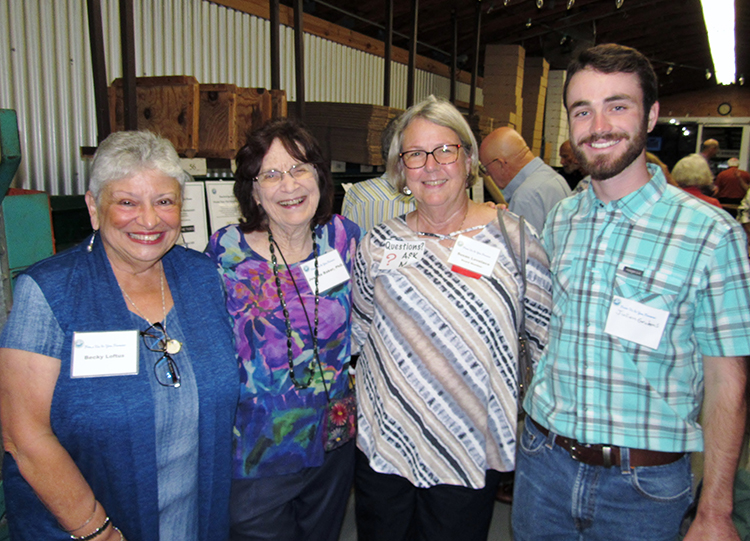 Supporters of the Pelican Island Audubon Society braved a Saturday evening monsoon and headed for Schacht Groves to attend 'A Gift for the Future' a fundraising dinner catered by Wild Thyme. In addition to supporting PIAS projects, the event raised awareness of the $50 million land conservation bond referendum voters are being asked to support this November.
If approved, the county would be able to purchase environmentally significant land to protect our environment, drinking water, wildlife corridors and recreation areas, and guard against overdevelopment.
"Thank you for supporting our Audubon and our efforts to purchase more conservation lands in Indian River County," said Richard Baker, Ph.D., PIAS president, before giving a brief history of the organization.
The Florida Audubon society, formed in 1900, was instrumental in convincing President Theodore Roosevelt to save roosting birds on Pelican Island from being slaughtered for their plumage. In 1903, it became the nation's first Wildlife Refuge.
In the early 1960s developers were eyeing the adjacent property, until citizens rallied to protect it.
"It took them about four years. They were able to get the state of Florida to buy land around Pelican Island National Wildlife Refuge, so it makes it into a real nice area right now," said Baker.
PIAS, a chapter of Florida Audubon, was formed in 1964. Its mission then and today is to preserve and protect animals, plants, natural communities, land and water through education, advocacy and public awareness.
In 1986, Baker said, PIAS instituted the nation's first coastal cleanup, and in 1988 they leased the land from the county for the Environmental Learning Center, eventually turning the lease over to the ELC.
In 1990, the 290 acres of what is now the Oslo Riverfront Conservation Area was also slated for development.
"It's one of the nicest places in Indian River County. So, we took the county commissioners out one by one and showed them the area. They said yes, we must preserve this," said Baker.
"We worked hard in 1992 to pass a $26 million bond issue, the first one in our county, to purchase conservation lands," said Baker. And in 2004, PIAS led voter support for the $50 million bond that recently matured.
"The first (bond) of $26 million passed with about 52 percent of the population of voting for it. The one for $50 million, we got 72 percent of the voters supporting it. So the people in Indian River County, I think, are going to support this next one," said Baker.
A few months after construction of their Audubon House was completed in 2015, they began an Audubon Advocates afterschool program, which introduces fifth-graders from four Title 1 schools to the great outdoors. The children are given their own Canon cameras and binoculars and go on hikes and kayaking to get a better appreciation of our natural habitat, birds and wildlife.
In 2019 PIAS, in collaboration with community partners, began its Trees for Life, Plants for Birds initiative to plant 100,000 native trees. To date, they have distributed more than 11,000 native trees and plants.
"If you want to come down to the Audubon House on Oslo Road, we'll give you a free live oak and a bald cypress and a mahogany if we have one," said Baker.
Their most recently completed project was a County Education and Demonstration Native Plant Garden at the County Commission Building A.
For more information, visitPelicanIslandAudubon.org.
Photos by Mary Schenkel