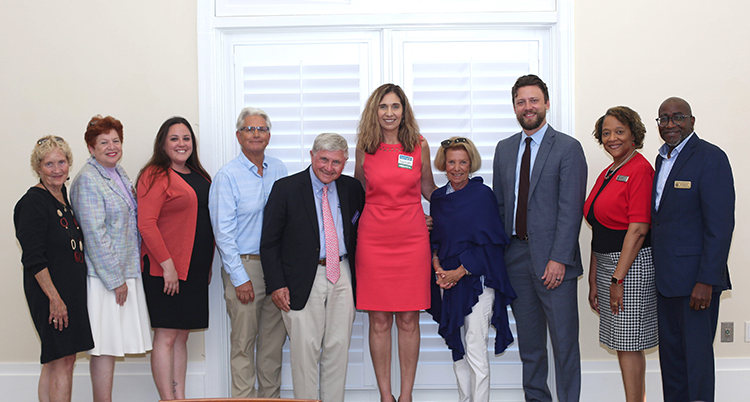 The Gifford Youth Achievement Center, Treasure Coast Community Health, United Against Poverty and the Youth Sailing Foundation of Indian River County are the newest Impact 100 Community Partners, each having received $100,000 grants at the 2021-2022 Annual Meeting and Grant Awards Celebration last week at the Oak Harbor Club, sponsored by PNC Wealth Management.
"This is the first time that we've been in this room since 2019. It is awesome to be back," said Tracy Sorzano, the 14th Impact president.
Prior to the grants being presented, Sorzano asked Sue Tompkins to share a tribute to the late Ellie McCabe, who in 2001 had been the "spark" for Women in Philanthropy, from which the Indian River Impact 100 evolved. In her honor, Tompkins encouraged everyone to "be the candle that lights other candles. Be a spark."
MaryEllen McCarthy, the 2022-2023 president, challenged members to learn about the organization and be ambassadors for Impact 100, spreading the word like ripples on a pond.
And Leslie Bergstrom, who has served on multiple panels, said that as a "proud board member," her focus will be on increasing membership to 600 women.
Angelia Perry, executive director of the Gifford Youth Achievement Center, said their grant will be applied to a Youth Employability pilot program designed to prepare students with employability and occupational skills training for targeted, high-skill, high-wage jobs. It will also match students' career interests with summer work assignments.
"This dynamic, youth workforce program prepares students to better compete for and enter targeted in-demand careers after high school graduation. It will also provide local employers with a pipeline of exceptional job rating on workers," said Perry. "Careers are their dreams."
Vicki Soule, CEO of Treasure Coast Community Health, will apply the grant to a Vision Program at the Dodgertown Elementary Community School, where TCCH has a wellness coordinator. A TCCH optometrist will perform vision exams to diagnose eye alignments, "lazy eye," focusing issues and near- and far-sightedness. A pilot program began in July 2021 at its Fellsmere location, and this will expand it into the Gifford area.
She spoke of one little boy who told the TCCH tech, "I need glasses in my life. I take a lot of tests," adding that he had connected the dots between being able to see and being successful in school.
Matt Tanner, executive director of United Against Poverty, said the grant will fund a Going UP Bus to offer transportation to the UP Center or to on-the-job training at UP employer partners.
Their four main programs – Member Share Grocery, Crisis Stabilization, UP Education, and STEP (Success Training Employment program) – take place at the UP Center.
"Thousands of residents across our county, in particular those that would benefit most from our programs, simply don't have access to the UP Center because of transportation barriers," said Tanner.
Stu Keiller, Youth Sailing Foundation executive director, said the grant will support the Homeless Children Sailing Squadron. YSF will work with the Homeless Children's Foundation to identify and recruit homeless children for the program, who will be joined by sailors from Dodgertown Elementary School and later from Vero Beach Elementary School.
"It's not about sailing, it's about giving some of our most desperate kids a chance to succeed. They're just like all the other kids out there on the water," said Keiller. "It's the basic building blocks of life that we're teaching."
Adam Schnell, founding artistic director of Ballet Vero Beach, received a Merit Grant of $20,000 for a Fellowship Initiative for Dancers. Working with Indian River State College and the Learning Alliance, students in the program will emerge with an AA degree, professional dance experience, innovative ancillary education, and hands-on teaching experience.
Schnell said the initiative will help increase their Education Engagement programs' capacity, including their Stage to Page program, which uses arts integration and literacy techniques to open up the arts to hundreds of elementary students each year.
The Impact 100 model calls for annual memberships of $1,100 by Feb. 28 of each year, with $1,000 used to create $100,000 grants – the number of grants is determined by the number of members – and $100 to fund operational costs. Grant finalists are narrowed down through a multifaceted grant review process, with members casting a vote to determine recipients.
For more information, visit Impact100IR.com.
Photos by Kaila Jones and Mary Schenkel