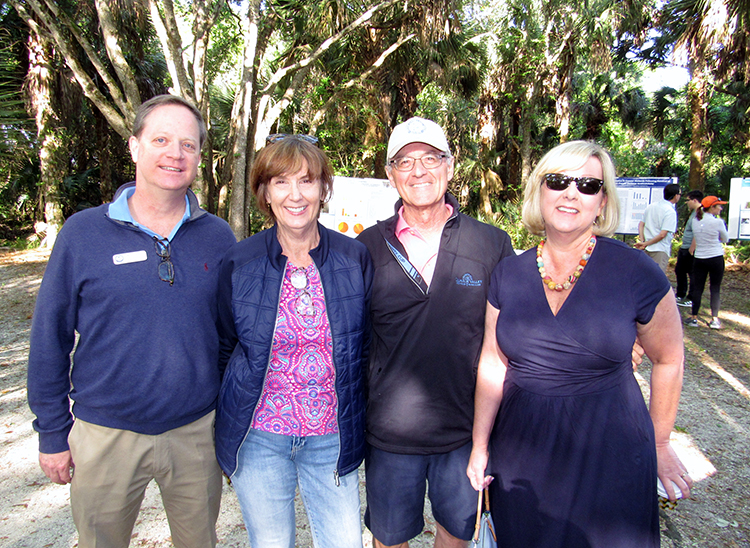 Ken Grudens, Indian River Land Trust executive director, had some exciting news for supporters who gathered for their annual Member Day at one of its earliest lagoon properties, the Toni Robinson Waterfront Trail, a 50-acre plus conservation area with oak trees, scrub forest, mangrove swamp and an observation area overlooking the Indian River Lagoon.
Grudens announced that the Land Trust had not only reached its lofty goal of matching a $1 million Challenge Gift issued by Don and Meg Steiner, but they had exceeded their goal.
"It actually brings our campaign to more than $12.5 million in what started as a $10 million campaign. So, it's just lots and lots to celebrate," said Grudens. "Without all of you, we wouldn't have gotten here. Thank you again for making this campaign a reality."
The morning featured foot and golf cart tours of the property, refreshments, and music by the Penny Creek Band.
Additionally, Pjark Sander, a student at Indian River Charter High School, was on hand to explain the Junior Science program he and other local high school students are participating in at the Land Trust's Coastal Oaks Preserve property, with scientists from Harbor Branch Oceanographic Institute.
So, my group has been working on monitoring the recruitment of new plants in the area after Brazilian pepper was mulched and we have been assessing the health of oak trees in that area," said Sander, explaining that many of the trees are in decline, having been choked by pepper trees and potato vines.
"We hope that by the removal of the Brazilian peppers that the health of the oak trees will improve," said Sander.
Beekeeper Robb Greenfield, of Native Island Apiaries, spoke about the hive on the property and the honey business in general, explaining the differences between the clean honey made by small firms, versus mass-produced honey that can even be mixed with product from other countries.
"The Land Trust are great stewards of the mangroves, obviously, and so they allow us access to two properties, this being one. We just keep one hive here, and it's a very good tool for us to monitor when the nectar is starting to flow. It's a good litmus test of the strength of our bees and sort of what's happening east of U.S. 1," said Greenfield, noting that the bees there pollinate black and white mangroves.
Mary Hourdequin said she and husband Jim joined the IRLT last year to support local causes that are making a difference.
"The more of this we can do, the better it is for climate mitigation. We're very concerned about the state of the lagoon. We've been here five years and it is just getting worse," she said.
They are also members of the Environmental Learning Center, and a guide there spoke about the increasing lack of sea grasses.
"The damage that we're doing to the lagoon with fertilizers is going to be very hard to reverse. It has implications for people's health, for the climate and for the health of wildlife. It wouldn't take a lot for people not to plant things that require fertilizer; to plant native species instead," said Hourdequin.
"We are just concerned that Florida in general is not being a good steward of the environment. With all the people moving in, it's going to put more stress on the whole ecosystem. It takes a longtime effort, a sacrifice."
For more information about the conservation efforts of the Indian River Land Trust, visit irlt.org.
Photos by Mary Schenkel