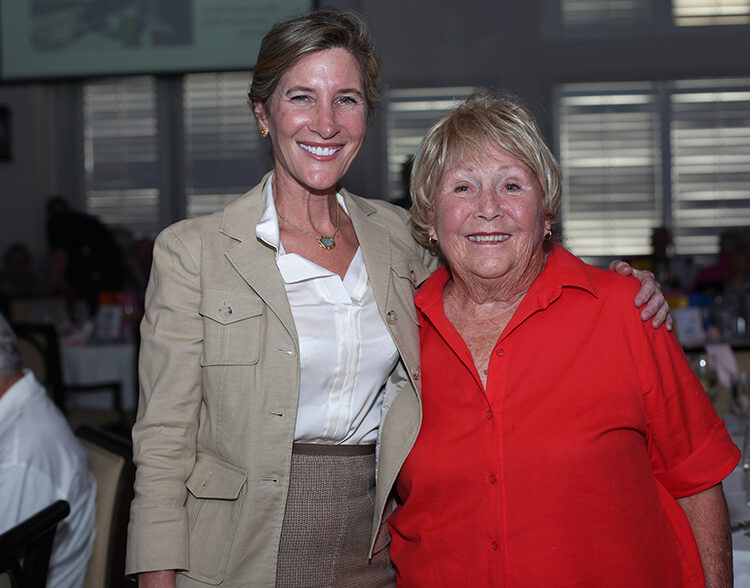 Cheers erupted in the dining room of the Grand Harbor Golf Club when Terry Leggett, Answer to Cancer event co-chair with Carole Casey, announced that they had surpassed the $1 million mark in donations to the Scully-Welsh Cancer Center to improve the lives of those affected by cancer.
"What a group of generous, generous people. Aren't we lucky to all be here together?" said Casey, addressing the crowd of Grand Harbor residents and friends at their annual Golf Tournament and Fundraising Dinner.
Answer to Cancer was co-founded by the late Don Casey and cancer survivor Carole Plante, and it has continued to grow in leaps and bounds. Leggett explained that their funding supports programs and equipment so that patients and families might receive the best care possible.
This year, 220 golfers were joined by another 60 guests to socialize over cocktails, bid on a massive selection of auction and raffle items, and enjoy a delectable buffet dinner. Spring colored Luminaria lined the driveway and served as table centerpieces to honor survivors, memorialize lives lost, and serve "as a sign of everlasting love.
Breast cancer surgeon Dr. Eleni Anastasia Tousimis, who in December joined as medical director of the Scully-Welsh Cancer Center, and Cleveland Clinic dermatologist Dr. Jonathan Braue were invited to be the guest speakers.
"I'm very excited about the Cancer Center because we are expanding tremendously and we're introducing many new cancer programs," said Tousimis. "In the last six months, we've introduced eight new programs. Our aim and our mission is to build a world-class cancer center for our community, so the people of Vero Beach and the Treasure Coast don't have to leave the area to get world class care."
She explained that Answer to Cancer funding has essentially been divided into three areas.
The Oncology Nurse Navigation Program assists patients and families to better interface with physicians throughout the complicated cancer process.
They also fund quality-of-life projects not covered by insurance, such as DigniCaps, which cool hair follicles to help chemotherapy patients keep their hair. "And that has been tremendous for our patients," said Tousimis.
Lastly, they regularly fund innovative technology, two this year.
"One of them is a 3-dimensional camera, and this is for our new reconstructive surgeon who just came from Mount Sanai in New York City," said Tousimis, explaining that the camera can simulate how a patient will look after surgery.
"I've been doing breast cancer care for 20 years and I've never seen this particular camera, so I'm really in awe of it; it's really amazing."
The second piece of technology, Braue explained, is a phototherapy device to treat skin diseases.
"This is going to be very helpful for a lot of patients that I see," said Braue, relating that it can be used for diseases such as skin lymphoma and for skin complications caused by chemotherapy.
"There are very few people in this area who treat these diseases and there are very few of these phototherapy units that are available. So, thank you so much," said Braue.
Photos by Kaila Jones