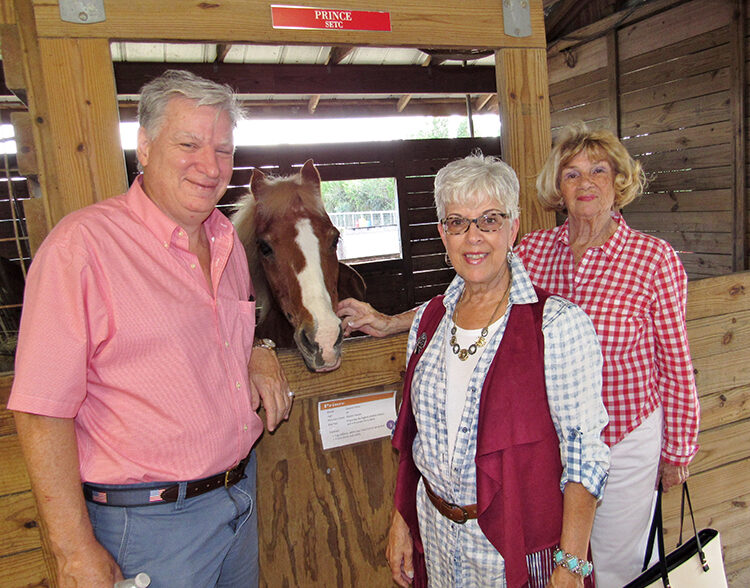 Supporters of Special Equestrians of the Treasure Coast descended on the current SETC barn and arena to delight in another mouthwatering Argentine Asado and to support the nonprofit. SETC provides equine-assisted therapy and activities to individuals with special needs and to cancer patients through Ride Beyond Diagnosis.
Guests milled about the barn, bidding on auction items and plucking cards from a giving tree to donate to the care and feeding of the equine therapists and, of course, most everyone also made a beeline to visit with the sweet and gentle horses. Among the giving tree were cards to help with Squeeze, who elicited extra pats and lots of symphony for an eye infection that required expensive care from Palm Beach Equine.
As people watched from along the fenced arena, Ocean Grill owner Charley Replogle, Cesar Rodriguez, farrier for the Special Equestrian therapy horses, and other friends of the Ocean Grill Polo Team heated things up by constructing and continually adding to an impressive bonfire.
Once the coals were good and hot, they were shoveled underneath a line of grills, where a cornucopia of ribs and steaks, sausages, chicken, corn on the cob and zucchini were slow roasted to perfection and then passed around to the appreciative diners.
"Special Equestrians started in 1992, probably with one saddle in the back of somebody's truck and now here we are in an eight-stall barn with eight horses and over 50 students coming in weekly," said Karen Johnson, executive director. "We're bursting at the seams and we're looking at the next stage of growth."
Johnson noted that all of their instructors are volunteers, and they are certified by PATH, Intl. (Professional Association of Therapeutic Horsemanship, International), with safety their highest priority.
"We can't do what we do without out all the hands of the volunteers that we have. They're here helping us every day, they're here tonight helping us," said Johnson, also acknowledging assistance given at the event by Helping Hands, a new local nonprofit.
"We're looking ahead at all our growth, and our dreamscape shows a beautiful barn, with a covered arena and many more programs to serve the special needs in our community," said Johnson. The site of the equestrian center would be in Fellsmere, where SETC has been gifted 24 acres of land by an anonymous donor.
To do that, Johnson said they are looking to expand their board with individuals who can help them get to the next level, with site planning, barn building, marketing, fundraising and hands-on volunteering.
"We're looking forward to the future and we can't wait to get there," said Johnson.
To give those guests not as familiar with their programs and services a feel for what they do, Johnson introduced two students and their teachers who gave a short therapeutic riding demonstration: Lucia, taught by Maggie Stewart and riding on Mimi, and Lindsay astride Luke, taught by Christina Clark.
The beaming smiles on the faces of the riders were a testament to the delight they feel when on horseback, little realizing the health benefits that therapeutic riding is offering them. The gentle rhythm of the horse can stimulate muscle strength, improve balance and coordination, and provides riders with greater self-esteem as they give simple commands from the saddle.
For more information, visit SpecialEquestriansTreasureCoast.org.
Photos by Mary Schenkel