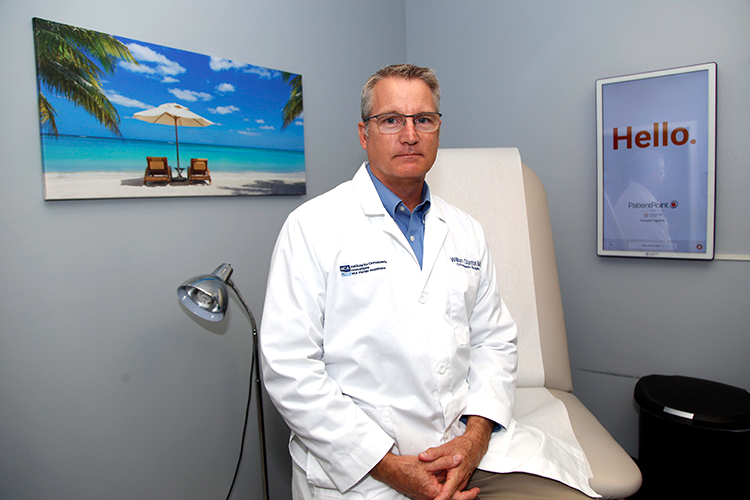 Not everyone knows there's more than one way to replace a hip joint – but there is.
"There are actually three ways to access the hip joint for a total hip arthroplasty," said Dr. William Stanton, an orthopedic surgeon with HCA Florida Lawnwood Hospital. "The most common method is the posterior approach from the back, followed by the lateral approach from the side. Both of these approaches require cutting a tendon and muscle.
"The third approach – muscle-sparing anterior – is becoming more popular because it leaves key muscles and tendons intact. Instead of cutting any tendon or muscle, we go between the tendons and muscles so there is less damage going into the joints. Because we are not having to cut and repair tendons and muscles, the recovery time for patients is shorter and less painful.
"The same type of prosthetic is used in all three cases, it's just a different way to deliver it," Dr. Stanton continued. "The short-term improvements that people get with the anterior approach make it a worthwhile option."
Indeed, researchers at Mayo Clinic concluded that patients who underwent direct anterior approach hip surgery recovered faster than patients who had mini-posterior approach hip arthroplasty by these five measures:
Discontinuing the use of a walker (10 days after surgery versus 14.5 days)
Discontinuing use of all gait aids (17.3 versus 23.6 days)
Discontinuing use of narcotics (9.1 versus 14 days)
Ascending stairs with gait aid (5.4 versus 10.3 days)
Walking six blocks (20.5 versus 26 days)
During the anterior procedure, the surgeon makes an incision over the front of your hip and removes diseased and damaged bone and cartilage, working through and around muscle and tendon.
He then implants the prosthetic socket into the pelvic bone to replace the damaged socket, and replaces the round ball on the top of the femur with the prosthetic ball, which is attached to a stem that fits into the thighbone.
Techniques for hip replacement are constantly evolving as surgeons develop less invasive surgical techniques that lessen pain and reduce recovery time.
"When I got out of residency in 1998, no one even spoke about an anterior approach," Dr. Stanton said. "We simply weren't exposed to it.
"The orthopedic surgeons who are doing residency now are all doing the anterior approach as part of their program. The less invasive approach is becoming more mainstream and surgeons like myself are taking advanced training to master this approach. The technique is not new to general surgery but it's new to my practice."
Not everyone qualifies for the anterior approach, which is best suited for someone who is thin and has a low body mass index. And there are some types of arthritic hip damage that are less suited for the anterior approach than others.
"In general, I look at your body mass index and if you are a good candidate for the anterior approach I'll suggest it," Dr. Stanton said. "Not many people come in asking for the anterior approach because they simply aren't aware of it."
Hip replacements are most commonly done in patients in their 70s but there's been a shift in the last five or six years toward patients requiring the procedure in their 60s, possibly because of an increased level of activity that generation has enjoyed.
Arthritis is the most common reason to need a hip replacement. After 50 or 60 years of high-impact traumas, caused by running, jumping and other common sports activities and daily life, the cartilage cushioning on the bones of the hip wears away. The bones then rub against each other, causing hip pain and stiffness. In some cases, wear may be caused by subtle irregularities in how the hip developed in childhood.
The first line of treatment is always conservative and can include medication, therapy, walking supports and injections for pain. If those treatments don't relieve the pain, then you may be a candidate for hip replacement.
The good news is that the success rate for this surgery is high, with more than 95 percent of patients experiencing relief from hip pain. The success rate of hip replacements 10 years after surgery is 90 percent to 95 percent. At 20 years, 80 percent to 85 percent of patients still feel good and have normal mobility.
"You can't really prevent a hip problem," Dr. Stanton said. "It's a natural part of aging, like wear and tear on your car or a pothole that starts out small and gets bigger and bigger until it needs to be fixed. The best advice I can give is to keep in good shape, be careful about your weight, make sure your medical problems are taken care of and get out and participate in a low-impact exercise like swimming or walking."
Dr. William Stanton is a graduate of the United States Military Academy at West Point and has treated veterans at Brooke Army Medical Center in Texas. He is a board-certified orthopedic surgeon who practices in Fort Pierce at HCA Florida Lawnwood Hospital. He treats a variety of orthopedic issues including fractures, tendon injuries, the hip and other joints. His office is located at 2402 Frist Blvd., Suite 200, Fort Pierce. Visit www.InstituteOrthoInnovations.com or call 772-409-6292 to book an appointment.