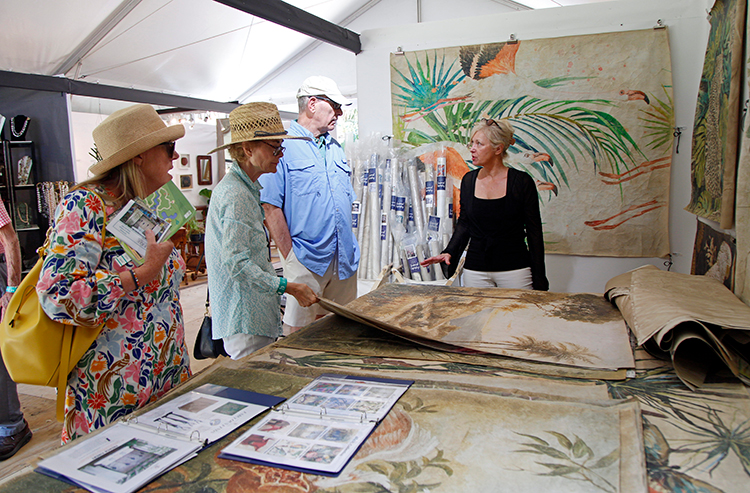 McKee Botanical Garden opened its gates once again to some of the industry's preeminent dealers for the third annual Garden & Antique Show and Sale. The items were all well protected from the elements, housed either in sturdy tents (on raised floors in the grassy areas) or inside the Education Building and Hall of Giants.
The three-day event featured superb collections of antique furniture, paintings, rugs, estate jewelry, collectibles and objets d'art, along with garden-related pieces, such as wrought iron tables and chairs, statuary, fountains and other garden accessories. To further enhance outdoor spaces, Valkaria Gardens offered a selection of bromeliads, orchids and other plants.
McKee again presented the show in conjunction with Charlie Miller of Miller, Hamilton & Co., based in Chapel Hill, N.C. Miller is well-known to Veroites, having managed the prior McKee shows as well as a Vero Beach Museum of Art antique show for almost 25 years.
Some of the discerning antique lovers who flocked to this show relished reconnecting with dealers, who hailed from all along the Eastern seaboard and as far away as Chicago and Austin, having previously dealt with them up north or purchased from them at prior shows.
"It's really interesting to see these very, very good antiques," said Elke Fetterolf, who was enjoying catching up with Mary and Gordon Nicoll, of Nicoll Fine Art and Antiques.
"We've been here since the old museum days and we did shows with Elke for 25 years," said Gordon Nicoll. "We've been doing it for long enough that we have a lot of clients here, so we do very well. And we love coming to Vero Beach."
For others, it was their first time attending the show at McKee.
"I'm just fascinated that we have such a quality show here," said Barb Hochkiss. "I think it's great."
"I didn't think that there would be such exceptional artwork. I'm impressed," said Wivi-Anne Weber, owner of the Lili Pad Gallery in Watch Hill, R.I., another first-time visitor.
Having perused the show and made their purchases, many attendees took the opportunity to wander the lush gardens and view the animatronic sculptures of McKee's Dinosaurs Around the World Exhibition, on display until May 1. Others dined alfresco on goodies prepared by the Garden Café.
Next up, McKee, which boasts one of the state's largest waterlily collections, will host its 17th annual Waterlily Celebration, from 8:30 a.m. to 2 p.m. on June 18, with repotting demonstrations, plein air artists and a waterlily photo contest. General admission rates apply.
For more information, visitmckeegarden.org.
Photos by Kaila Jones