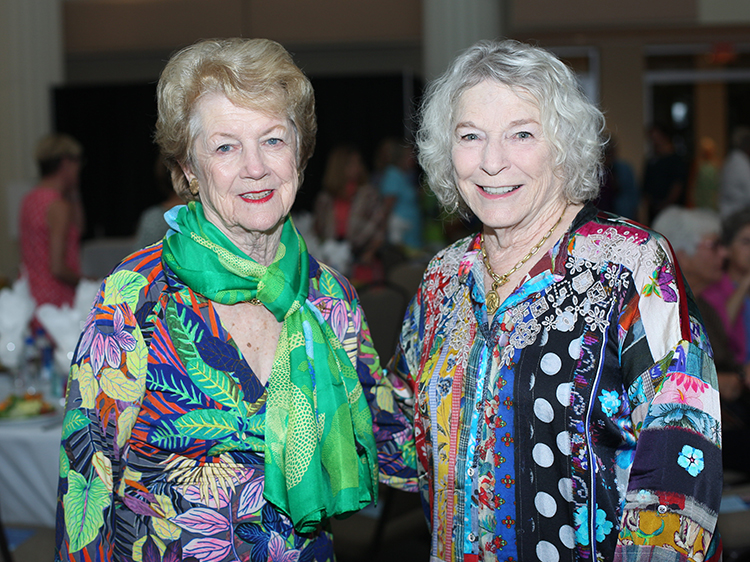 With humor and charm, Frances Mayes, bestselling author of "Under the Tuscan Sun," delighted an audience of supporters of the Alzheimer and Parkinson's Association of Indian River County at a recent Successful Ageing Luncheon at the Vero Beach Museum of Art.
"It took two years to get Frances here," said Peggy Cunningham, executive director, referring to the luncheon's prior pandemic cancellations.
"Proceeds from this event will go to the families who are trying to take care of someone with Alzheimer's, or those with movement disorders, like Parkinson's. And, as you know, everything we do is free of charge and everything is funded through philanthropy," said Cunningham.
In her introduction of Mayes, board member Sandy Rolf said that in 1996, Mayes introduced readers to a new world with her memoir about buying and restoring an abandoned 200-year-old farmhouse in Tuscany.
"With her signature language and her descriptions of the beauty and the simplicity of life in Italy, we've all learned to age beautifully with her. She's inspired many others to embark on our own journeys, whether they are flying to foreign countries, tasting one of her recipes or simply engaging in armchair travel, which many of us have been doing for a couple of years now," said Rolf.
Mayes said that she and husband Ed had arrived in Vero Beach the day before, adding: "We can already tell, we're ready to move here."
Mayes grew up in Georgia, which she wrote about in her book, "Under Magnolia," and she "just crossed the border" to attend and graduate from the University of Florida.
"I can also tell, just by being here among you this morning, this is a place where an amazing sense of community thrives," said Mayes, adding that being involved in your community is one of the most important aspects of a balanced life.
Appropriate to the theme of the luncheon, Mayes said that her recent novel, "Women in Sunlight," soon to be made into a movie, is about three women who tend to go against the groove of what's expected of them.
"When you start getting older, you notice that an awful lot of people start trying to tell you what to do," said Mayes, to knowing laughter from the audience.
So as to not be a burden to others, she said advice is often given to downsize, drive a sensible car, watch your step, quit your job and discard the trappings of your life.
"The treasures of your precious life are suddenly potential burdens to them. The subliminal message is, shrink yourself," said Mayes. She added with characteristic humor, "Just think: They're going to inherit all your money. The least they can do is clean out the attic."
Mayes said that rather than downsize their lives, she allows the three women in her book to start reinventing and expanding their lives as they take off to Tuscany, where they recoup their earlier ambitions and dreams.
"I have never been happier or more engaged with life than I am now. I felt older at 20 than I did at 50. If you have your health, if you have some means, you can, in the last third of your life, be freer than ever before. You live in the now, not the future. Now. A delicious word, now," said Mayes.
"When I started living in Italy, I saw a different model for everyday life than the one I knew. Age was much less important," said Mayes. She explained that great-grandparents and toddlers sit together at the dinner table, children help out at the family trattoria and stonemasons cheerfully work well into old age.
"This lack of separating out into age groups makes life seem more natural, makes time more natural. It opened my eyes to assuring that I always had friends of all ages," said Mayes.
For more information about the free programs at Alzheimer & Parkinson's, visit AlzPark.org.
Photos by Kaila Jones