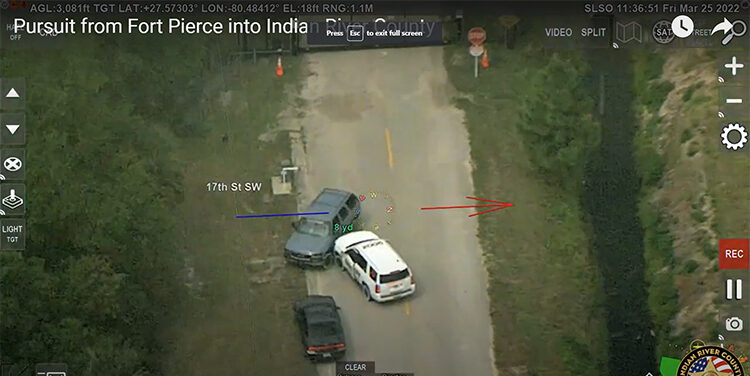 A 41-year-old man was jailed after leading deputies on a two-county chase that ended with his sports utility vehicle crashing in the woods last weekend, authorities said. Patrol deputies tried to stop the SUV by bumping its rear left side, helicopter video showed.
Cory Twan Richardson, of Fort Pierce, was charged with felony fleeing and eluding and reckless driving. Richardson was held Thursday at the Indian River County Jail on $125,000 bond.
Richardson had an active St. Lucie County warrant for his arrest at the time of the incident. Indian River County sheriff's officials on Tuesday released St. Lucie Sheriff's Office helicopter footage of the chase.
The chase covered more than 15 miles and lasted about 14 minutes, reports show.
Indian River County sheriff's deputies were notified of a driver that fled from St. Lucie County deputies about 11:20 a.m. Friday and headed northbound. Indian River deputies saw the gray Suburban-style SUV traveling at a high speed as it entered the county.
Local patrol deputies activated their emergency lights and sirens, then followed the vehicle on 27th Avenue Southwest. The driver – later identified as Richardson – then headed westbound on Oslo Road, where he reached speeds greater than 90 mph, reports show.
Deputies saw the SUV swerving in and out of traffic. Richardson also ran a solid red light at the 43rd Avenue and Oslo Road intersection, reports show.
The SUV veered into the grass on the right shoulder to pass other vehicles, deputies said. Deputies tried to disable the vehicle using stop sticks, but were unsuccessful, reports show.
The SUV reached a dead end near 76th Terrace Southwest. A patrol deputy bumped the rear left side of the vehicle, causing the SUV to briefly stop.
Richardson tried to drive off, but struck another patrol car head on before crashing his vehicle in the woods. Richardson was arrested and booked into the county jail.
Richardson has an arraignment at 8:45 a.m. May 20, court records show.