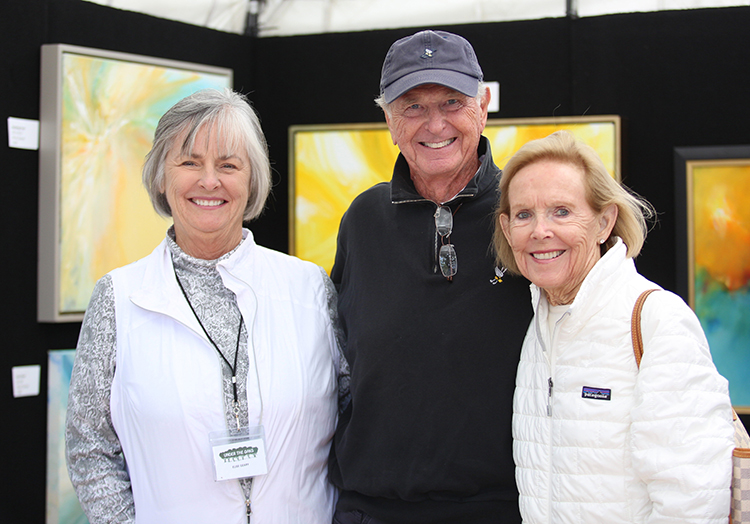 The 71st annual Under the Oaks Fine Arts & Crafts Show, presented by the Vero Beach Art Club, experienced most every meteorological condition that Florida offers – hot and humid on Friday, a wet and blustery front that blew through on Saturday, and picture-perfect, cooler conditions on Sunday. And the 207 artists and many thousands of visitors weathered it all with aplomb.
Attendance was a far cry from two years ago, when Under the Oaks was among the first events shut down by COVID, and last year, where folks were still being cautious. This time, eager to get first pick of the exceptional works, crowds poured into Riverside Park on Friday morning, lining up even before the 9 a.m. start.
The fast-moving storm on Saturday was the only hiccup, but event chair Alicia Quinn said that luckily, there was no damage to the art or tents.
"We knew it was coming. We had been watching it and waiting," said Quinn. "All the artists closed their tents when it started raining heavily and then reopened them after about an hour."
VBAC members volunteer in various capacities throughout the entire process for what is the Art Club's largest fundraiser. Proceeds fund local scholarships as well as enrichment programs that promote art through education.
Artists are selected through a jurying process each fall, whittled down from hundreds of applicants from around the country, and sometimes abroad. A percentage of spots are reserved for VBAC members, who compete for those spots amongst themselves.
To keep things fresh and exciting, some 30 percent of artists were new participants.
"We couldn't be happier with the diversity of their work. If you don't find something here, you just don't like art," said Quinn.
Among the newer artists was Adam Conrad, Zoto Original Oil Paintings, who recently moved to Vero Beach and plans to throw himself into the Vero art scene, including at Under The Oaks next year.
Also new was Leslie Young, who took first place in her category for her unique 'nautilus shells' made with a scroll saw, using various wood varieties or resin, some with inlays.
Vero artist Evan Schwarze, whose fluid, multi-dimensional oil paintings are evocative of our natural environment, won first place in his category as well.
Another newcomer was Michelle Wood Nevaeh, a former executive chef, whose stunning woodworks made from exotic woods, epoxy and barn wood are crafted in her Vero Beach studio.
Monetary awards were determined by a trio of out-of-town judges – Dana Hargrove, Audrey Hope and Rosa Valladares.
For more information, visit verobeachartclub.org.
Photos by Kaila Jones