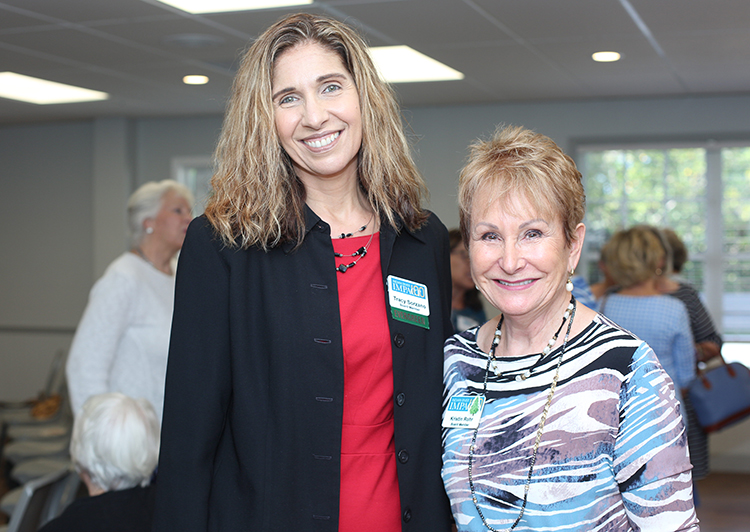 Indian River Impact 100 members gathered at the Riverhouse recently for a Meet the Finalists Celebration, sponsored by Campione, Campione and Leonard P.A., eager to learn which area nonprofits had been selected as finalists in the 2022 Impact 100 grant selection process.
"Today, we have the pleasure of announcing the nonprofits and projects that you, our members of Impact 100, will have the opportunity to vote for at our annual meeting on April 13," said Tracy Sorzano, board president. "It's also an exciting day because we are happy to announce the amount of funds we have available for our grant awards."
To become an Impact 100 member, women annually contribute $1,100 ($100 is an administrative cost) and vote at the annual meeting to decide which finalists will receive that year's $100,000 transformational grants.
Membership recruitment is critical, as the number of members determines how many $100,000 grants are possible that year.
Sorzano thanked the membership committee, led by Suzi McCoy Shriner, for their tireless efforts to build the membership, calling them "amazing cheerleaders" for the organization.
Committee members walked to the front of the room carrying mylar balloons that spelled out a whopping $483,000. It was slightly shy of their 'Strive for Five' goal but, undeterred, Shriner said she's heading into next year with a 'Chicks for Six' goal.
"This is my second favorite day of the Impact year, because this is the day where we announce the finalists" said Mary Ellen McCarthy, grants chair and president-elect.
The grant selection process is an intensive one, with 35 grant committee members, panelists and financial experts, who extensively vet the projects to ensure they are community centered, impactful, measurable and sustainable.
McCarthy said the grant volunteers began evaluating the applications in November, taking time out of their busy schedules to ensure that programs meet Impact's demanding criteria.
"And we have a very challenging process. Our eyes are always open to the new needs in the community, and we are so lucky that we have great, devoted dynamic women as part of our group," said McCarthy, before announcing this year's finalists:
Ballet Vero Beach – Ballet Vero Beach Fellowship Initiative
Gifford Youth Achievement Center – Youth Employability Program
Treasure Coast Community Health – The Vision Program
United Against Poverty – Going UP Bus
Youth Sailing Foundation – Homeless Children Sail for Life
The five finalists will make their case before the Impact 100 membership at the Annual Meeting on April 13. Members will vote that same day and will present four $100,000 transformational grants to Impact 100's newest Community Partners. The board will decide what portion of the remaining funds will be distributed as a Merit Grant this year.
For more information, visit impact100ir.com.
Photos by Kaila Jones