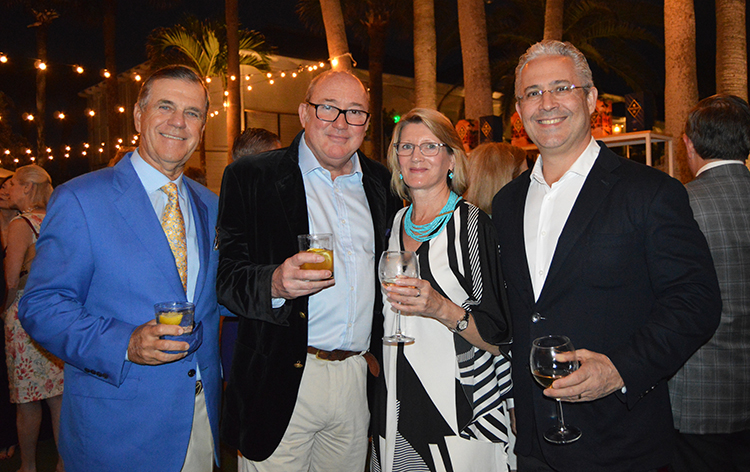 Sponsors and beneficiary representatives of the Windsor Charity Polo Cup were recognized at a Player Reception at the lovely Windsor Beach Club the Friday evening preceding the sixth biennial Windsor Charity Polo Cup, presented by PNC Bank.
Guests mingled over cocktails and hors d'oeuvres while perusing the selection of raffle items, including a stunning dragonfly necklace by Paul Morelli, jewelry co-sponsor with Belle Cose at the Village Shops. Morelli and Belle Cose also offered a curated selection of pieces for guests to purchase at the reception and the following day at the Special Retail Village, with a portion of proceeds donated to the Windsor Charitable Foundation for the designated event beneficiaries.
Hilary Weston, as gracious as ever, attended the reception with her longtime friend, Vicky Poklewski-Koziell, a contemporary artist who currently resides in London, but was one of Windsor's first residents. Windsor properties was founded in 1989 by the late Galen Weston and wife Hilary, a former lieutenant governor of Ontario.
The Windsor Charitable Foundation's signature fundraising event, the biannual Windsor Charity Polo Cup, was founded in 2012. With input from Windsor residents, many of whom are involved in local charities, the foundation chose the Ocean Research & Conservation Association and the Environmental Learning Center to be this year's beneficiaries.
Edith (Edie) Widder, Ph.D., founder, CEO and senior scientist at ORCA, and Barbara Schlitt Ford, executive director of the ELC, were on hand to share information with guests about their causes.
"I want to thank presenting sponsor PNC Bank for returning at our highest sponsorship for the second time. We really appreciate your financial contributions and also the behind-the-scenes support we receive from the PNC team," said Jane Smalley, Windsor Properties marketing director, to the assembled guests.
"I'd also like to thank the sponsors of this event this evening, Windsor residents Timothy and Mary Mullan and Manly and Mary Johnson. Both the Mullins and the Johnsons have been strong supporters of this event since its inception in 2012, and we sincerely appreciate their ongoing support," said Smalley, before inviting the beneficiaries to say a few words.
"It's an enormous pleasure to be here. We are just so incredibly grateful for the generosity of Windsor and all of the sponsors who have made this possible," said Widder.
"I have said for some time that I think in the future, as we put more and more strain on our ecosystems, the places where people are going to want to live are where people and communities have come together to protect those local ecosystems. Nobody wants to live next to water that is filled with toxic algae that is making humans and animals sick and reducing real estate values. So, at ORCA, our focus is on using science to drive change, and trying to figure out how to stop pollution at its source. And we thank you so much for your help in making that possible."
"I just want to reiterate the incredible gratitude we are feeling. This is an amazingly fun event, but the good work that you are making possible really makes a difference to our nonprofits. The Environmental Learning Center is just at the western foot of the Wabasso Bridge, so we're neighbors to the Windsor community," said Schlitt Ford, inviting everyone to visit and learn about ways to protect and restore our natural resources.
"We invite you to become part of the learning. As we know better, we do better, so that's what we are all about. We have programs all the way from toddlers to our field trips, green teens, a very strong adult volunteer program and adult learning community called our eco-action society. So, check us out, get on our mailing list and come and see us."
Dr. Johnson Haygood, a local dentist whose artwork is shown at the Artists Guild Gallery, was also at the reception, pleased to have been selected as this year's commemorative poster artist.
His acrylic piece "The Match" graced the cover of the Charity Cup program, and the actual painting was auctioned at the luncheon.
He said he was even more pleased when Hilary Weston purchased a larger polo painting that now hangs in the Windsor Beach Club. "Her driver came to my house today and they hung it this afternoon," said Haygood with a smile.
Photos by Stephanie Labaff