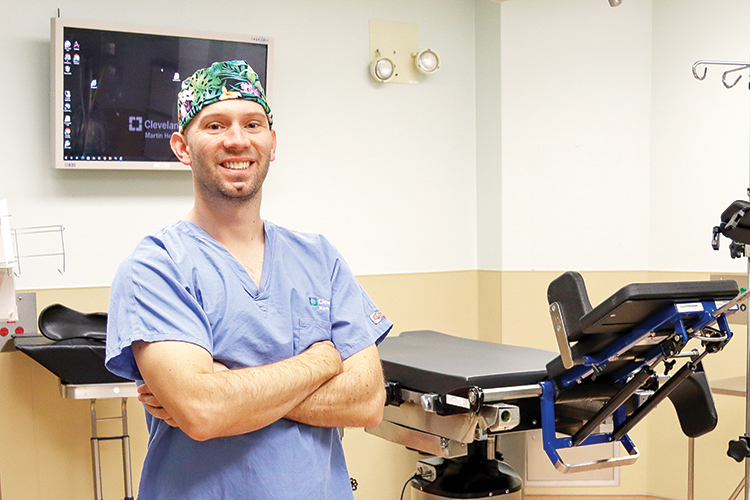 It's not only seniors who have hip problems. Young people, especially athletes, often have hip injuries resulting in pain and immobility, or pain caused by genetic issues. Otherwise these teens and young adults are perfectly healthy. In the past they may have had to look at a total hip replacement or live with the pain, but an evolving non-invasive procedure called hip arthroscopy can alleviate their discomfort and get them back in the game.
Hip arthroscopy, sometimes called a hip scope, is a relatively new, minimally invasive surgery that allows your orthopedic surgeon to put a camera, called an arthroscope, inside the ball and socket of the hip joint to diagnose and treat a number of common hip injuries.
Orthopaedic surgeon Dr. Michael MacKechnie, director of sports medicine for Cleveland Clinic Martin Health, is excited by this new method of treating those who need hip surgery but not a full joint replacement.
"Our arthroscopy patients are generally younger and active with minimal or no arthritis. When a teen or a patient in their 20s has a hip injury, we want to avoid a total hip replacement if possible, because the new joint only lasts 15 or 20 years and they'd have to do it all over again in the future.
"This is where sports medicine and arthroscopy really help. Of course, young is a relative term. I've done this procedure on people in their 40s, 50s and 60s too, as long as they don't have arthritis. Unfortunately, the only cure for arthritis is a joint replacement."
Hip arthroscopy is used for the removal of loose pieces of bone or cartilage, and to treat labral tears, tendon tears and releases, hip dysplasia, diseased or inflamed joint lining, painful bone spurs and impingement – a condition where an unusually shaped hip joint causes two bones to rub together.
For many people, an arthroscopy will repair the condition causing pain or mobility problems in their hips without the need for a total hip replacement. Typically, your doctor will recommend arthroscopy only if non-surgical treatments like steroid injections or physical therapy fail.
"Hip arthroscopy is generally performed as an outpatient, day surgery," Dr. MacKechnie explained. "Once the patient is fully asleep with general anesthesia, we'll gently pull on the leg to open up the ball and socket joint and create a space for us to put in our equipment.
"We typically make three or four small incisions about the size of my fingernail on the front side of the hip and insert the arthroscope to be able to see the inside of the joint. The other holes are used to insert the tools to trim back and repair the cartilage and bone. It's a new and impressive tool to help people and I'm happy to offer this minimally invasive surgery as part of the comprehensive management of hip problems."
Since hip arthroscopy is a newer area of orthopedics, many surgeons aren't trained in it. Dr. MacKechnie sees patients from as far south as Miami and as far north as Indian River County.
"I've been at Cleveland Clinic Martin Health for a little over a year now and I'm happy I can bring my experience with this procedure to the hospital," he said.
When asked if the arthroscopic surgery can delay the need for hip surgery or postpone the advancement of hip arthritis, Dr. MacKechnie said there are many studies going on right now but no definitive answer. "I think arthroscopy is an important tool but not a panacea," he said.
"We only offer this surgery to patients who have the type of injury that can be treated and do well. It is not a treatment for all with hip problems and some patients may ultimately require a total hip replacement."
A patient who undergoes arthroscopic hip surgery can expect to spend about a month on crutches and between three and six months before they are fully recovered. Rehab after the surgery is highly recommended and an important part of the recovery process.
"When a patient comes into Cleveland Clinic's Orthopaedic Department with hip pain, we offer at multidisciplinary approach," Dr. MacKechnie said.
"We have a non-operative sports medicine doctor who can administer injections, anti-inflammatory medicines and physical therapy. It's always a good idea to try as many non-operative treatments as you can prior to any type of surgery. Then you have me offering minimally invasive arthroscopic surgery to those with little or no arthritis, and my colleague who offers the straightforward and complex hip replacement. There are a lot of options and arthroscopic surgery is just one arrow in the quiver.
"My goal as a sports medicine surgeon is to focus on where you are right now, whether you're a 20-year-old soccer player or a 50-year-old pickleball player and get you back to where you need to be," Dr. MacKechnie said. "If we can do that with minimally invasive arthroscopic surgery, you'll have a shorter recovery time, lower chance of infection and overall better results."
Dr. Michael MacKechnie earned his medical degree from McGill University Faculty of Medicine in Quebec. He completed the Orthopaedic Surgery Residency program at University of Toronto and his Clinical Fellowship in Orthopaedic Surgery Sports Medicine program at University of California, Los Angeles, where he worked as the assistant team physician to the Los Angeles Lakers and the UCLA Bruins football team. He currently serves as the official team doctor for all St. Lucie County high schools and Indian River State College. He is based at Cleveland Clinic Martin Health and serves patients at Martin South, Martin North, Tradition and in St. Lucie West. To schedule an appointment call 772-781-2735.