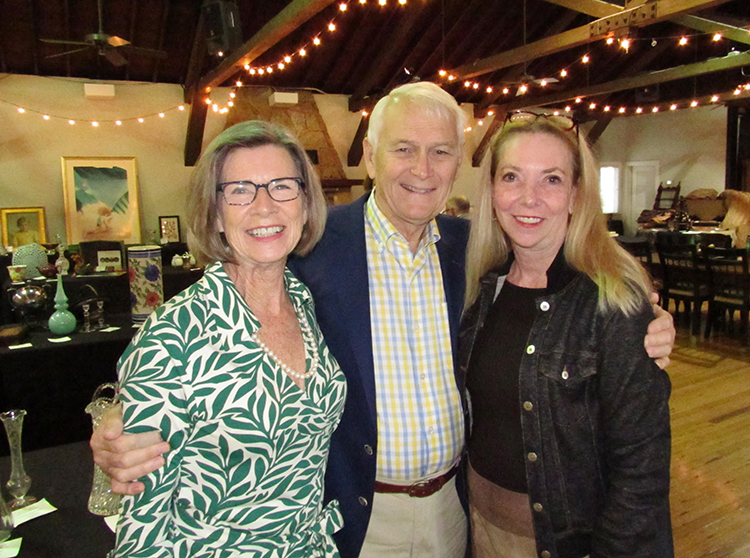 Bargain hunters were lined up outside the Heritage Center before the doors even opened to the 2022 Treasures: Art & Collectible Sale to benefit the Cultural Council of Indian River County.
"We are expecting great things. We're really pleased with the turnout right off the bat. People are friendly and they're looking for treasures or for bargains and sometimes it's both," said Elise Mahovlich, CCIRC administration manager, on the Friday evening of the weekend-long event.
The recent show featured more than 300 items, most laid out on long tables running the length of the Heritage Center, with bigger furniture located toward the back of the room and several lovely Persian and Oriental rugs displayed on the stage.
"Over the years, artists and other individuals have donated things to us and so we've got this gathering of really amazing pieces," said Mahovlich. "There's a real assortment."
"We've been members of the Cultural Council forever; lifelong members," said artist Jan Miller, who had donated a mixed-media painting to support the cause.
Other items included small collectibles such as vintage snuff boxes and various objets d'art, cut glass pieces and silverware, painted tin trays and antique platters; in short, something for every taste and budget.
"We decided that we needed a fundraiser. We get very little from the government and we have to raise money to support what we do," said board member Caesar Mistretta, owner and director with John Stringer of the J.M. Stringer Gallery of Fine Art.
Mistretta and Alicia Quinn, Cultural Council board president, assisted with the valuation of the items, most of which were sold at a fraction of their true value.
There was also a silent auction with gift certificates and experiences that elicited some competitive bidding.
"I want to say, the whole board has pitched in; we're all in on this. It's pretty exciting, especially after such a quiet spell over the past two years," said Mahovlich.
"We did very well. We're very, very pleased with the results," said Mistretta post-event. "We had the biggest net profit that we've realized from doing a fundraiser in many years."
He said a number of people who attended asked if they would be doing it again, as they had pieces that they would consider donating.
"So, it may become an annual thing. The whole thing was very successful," said Mistretta.
He noted that they donated minor items that hadn't sold to the VNA Thrift Store, and that an auctioneer was coming to look at and, hopefully, sell any unsold antiques, bringing in additional revenue.
Proceeds from the event will help support Cultural Council efforts to promote and advocate for the local arts community through its Art in Public Places program, Cultural Arts Guide, weekly e-newsletter, and a comprehensive website that includes a member artist registry and Cultural Arts Calendar.
For additional information, visitcultural-council.org.
Photos provided