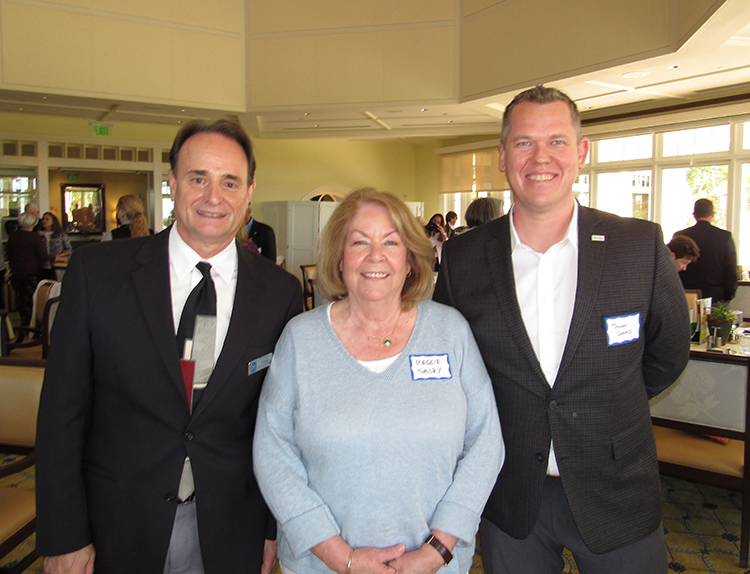 Trevor Loomis, who moved from Louisville in November to become president and CEO of Indian River Habitat for Humanity, left the Moorings Yacht and Country Club with a smile on his face and a check for a whopping $672,000, presented at the recent Moorings Habitat Sponsor Luncheon.
David Sommers, who chairs the Moorings Habitat Partnership Committee, welcomed and thanked the assemblage of major sponsors, committee members, Habitat homebuyers, and representatives of Habitat and the Moorings Club.
"Last year we raised $500,000 in our COVID-limited 2021 Habitat Classic Weekend. That was a truly remarkable achievement," said Sommers. The 2022 Habitat Classic Weekend will take place Feb. 18-21.
"Sponsorships provide the vast majority of our fundraising," said Sommers. "Without your support these ladies might not have a new home and a new direction in their life's journey."
Sommers said the Moorings made a conscious decision two decades ago to focus its efforts on Habitat, whose homebuyers are "willing and able to work hard to improve their own lives and their children's lives."
Potential homeowners contribute hundreds of "sweat equity" hours on their homes, save a nest egg, and take financial and homeownership classes. The homeowners pay a zero-interest mortgage which, when repaid, is 'recycled' to future homes.
Sommers said Moorings residents have contributed more than $8 million to Indian River Habitat over the past 24 years, enabling 78 homes to be built. Another six are being built using last year's $500,000, for a total of 84 homes. Additionally, funding is used to repair homes and provide scholarships to students from Habitat homes.
Over the past three years, Sommer said, 16 single-parent families have moved into Moorings-sponsored new homes, adding, "those 16 homes house 46 people, including 30 children."
Residents and Moorings staff also contribute hundreds of volunteer hours at the ReStore, building sites and fundraising events.
"Indian River Habitat is the community's and club's longest philanthropic partner and we on the board are very pleased to have members come together to support this cause," said Maggie Selby, president of the Moorings Club board of governors.
"The club itself contributes to Habitat directly through the State Community Contribution Tax Credit Program. For every volunteer who works at home sites and the ReStore, the hours that they donate goes toward the club's ability to redirect sales tax directly to Habitat. Over the last 10 years, this has allowed us to redirect $2.3 million. Last year we donated $172,000 of sales tax, thanks to our volunteers. These are really impressive numbers. The combined total for last year's Habitat Weekend, from contributions as well as the tax credit, total $672,000," said Selby, presenting the check.
"We're beyond grateful for the relationship with the Moorings and the incredible generosity of the membership here," said Loomis. "Twenty percent of every Habitat house built in Indian River County has been sponsored by the Moorings.
"What we do is create opportunities for people in need to change their lives. The real magic happens when we partner together," said Loomis, adding that Indian River County has demonstrated 30 years of "hand-up partnerships," proving that the Habitat model works.
"We build opportunities for hard-working families that want to build a better life," said Loomis.
One of those hard-working individuals, Kim Colley, a two-year homeowner of a Moorings-sponsored home, and the mother of a 4-year-old daughter, said that when she attended the luncheon two years ago, her home was under construction, and she is now a "proud homeowner."
After college, Colley became a local middle school teacher and was determined to become a Habitat homeowner, like her mother before her. After receiving a Habitat scholarship, she graduated in December as a Licensed Practical Nurse and just recently obtained her "dream job."
"I'm excited to be here and I thank you for everything that you've done for me as a homeowner and I know these girls are just as grateful," said Colley, referencing the other equally thankful Habitat homebuyers.
Photos provided