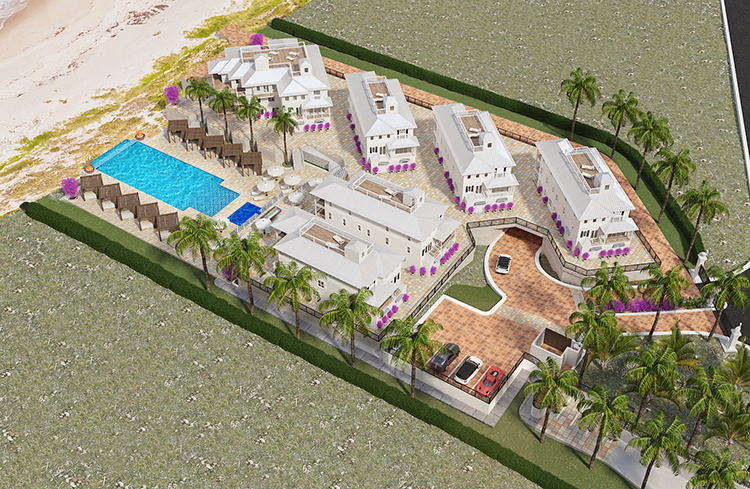 Construction is well underway on a model estate home in Ocean Club at Vero Beach and work is expected to begin in the spring on a spec house in the long-anticipated subdivision just south of the Indian River County line on North Hutchinson Island.
It's the first new home construction in a development project that was initially approved by St. Lucie County commissioners in August 2006.
Plans call for 31 estate homes on a 43.5-acre tract west of State Road A1A and a 13-unit oceanfront condominium complex on a 2.5-acre parcel east of the highway.
"The big news is we've started our construction," Compass real estate agent Scott Reynolds said last week. "We have the model under construction and in the next month we're going to have the spec (home) in permitting.
"The slab is in, and the block is going up," added Reynolds, who is working with project developer Fred Bernstein to market and sell the luxury homes in a hot market. "By the end of this week the subdivision entryway will be complete. We're expecting to have the model done within the next six months."
Reynolds said he is seeing strong, pent-up demand for the upcoming homes at Ocean Club.
"We have the largest inventory of homesites on the island where we can pull a permit and build a house," Reynolds said. "Hutchinson Island has really taken off. Our team has been working strongly in the marketplace for five years. It's just really taken off."
The Reynolds Team anticipates going to contract on two estate homes per month until the subdivision is sold out, Reynolds said.
"I expect a good year, but I expect a really good first quarter," Reynolds said. "I've gotten a lot of interest from South Florida and obviously from the northeast."
Potential buyers are looking for vacation homes and future fulltime residences, Reynolds said.
North Hutchinson Island is just a two-hour drive north of the intense development and congestion of South Florida, Reynolds noted.
The location is midway between Vero and Fort Pierce, about a 15-minute drive away from shopping and dining in Vero's Village by the Sea and the picturesque Fort Pierce waterfront and downtown area.
The construction of the condominium complex on the east side of A1A is awaiting the completion of the permitting process, Reynolds said.
Meanwhile, Bernstein, principal of Ocean Club Vero Beach LLC in Stuart, is lining up the infrastructure subcontractors, Reynolds said.
"The ocean side is like the gravy," Reynolds said. "The oceanfront stuff just flies off the shelf."
Real estate sales are high in a variety of prime locations throughout the country, Reynolds said.
"Everyone is moving," Reynolds said. "It's not just that Florida's on fire. Everyone is shuffling the deck. Everyone has low inventory, everyone has had prices go up, everyone has had steep buyer demand.
"I've been here since 2005: I've never had this low of inventory," Reynolds said. "Our sales would even be higher if we had more inventory. Today in our whole county, there's only 318 homes available to buy. To put that in perspective, there are 1,200 realtors."