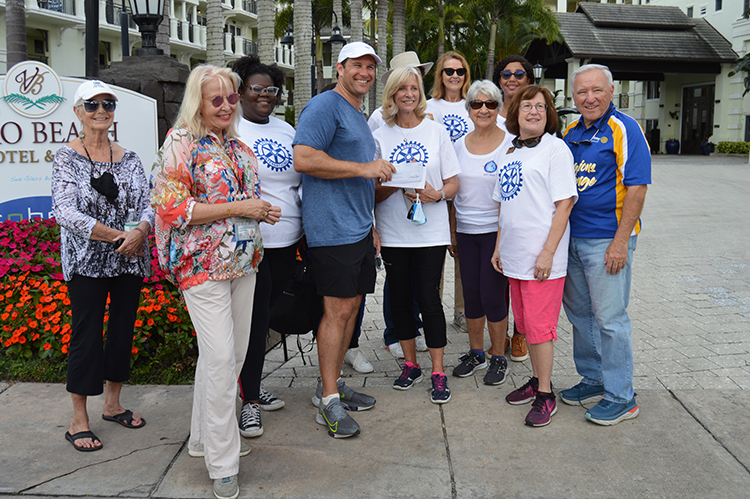 Members of the local Rotary Clubs walked the walk and talked the talk with Rotary District 6930 Governor Michael Walstrom, as he passed through Indian River County last week during Rotary's Walk for Peace campaign, which seeks to raise funds and awareness of the Rotary Youth & Peace in Action initiative.
Wearing T-shirts declaring that they were "Obsessed with Rotary," members met Walstrom at various sites along his nearly 200-mile trek from one end of his district to the other – Titusville to Boca Raton. The six-county district represents 46 Rotary Clubs and more than 1,100 members of the international nonprofit organization.
In our county, members of the Rotary Club of Sebastian were the first to greet him near the Sebastian Inlet, followed by members of the Oceanside, Orchid Island, Sunrise and Vero Beach clubs, who escorted him along the way to the Vero Beach Hotel & Spa, where he spent the night before heading off the following day for Fort Pierce.
Walstrom's goal is to raise $30,000 to fund the Youth & Peace in Action program, which is available to high schools and youth organizations within the district through Rotary International's Interact Clubs, their youth service clubs.
After greeting him at the hotel, Rotary members gathered at the home of John and Tracy Carroll for an evening of fellowship and to discuss the importance of the initiative and how best to implement it in the county.
Indian River Charter High School is one of 281 schools across the nation participating in the Youth & Peace in Action program through its 'My Peacebuilder Foundations' online curriculum, which focuses on peace and conflict resolution.
Its interactive coursework includes six modules that feature the fundamental drivers of conflict and peace, techniques for imagining innovative approaches to change, and skills needed to develop and implement peace-focused youth service projects.
alstrom explained that Rotary International already had plans to implement the program before the onset of the pandemic, and the need has become even greater.
"Because of COVID, we're seeing a real rise in depression and teen suicide. This has been boiling for a while. There are a lot of factors, but COVID kicked it up a notch," said Walstrom.
"This project was tailor-made to have these kids think about the world outside themselves. To think about peace and conflict resolution, which in our world and America today is really, really important," he added.
The idea, he said, was to get students to put their phones down, stop using social media, and to think about their neighbors.
"Think about the world around you. And ask, 'How can I be a part of it? How can I be a group community member, both locally and nationally?'" said Walstrom. "These kids will realize they don't have to feel bleak and hopeless. They can do something and affect change. A lot of these kids get the sense that there's just no hope. We want to empower them, to say that you can go out there and make a difference."
Rotary is an international organization that devotes its efforts to supporting local and international humanitarian projects, including hunger, poverty and illiteracy.
For more information, visit youthpeaceaction.org or rotary6930.org.
Photos provided