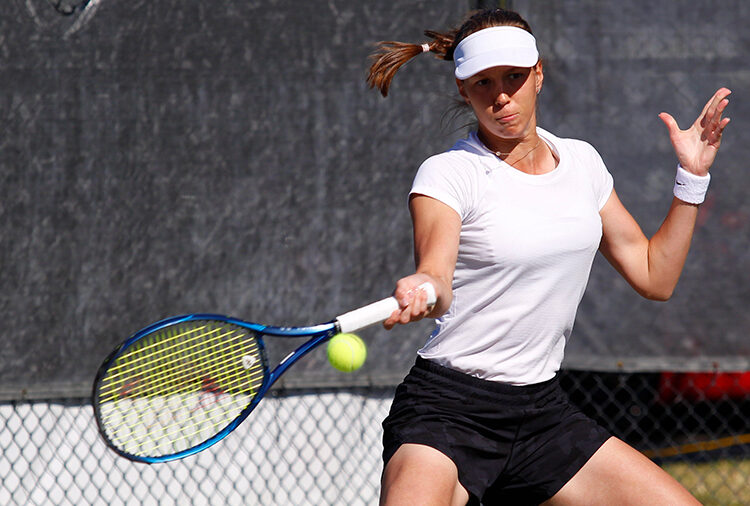 The Grand Harbor Golf & Beach Club left it all out on the courts during the week-long Vero Beach International Open Tennis Tournament.
From the high-level play on the courts by some of the top women professional tennis players in the world, to the week's multiple social events, Grand Harbor scored points in its effort to breathe new life back into the now member-owned club.
Players from 30 countries ranked from Nos. 150 to 300 competed in the tournament, their eyes on the $25,000 prize purse and the opportunity to improve their ranking in the United States Tennis Association Women's Pro Circuit.
Attendees enjoyed high intensity matches during the blustery but mostly beautiful days, and later made their way to the various options available to them in the evenings.
Several community leaders stopped in for the opening ceremonies to welcome the participants and guests alike.
"It's great to see the community come together. It's great that Grand Harbor is continuing to bring professional tennis back to Vero Beach. It's events like this that really touch home," said Vero Beach Mayor Robbie Brackett. "It's really about the coming together of people that have a passion for a sport."
"We have a wonderful tennis program at Grand Harbor. Tennis is such a critical part of our community," said Dick Tompkins, Grand Harbor Tennis Committee chair, adding that this was just the beginning of their plans to "resurrect the club."
Tompkins welcomed Sheriff Eric Flowers and quipped that he was glad to see him back at Grand Harbor for a reason other than the recent car chase, that had ended, fortunately safely, on the Grand Harbor golf course.
"We're going to try and keep all the cars off of the tennis courts while you have this event," said Flowers. "We want to make news with this great event but not that kind of news."
The genesis for hosting the event took hold a year ago, shortly after Grand Harbor club members had taken over its management, explained Michael Gibson, general manager. "We wanted Vero Beach to know that tennis at Grand Harbor is alive and well."
Having previously hosted the Mardy Fish Children's Foundation Tennis Championship, members wanted to bring that level of play back to Grand Harbor, said Gibson.
"We're excited about 2022. We're off to a great start," said Gibson, inspired by the level of play the young women exhibited.
"A year ago, the club was closed. I didn't know if I would have a job. Seeing how Grand Harbor is now, how you made that happen, is amazing," said Marco Osorio, director of tennis.
He explained that with Mardy Fish already hosting the men's tournament in Vero Beach, Osorio thought it was time to showcase some female players' talent. Tennis professionals answered the call, with 300 players applying to play in the tournament.
Among the players was Vero's own Grace Levelston, who began swinging the racquet at age 5 with the Mardy Fish Children's Foundation. Osorio began working with her when she was 6 years old.
He said that during the time she played in the 12 and under and 14 and under tournaments, she was No. 1 in the United States. Osorio had invited the Vero Beach High School girl's tennis team to attend the tournament so that they could see firsthand what it takes to play professionally.
Inspired by a tournament in Key Biscayne, Emily Bullard, GH tennis manager, picked up the proverbial tennis ball and ran with it, opting to include various social events to help encourage camaraderie among club members, especially now that the club is open to non-resident memberships.
With a team of at least 50 volunteers and the full force of Grand Harbor's staff, they planned a full week of events, which were open to the public and included something for everyone to enjoy.
Fashionistas gathered one evening for a "fashion extravaganza" organized by Ruth Farrell that featured clothing for men and women both on and off the court. Club members had fun modeling clothing from the Grand Harbor Tennis & Golf Shops, J. McLaughlin and Maus & Hoffman as their friends dined on a dinner of surf and turf. There was no shortage of good-natured ribbing as Tompkins and Gibson stepped in as male models.
Several of the tournament players had also enthusiastically agreed to model some of the women's clothing, but Mother Nature put a halt to those plans. After a day of rain canceled play, the players were still on the courts when the fashion show began. Thankfully, club members agreed to take more than one turn down the runway, and the evening continued without a hitch.
The next evening, aesthetes enjoyed wine and elegant hors d'oeuvres as they perused an art show curated by Meredyth Hyatt Moses.
"It's the first time I've ever installed a show without walls," said Moses with a laugh, reflecting on her 30-year career as a gallery owner in Boston.
The show featured local, professional artists Barbara Krupp, Shotsi Cain Lajoie, Gustaf Miller, Janvier Miller and Maciek von Ato in the "Five at Grand Harbor" show, displayed in the grand foyer of the clubhouse.
"I was looking for a cohesive, intelligent and talented group of paintings and sculptures," said Moses.
The work of several club members was also showcased around the dining room – a visual reminder that demonstrated that Grand Harbor has more to offer than tennis and golf for those pursuing other amusements.
The week of festivities and play concluded with a gala in grand style at the clubhouse, featuring foods from around the world. Guests dusted off evening wear that had been closeted since the onset of the pandemic and headed out for a glamorous night. They dined on international fare and listened to the music of the Riptides Band, playing their 2022 music debut. It didn't take long for the beloved band to kick things up a notch, enticing guests to work off their fabulous dinners on the dance floor.
As the member-owned club works to revive its status as a top-notch tennis facility, they are looking forward to hosting men's and women's senior tournaments in May and October, and, according to Osorio, have additional plans in the works for a junior-level tournament.
"We will grow this event. We will go for $60,000 and then $100,000 to help the tennis community. Vero Beach is a huge tennis community. We want the community to believe in the tournament," said Osorio.
Photos by Kaila Jones and provided