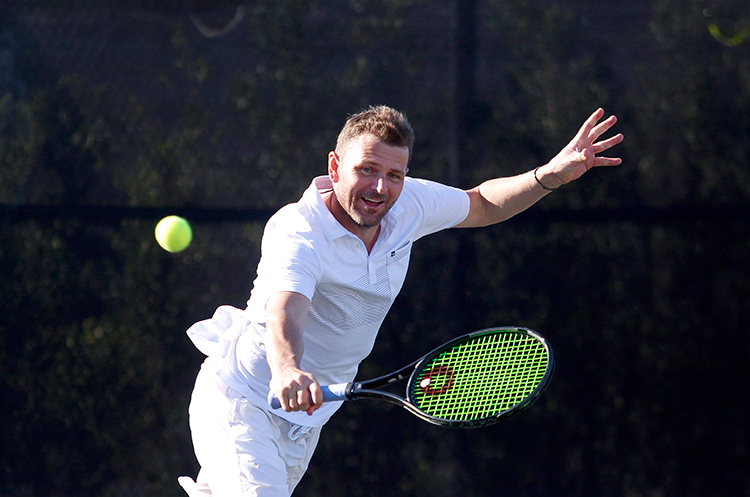 Mardy Fish sheepishly explained to the 100 or so Windsor residents and their guests why he played in Saturday's tennis exhibition against the famed Bryan brothers – the most successful doubles team in the game's history – with a borrowed racket.
"My rackets made it all the way from Los Angeles," Fish said, referring to his Southern California home, "but they didn't make it from my parents' (Central Beach) house to here."
It was an understandable oversight for Vero Beach's home-grown tennis star, a former top-10 player and 2004 Olympic silver medalist who now serves as the United States' Davis Cup captain.
He doesn't play much, anymore.
"I very rarely even hit balls," said Fish, who turned 40 in December. "I play tennis maybe 10 times a year. This exhibition was the first time I've played this year."
Nowadays, in fact, he plays considerably more golf, which is why he was back in Florida this week – to participate in the Mardy Fish Children's Foundation Golf Fundraiser, held Monday at Windsor, then compete in the Hilton Grand Vacations Tournament of Champions celebrity golf event, which starts today at the Lake Nona Golf & Country Club outside Orlando.
Fish, once described by 18-time major-championship winner Jack Nicklaus as the "best non-professional golfer that I have ever seen play," is the Orlando tournament's defending champion and is seeking his fourth title there.
He also won the prestigious American Century Celebrity Golf Championship at Lake Tahoe, Nevada, in 2020.
It's unlikely, though, you'll see him back in Vero Beach in late April, when the United States Tennis Association $25,000 Pro Circuit men's tournament that bears his foundation's name is played at The Boulevard Tennis Club.
Longtime – and now-deceased – local tennis pro Mike Rahaley brought the minor-league tournament to Vero Beach in 1995, but he turned over its operations to Fish's foundation seven years ago.
Fish, who played in the event early in his pro career, attended the press conference announcing the takeover of the tournament, which since has been managed by his father, Tom, the foundation's president and Windsor's tennis director for the past 30-plus years.
But Fish, whose foundation heralds the tournament as its "most important fundraiser," still hasn't made an appearance at the annual weeklong event that remains the most prominent professional sports event in town.
He said the tournament "comes at a tough time of year" for him because the dates have conflicted with business and personal obligations. His well-chronicled battle with severe anxiety disorder, which interrupted and ultimately ended his playing career, also has contributed to his absence.
However, Fish does plan to return to Vero Beach for the tournament in the not-too-distant future – and play in it.
"I'd love to come back and play doubles," Fish said, offering up the possibility of teaming with friends and former men's tour players Andy Roddick and James Blake, or even his childhood buddy and rival, Robert Kowalczyk, who still lives in town.
"Vero Beach is a very special place for me," he added. "I grew up here. My parents are here. I still have a lot of friends here. I have a lot of memories here. It's my home away from home, and I love coming back here.
Also, his foundation is here.
"I've been approached about expanding the foundation to L.A.," Fish said, "but I want to keep it in Indian River County, because this where it started."
Might he someday move back to Vero Beach?
Not anytime soon, if ever.
"I've got a wife who was born and raised in 90210," Fish said, referring to his 2008 bride, Stacey, a former model with whom he has two children. "She has family there, and they're very close. And we've built a life there.
"But I get back here as much as I can."
Fish was back Saturday, and he seemed to thoroughly enjoy playing in the tennis exhibition at Windsor, where he was paired with Blake's brother, Thomas, a former Harvard University standout who spent four years on the pro tour with most of his success on the doubles court.
Trading sometimes-spectacular shots and humorous commentary on a postcard-perfect afternoon, the players put on an entertaining show as the Bryan brothers won both sets.
"It was a little bit of a mismatch," Thomas Blake told the crowd during an on-court interview, citing the dominance of the Bryans, who retired in 2020. "These guys are unbelievable."
They're also generous: The Bryan twins announced after the match that they were donating $10,000 to Fish's foundation, which also received a portion of the proceeds from ticket sales.
"We go back a long way with Mardy," Mike Bryan said. "We've played Davis Cup together, and he was the captain for our last match."
Photos by Kaila Jones