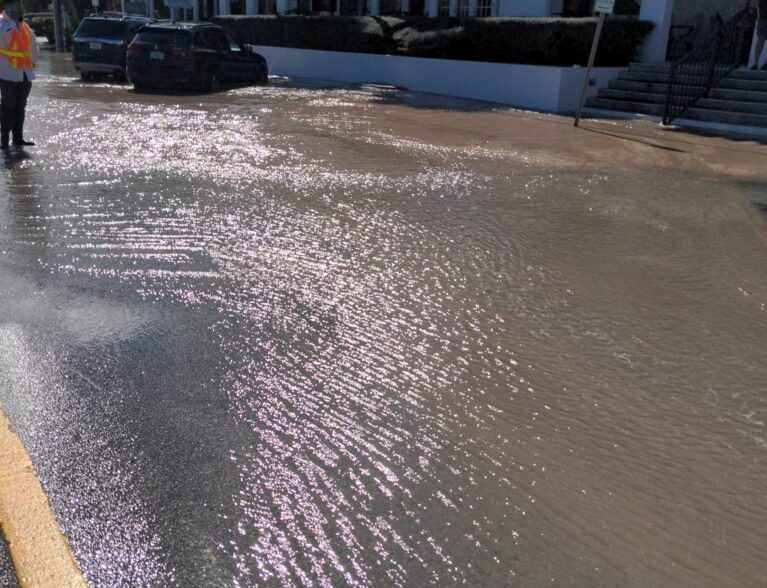 Update: A portion of Ocean Drive was reopened by 7:30 p.m. after being closed from a water main leak Wednesday, police officials said. The water pipe burst about noon, causing severe flooding in the area and leaving several nearby businesses without water.
Vero Beach police had closed Ocean Drive from Easter Lily Lane to Riomar Drive for more than seven hours. Officers reopened the roadway after City of Vero Beach Water & Sewer Department crews repaired the main and when the water level had subsided.
All water was restored to nearby businesses late Wednesday.
Earlier story:
VERO BEACH — A water main leak that flooded Ocean Drive led authorities to close the road as city crews worked to seal the leak Wednesday, police said. Officers said Ocean Drive was expected to be shut down for several hours from the severe flooding, which left several nearby stores without water.
The water pipe on Ocean Drive burst about noon, sending water gushing into the street, Vero Beach Police Spokesperson Master Officer Darrell Rivers said. The water flooded the Ocean Drive and Flamevine Lane intersection.
Police closed Ocean Drive from Easter Lily Lane to Riomar Drive, Rivers said.
City of Vero Beach Water and Sewer Department crews were at the scene working to repair the broken pipe, Rivers said. Rivers said police will reopen the roadway once the pipe is repaired and the water subsides.
Rivers said the pipe is part of the city's old infrastructure. He added that it's not uncommon for older water mains to burst.
No further details were immediately available.