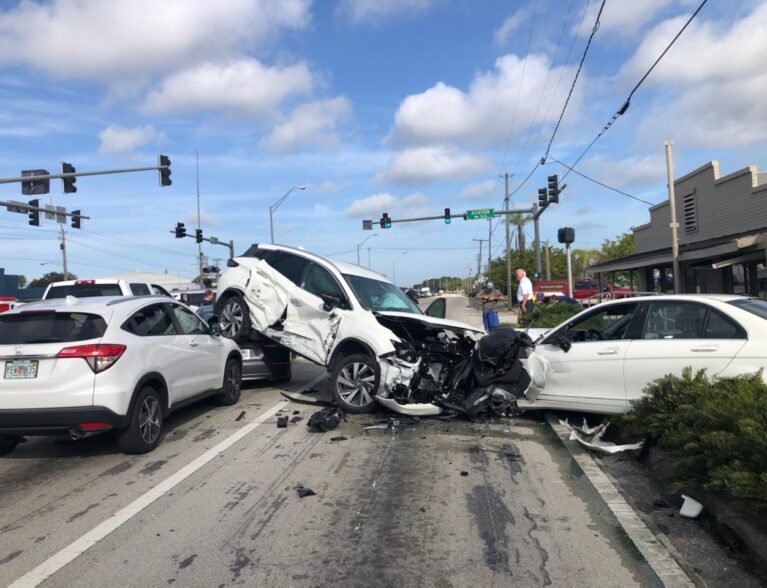 VERO BEACH — A man was jailed after deputies said he ran a red light in a stolen vehicle and caused a seven-vehicle wreck Monday on U.S. 1, leaving a woman seriously hurt. The man had run away from a hospital after he was taken there by an ambulance following the crash, police said.
Adam Thomas Leisenring, 37, of Fort Pierce, was charged with driving with a suspended license habitual felony and resisting arrest without violence. Leisenring was released Tuesday from the Indian River County Jail on $7,500 bond.
The injured woman – in her 50's – was taken by ambulance to Lawnwood Regional Medical Center & Heart Institute in Fort Pierce, Vero Beach police spokesperson Master Officer Darrell Rivers previously said. It was unclear if the woman had been released from the hospital Thursday.
Police later learned Leisenring had stolen his father's vehicle – a white 2020 Nissan Murano – before causing the multi-vehicle crash. The state attorney's office did not file a grand theft auto charge against Leisenring because his father refused to cooperate, Rivers said.
The collision happened about 10 a.m. Monday near the 3100 block of U.S. 1. Rivers said Leisenring was driving the Nissan southbound when he ran a red light and crashed into a 2007 GMC pickup truck turning left onto U.S. 1 from Aviation Boulevard.
The Nissan bounced off the truck and went into the northbound lanes. The Nissan then crashed into a dark-colored 2019 Honda Accord and traveled over the roof of the vehicle, reports show.
The front of the Nissan crashed into a white 2010 Mercedes. Three other vehicles were also struck in the chain-reaction collision, reports show.
Leisenring was taken by ambulance to Cleveland Clinic Indian River Hospital, but ran off. Officers found him about 3 p.m. Monday after he came from behind a building in the 900 block of 17th Place.
Leisenring was taken to the emergency room for treatment and then booked into the county jail. The crash caused $84,500 in damages total to the vehicles involved, reports show.
A search of Leisenring's record showed his driver's license had 12 active suspensions dating back to 2017, reports show. Leisenring also had two revocations and a license cancellation that were also active.
Leisenring was classified as a habitual traffic offender on Aug. 31, 2020; he was issued a five-year revocation starting on that date, reports show.
Leisenring has an arraignment at 8:45 a.m. Feb. 25, court records show.