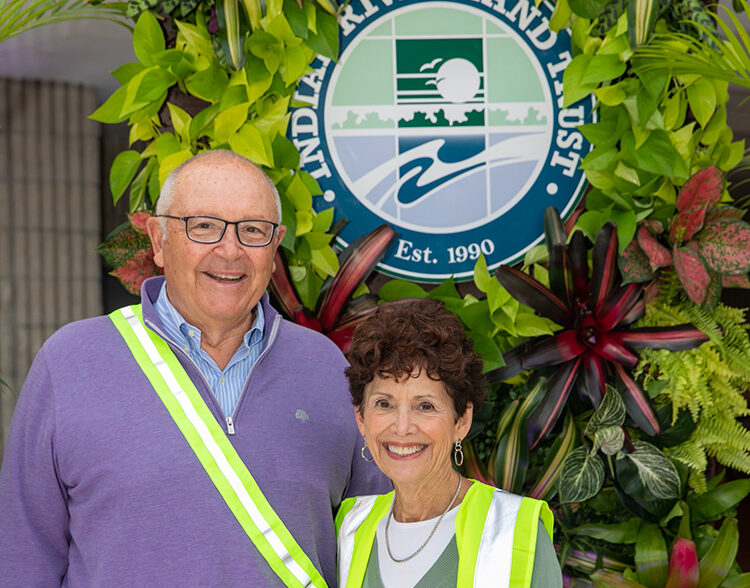 Copying a page from last year's playbook, the Indian River Land Trust opted, for safety's sake, to once again invite its supporters to take part in a 'Picnic to Protect the Land that Protects the Lagoon,' rather than hosting its usual Land Water Wildlife event at Rock City Gardens.
Attendees drove by the office to pick up attractive IRLT tote bags filled with a delicious repast from Wild Thyme Catering of sliced fillet mignon, New England style lobster salad and other goodies, along with wine from Alimentari Gourmet Market. Many of the supporters hosted small gatherings of friends to enjoy their festive dinner together.
"The Land Trust was excited to host its second Picnic to Protect the Lagoon in support of the organization's efforts to preserve wildlife habitat, protect our scenic waterfront and provide access for public recreation and education. The pick-up picnic served over 400 dinners in environmentally friendly, reusable jute bags," said Ken Grudens, IRLT executive director.
"The benefit this year served as the Land Trust's kick-off of the public phase of a $12 million Campaign to Protect the Land that Protects the Lagoon. The goal of the public phase is to complete a $1 million Campaign Challenge put forth by Meg and Donald Steiner by raising an additional $375,000 to meet that challenge. The support of this community is unparalleled so I have no doubt we will reach our goal and take us past the $12 million mark. We appreciate the tremendous support we have received to this point."
The Land Trust, initially formed in 1990 to save McKee Botanical Garden, soon expanded its mission to 'Preserve, Protect and Provide nature to all.'
To date, the nonprofit has protected more than 1,200 acres and 12 miles of lagoon shoreline, including the important acquisition of the 65-acre Hoffmann property, located below and north of the Merrill Barber Bridge. The Land Trust has steadfastly restored vital wildlife habitats and highly sensitive salt marshes and is working on designs for a research and education facility at its Coastal Oaks Preserve property.
Grudens also announced the appointment of Melissa DePriest as their new director of philanthropy and marketing. A native Floridian, DePriest previously worked in fundraising and outreach for the College Foundation of Indian River State College.
For more information, visit www.irlt.org.
Photos provided