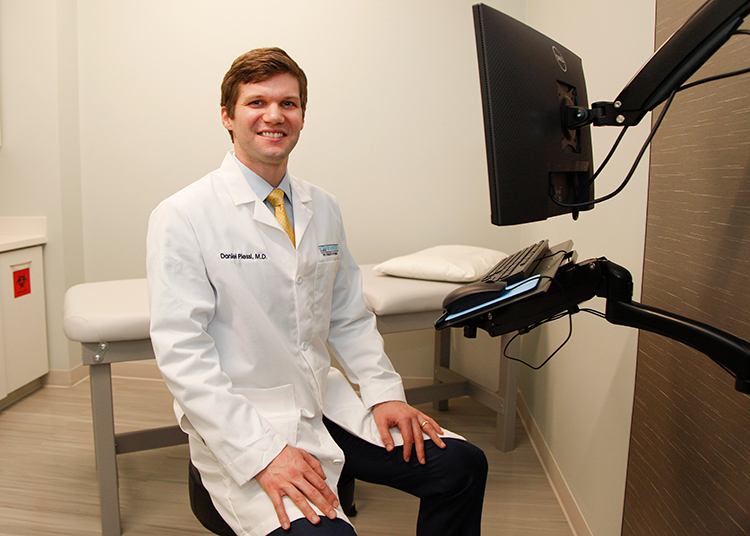 Dr. Daniel Plessl, a Harvard-trained physician who joined Vero Orthopaedics in September, developed an interest in sports medicine through his own involvement in sports. "I grew up playing sports and I wanted to pursue a medical specialty where I could take care of patients and keep them active," he said.
"The field of orthopedics gives doctors the benefit of getting instant gratification from some of the surgeries we do. If someone breaks a hip, we can fix it with an implant that allows them to start walking immediately. We can replace shoulders and knees and also do minimally invasive repair procedures for the joints, which gives us the ability to make huge changes in our patients' lives."
Rotator cuff tears in the shoulder are one of the most common injuries that Dr. Plessl sees. A rotator cuff tear is a rip in the group of four muscles and tendons that stabilize your shoulder's ball and socket joint and let you lift and rotate your arms. There are two ways you can tear your rotator cuff. You can injure your shoulder with a trauma like a car accident or lifting something heavy, or you can wear down your tendons over time with no specific injuries.
"If the rotator cuff is worn down with no specific injury, we can generally treat those types of tears with medication, injections or physical therapy," Dr. Plessl explained. "A tear from trauma might be severe enough that it requires us to go in and repair the rotator cuff in order to restore the function of the shoulder."
A worn rotator cuff is called a degenerative tear that comes with age or simply wearing down the tendon over time. People working at jobs such as house painting and construction are at risk for rotator cuff tears because of the repetitive overhead motion of the arms. These types of tears are usually treated with medication, injections and physical therapy.
"The first step we'll take is to manage the symptoms with a combination of anti-inflammatory medicines as well as injections into the shoulder," Dr. Plessl continued. "Physical therapy will help maintain the range of motion by strengthening other muscles around the shoulder. We address the issue conservatively first and hope it continues to ease the pain. We have patients who get a corticosteroid injection every few months and never require surgery."
If surgery is necessary, it is done arthroscopically in an outpatient setting. "The surgery is the easy part," Dr. Plessl said. "The difficult part is rehab. We repair the torn tendon back to the bone, but it takes your body about three months to recover in a sling and six months in rehab to gain motion and strength back. Overall recovery time is six to nine months, but for someone who hasn't been able to sleep for a while it's very satisfying. We may not be curing cancer, but we make a substantial impact on their life."
When advanced osteoarthritis or chronic rotator cuff problems in the shoulder result in pain and loss of function, and nonsurgical treatments no longer help, joint replacement surgery can be an option. Advancements in implant design have improved the outcomes and longevity of shoulder replacement in recent years. According to Cleveland Clinic, more that 70,000 shoulder replacement surgeries are done annually, making the fastest growing joint replacement procedure.
"Shoulder replacement is open surgery," Dr. Plessl explained. "There are two main types of total shoulder replacement. For patients with shoulder arthritis pain without significant damage to the rotator cuff, we perform an anatomic shoulder replacement. For those with rotator cuff tears that can't be repaired, we advise reverse shoulder replacement."
Cleveland Clinic describes the anatomic shoulder replacement as a two-part implant that replaces the joint. The component that goes on the upper arm bone is a metal ball connected to a stem that is inserted down the humerus. The other piece is a cup-shaped piece of plastic to replace the socket. It is called an anatomic shoulder replacement because the implant mimics the normal shoulder anatomy. The limitation of this surgery is that you must have an intact rotator cuff because the rotator cuff keeps the ball seated in the shallow socket at the shoulder joint while other muscles around the shoulder cause the joint to move.
In a reverse shoulder replacement, the positions of the two components of the implant are reversed. "We flip the position of the ball and socket," said Dr. Plessl. "This procedure is reserved for patients that don't have a functioning rotator cuff." By putting the ball on the socket side and the socket on the ball side, it solves the problem of not having rotator cuff muscles to keep the joint stable. The socket can be made deeper, and the two implants are linked.
In either shoulder replacement procedure, the patient is normally able to go home the day after the surgery and regain good function after three months with it improving steadily for the next year. After the anatomic procedure patients regain near normal range of motion compared to a reverse shoulder replacement where the patient will lose about 10 percent to 20 percent range of motion.
"If you experience pain in the shoulder from a specific injury you should see a physician right away," advised Dr. Plessl. "If you have pain in the shoulder without a specific injury it's reasonable to try some over-the-counter medications and rest, but if it persists you should consult your physician.
"Here at Vero Orthopaedics we have a whole spectrum of treatment options. We are surgeons by nature, but if there are more conservative treatments that can help the patient without having a bigger surgery that has a risk, then we won't push them into surgery. Our job as physicians is to help the patient understand the options, risks and benefits of various treatments and help them make the best decision for themselves."
Dr. Daniel Plessl graduated from Virginia Tech Carilion School of Medicine and completed his orthopaedic surgery residency training at Louisiana State University Health Sciences Center in New Orleans. He furthered his training through a subspecialty fellowship in sports medicine through Harvard Medical School and Brigham and Women's Hospital in Boston. He is accepting new patients at Vero Orthopaedics, 3955 Indian River Blvd., Vero Beach. Schedule online at www.veroortho.com or call 772-646-0106.