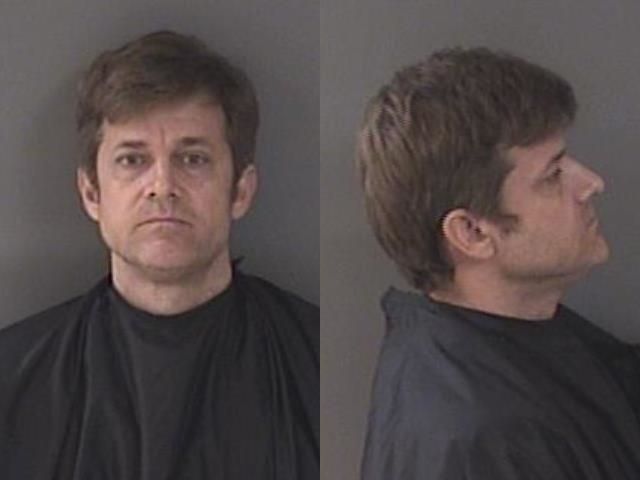 INDIAN RIVER COUNTY — A 44-year-old man was jailed after deputies said he shot his close friend four times in the chest following an argument early last week. It was unclear what the argument was about.
Deputies arrested Scott James Hodges, of the 8600 block of 95th Avenue, Vero Lake Estates, on charges of first-degree murder and possession of stolen property. Hodges was held Wednesday at the Indian River County Jail without bond.
The motive for the shooting was not available.
Hodges helped Indian River County deputies in finding the body of 41-year-old John Robert Spencer, who was reported missing by relatives on Nov. 23, according to sheriff's officials. Spencer, of the 9300 block of 87th Street, Vero Lake Estates, lived less than a mile from Hodges.
Days before Spencer's body was found, deputies put out an alert on social media asking for the public's help in finding the man.
Spencer's relative had last saw him the night of Nov. 21, reports show. When Spencer's family member went to Hodges' home two days later to speak with him, Hodges told the relative "John is not okay and is not coming back," reports show.
Deputies found Spencer's white Honda Accord parked on the northwest side of Hodges' residence. Hodges told deputies he last saw Spencer the night of Nov. 22.
Deputies searched Hodges' residence and found a Smith & Wesson 9 mm handgun, which detectives determined was stolen. Deputies also located a black Glock .40 caliber firearm, which they later learned was used in the shooting, reports show.
Hodges told deputies that Spencer came to his residence on Nov. 22 and was "acting weird," reports show. Hodges grabbed the Glock firearm and tucked it in the back part of his pants before he and Spencer drove to Spencer's home.
Hodges said he saw Spencer was grabbing at what he thought was a gun while he was in the home, reports show. The two then drove to the 8400 block of 90th Avenue.
Hodges pulled his truck over after he and Spencer got in an argument, reports show. The two got out of the vehicle and walked to a wooded area.
Hodges said he pulled out his gun and pointed it at Spencer, reports show. Hodges fired one time, then several more times toward Spencer's chest, deputies said.
When deputies asked Hodges why he pulled out the gun, he said, "It was either him or me," reports show. Deputies said Hodges never said he saw Spencer with a gun, but only thought he might have one.
Deputies searched Spencer and found what appeared to be a tan handgun in a holster in his waistband, reports show.
Deputies arrested Hodges and booked him into the county jail. Hodges has an arraignment at 8:45 a.m. Dec. 30, court records show.