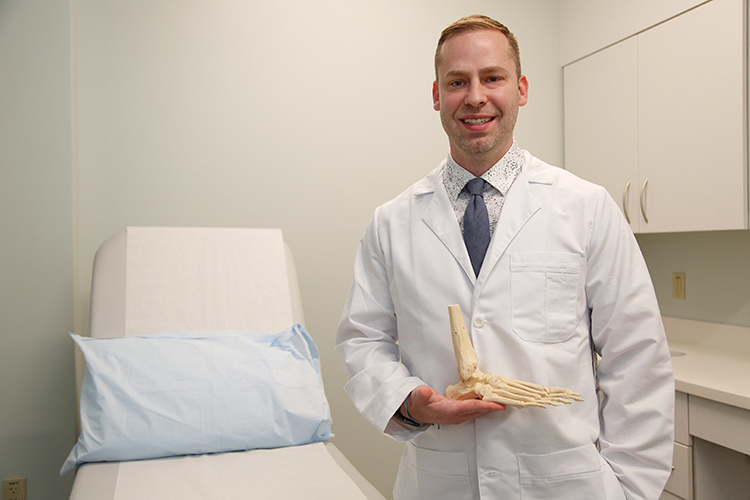 Good news for those with a foot or ankle injury: Dr. Dustin Constant of Vero Orthopaedics says a whopping 80 percent of bone fractures in the foot and ankle, and nearly all sprains, can be treated conservatively without surgery.
"We are an orthopaedic group, but that doesn't mean that by walking in here we'll recommend surgery," Dr. Constant assured. "We have multiple avenues to treat injuries conservatively with various types of injections, bracing and physical therapy.
"We are a team, and we all work together with our specialties. If I know you are being treated for your back, then I may not put you in a walking boot because I know it's going to throw off your back. Or I may put you in a walking boot and a level up which evens out the boot on the other side to make sure we are not causing other issues.
"The older population in this area is very active, and as a result we see a lot of Achilles tendon injuries and plantar fasciitis as well. That's why it's so important to wear the proper footwear and do the proper stretching."
It can be difficult to tell the difference between a broken foot or ankle or a sprain because the pain level in both can be quite severe. Generally speaking, you either get ligament tearing, which is a sprain, or you get a fracture from twisting the ankle, but not both. Both injuries are caused by the same motion, and they are hard to differentiate without an X-ray.
If you are unable to bear weight on the foot, then seeing a doctor is the only way to find out the extent of the injury. There's no need to wait until the swelling subsides either, because an X-ray will work whether it's swollen or not. The doctor provides devices and treatments that help the body heal itself or suggest surgery if required.
"Ligaments torn in a sprain often heal themselves with the proper care," said Dr. Constant. "Just by stabilizing the foot in a boot we can get the patient back to their daily activities. And we can fix most fractures the same way, with just a boot. It the bones aren't displaced we let the body heal itself.
"We also use injections to reduce pain and inflammation in the foot due to tendinitis, arthritis or plantar fasciitis. We start with an oral anti-inflammatory and then progress to a cortisone injection which is also an anti-inflammatory. If those don't resolve the issue over time, we may introduce PRP injections, taking your own body's cells, collecting the growth factors and reinjecting them back into the body to help it heal. We can also do an arthroscopy cleanup of the joint to buy some time."
The ultimate fix for the ankle is a total replacement, where the surgeon puts in a metal implant with a plastic piece in between that allows the joint to glide. This procedure depends on the deformity of the ankle and some patients are not candidates for the procedure, so they get an ankle fusion instead.
During this procedure, the ankle joint is fused in a 90-degree position enabling the patient to walk but is less mobile and flexible than the total ankle replacement.
So, what can be done about that toe you caught on the edge of the bed and it's all swollen and extremely painful? Again, broken toes usually don't require surgical intervention. "There are many times we have to reposition them like when the outside toe is sticking off to the side. I have to put it back in place so it's in a better position to heal," Dr. Constant explained. "If it's not repositioned it will heal in that broken position and be a problem for the rest of your life."
The shape of your foot is hereditary – if your mom had flat feet, chances are you'll have flat feet too. According to Dr. Constant, the majority of people do have flat feet, but there is no need to seek treatment for this condition unless they hurt.
"Occasionally we'll have a child that has an extremely flat foot going into their teens and there are procedures to help prevent from developing a worsening flat foot for life," he explained. "We can operate cutting and sliding the bones around so that while the child develops, the growth plates grow in a better position. This one simple procedure corrects the condition for life."
With all the things that can go wrong with our feet, what is our best protection? Not surprisingly, proper footwear and stretching.
Dr. Constant advises wearing orthotics in the shoes, especially for children while they are developing. By lifting up those bones and supporting the arch, they can grow in a more normal fashion.
"We partner with a company that helps us with our kids by developing orthotics that can be swapped out every year as they grow up until the age of 13. We can start putting them in at age 8 and as long as we scan them again each year, they'll send an updated one every year at no additional cost. That is a substantial savings since custom orthotics can cost between $400-$500. Since adults' feet don't change in size, they can wear a pair for five to 10 years and we can even resurface them for longer use."
Some over-the-counter orthotics can be effective, although Dr. Constant recommends purchasing them from your local sporting footwear store, podiatrist or doctor so they can be fitted properly. While you can get them inexpensively at the drug store, their effectiveness won't be the same as if they are fitted to your foot. And yes, ladies, they make orthotics for your heels.
Most importantly, remember RICE therapy: rest, ice, compression, elevation. You are fighting gravity all day long so don't hesitate to rest, ice and elevate your feet and ankles. Take care of your feet and your feet will take care of you.
Dr. Dustin Constant is a fellowship trained foot and ankle surgeon who joined Vero Orthopaedics in 2020. He earned his Doctor of Podiatric Medicine at Barry University School of Podiatric Medicine, Miami Shores, Florida, and completed his residency training at Yale New Haven Health System in New Haven, Connecticut. He advanced his training through a fellowship at Coordinated Health in Bethlehem, Pennsylvania. He is accepting new patients at Vero Orthopaedics, 3955 Indian River Blvd., Vero Beach. Book online or call 772-569-2330.