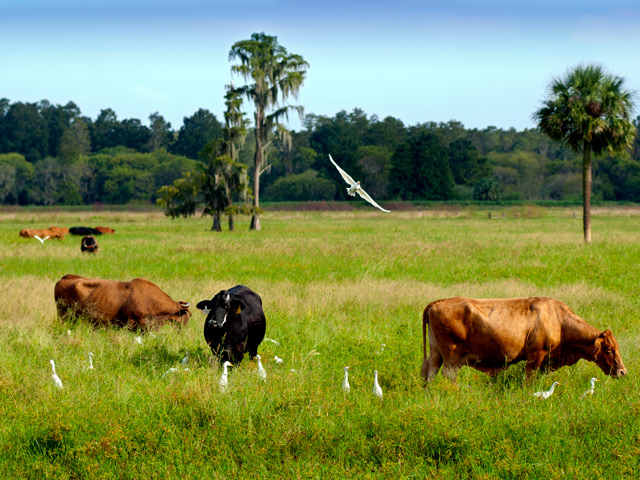 A Western bad guy arrested for stealing more than $300,000 from a ranch west of Vero and from a major regional livestock market started his career in crime posing as a hunting guide before moving into modern cattle rustling, according to court documents.
Scott Eric Smith, who is currently awaiting trial in both Indian River and Okeechobee counties for selling cattle belonging to Bhatka Farms and pocketing the money, booked two California businessmen for a guided Wyoming hunting trip in the spring of 2011 and charged them $2,900 each, but when the hunters showed up at the meeting place, they were stood up.
"The victim stated he feels the defendant set them up from the beginning and did it for monetary gain," court records of a police interview with one of the businessmen show.
Smith was arrested on Christmas Eve 2012, and the hunting-guide scheme earned him 90 days in jail, plus three years of probation, starting in June 2013.
Near the end of his probation, Smith skipped town, according to court records. California charged Smith with violating his three-year probation and in 2017, police finally took him into custody and an L.A. County judge sentenced him to 16 months in jail.
After his release, Smith left California behind, moved to Wyoming and got a job at a family-owned ranch near Laramie. The ranch's owner discovered that Smith had sold cattle, expensive farm equipment and even baled hay from the ranch and kept the money. He also allegedly presented forged receipts for purchases never made and got reimbursed for funds he'd never put out.
By the time the full extent of Smith's theft from that ranch was known and a case was finalized against him in Albany County, Wyoming, Smith was already planning his move east.
Smith told police he was hired by Bhakta Farms over the phone during COVID-19 lockdowns, and worked remotely. Before showing up at the ranch here in June 2020, Smith spent more than $500 at Western boot stores – presumably to look the part for his new job.
Toni Linke, finance director for Bhakta Farms, said in a deposition the company ran a background check on Smith but neither his conviction in California nor an arrest warrant from Wyoming on 31 felony counts was discovered. Smith was given a position of trust at the ranch – but his written employment agreement stated he was not permitted to enter into contracts on behalf of Bhakta Farms.
The Indian River County Sheriff's case against Smith accuses him of selling livestock without authorization five times in August and September of 2020, and pocketing the $47,000 proceeds.
The Okeechobee County Sheriff's case against Smith is more serious and will be tried first.
Police say Smith sold $279,000 worth of cattle to a buyer using the Okeechobee Livestock Market as a broker. When two months went by and the check had not been cashed, Smith arranged for a new check to be cut to his own business account, Smith Livestock Services, and signed paperwork saying he was authorized to do so.
Smith cashed the replacement check from the livestock market, spending $146,000 on a 2016 Chevy Corvette and a 2021 Chevy Tahoe deeded to his wife Denise Lynn Smith. Smith told Denise the money he got was "a bonus" for all his hard work, and that his supervisor told him to buy something nice with it.
The couple spent more than $15,000 at Seminole Hard Rock Casino in South Florida, and took several trips by airplane. They went shopping for electronics at Best Buy and for luxury goods at Louis Vuitton.