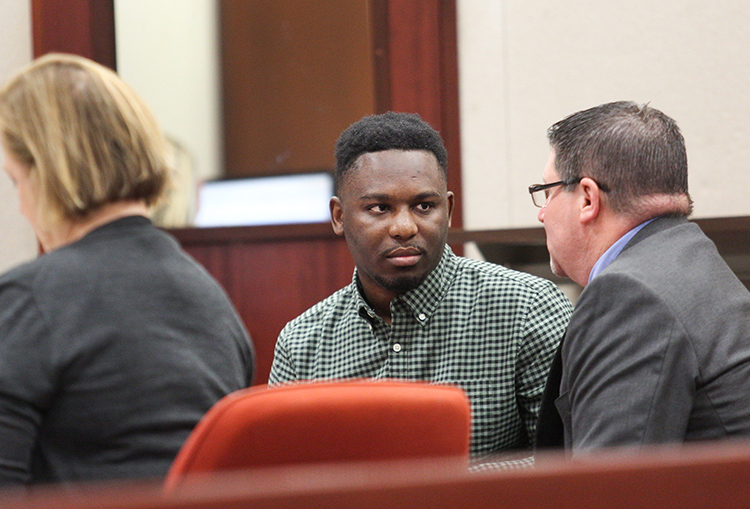 After four years, differing stories from authorities, protests and questions of self-defense, the trial for Andrew Coffee IV began on Monday morning at the Indian River County Courthouse. The trial stems from a fatal 2017 drug raid in Gifford where Coffee's girlfriend – lying in bed – was killed in a crossfire between him and deputies.
With the six-person jury looking on, prosecutors and defense attorneys painted dramatically different versions of the raid. Coffee, wearing a green and black plaid shirt, sat quietly next to his defense attorneys during the second-degree murder trial.
Assistant State Attorney Bill Long said Coffee used deadly force on law enforcement officers and wanted them dead. Long said deputies were forced to fire back at Coffee.
Coffee's girlfriend, Alteria Woods, was struck 10 times from the bullets. Medical examiners later determined the bullets that killed Woods came from deputies.
"She died because Coffee chose to open fire on law enforcement," Long said during opening statements.
Defense Attorney Julia Graves told a different narrative detailing how Coffee had just worked a double shift at his two jobs, went to his home with Woods, fell asleep and woke up to what he thought was an unknown intruder breaking into his residence. Graves said Coffee, who goes by the nickname 'A.J.,' "lost the love of his life" in the raid.
"His concern was for (Woods) and himself. That caused him to shoot," Graves said during opening statements. "This is a difficult case. These are terrible crimes my client is accused of. There are two sides to a story."
Long also said that deputies yelled "sheriff's office search warrant" multiple times during the raid, according to statements taken from officers after the raid. Graves questioned if Coffee heard the announcements amid the flash bangs – which she said leaves a person temporarily deafened, blind and disoriented – that were detonated by deputies.
Circuit Court Judge Dan Vaughn is overseeing the trial – expected to last three days – in courtroom five. The trial comes five months after Coffee was denied Stand Your Ground immunity in the case.
Coffee, now 27, has been held at the Indian River County Jail on $440,000 bond ever since the raid that took place at a home March 19 in the 4500 block of 35th Avenue in Gifford, where he lived with relatives. Indian River County sheriff's officials – who conducted their own investigation into the raid – said Coffee initially fired at deputies, causing them to return fire.
Coffee, who was not the target of the raid, said he fired at what he thought were home intruders.
Prosecutors charged Coffee with murder in connection with Woods' death, adding the belief Coffee committed a felony and he should have known his response would cause harm to others.
Coffee faces life in prison if convicted on the charges, prosecutors said. Those charges include second-degree murder with a firearm, three counts of attempted first-degree murder of a law enforcement officer by discharging a weapon, possession of a firearm by a convicted felon and shooting or throwing a deadly missile.
SWAT team prepares for drug raid
Prosecutors called five witnesses to the stand, including the three officers who fired shots in the drug raid. Those law enforcement officers are Cpl. Patrick White, retired Indian River Shores Officer Richard Rick Sarcinello and Sgt. Christopher Reeve.
The officers described how they planned to execute the early morning raid. At least 14 officers, including the SWAT team, were present during the search warrant that occurred at 5:30 a.m., White said
Reeves, who has been on the SWAT team for nine years, said members were wearing camouflage pants, green shirts with the word "SWAT" on the sleeves, helmets, ear protection with microphones for radios, bullet proof vests and gun holsters. SWAT team members are equipped with rifles and .45 caliber handguns, Reeves said.
Reeves said Coffee IV's father, Coffee III, was the target of the raid. Deputies learned Coffee III, who goes by the nickname 'Cheesy,' had 14 grams of cocaine and firearms at his residence.
Reeves said the search warrant was for the entire home. The residence is located in a lot down the road from five small churches.
The small home was built in the 1950's, is made of wood and has thin walls, White said. The officers said they planned to execute the raid in the early morning hours because they thought everyone would be asleep.
Raid goes wrong
Reeve said deputies did not know if the youngest Coffee would be inside the residence. The officers said they planned a knock-and-announce warrant.
When Coffee III opened the main door before deputies could knock, officers took him into custody. Reeves – who was positioned on the east side of the home with Sarcinello – said he heard officers announcing themselves to Coffee III.
"We always make sure our presence is known and why we're there," Reeves said.
Deputies then tossed a flash bang in the home, according to deputies.
White gave an order over the radio for Sarcinello and Reeves to break the bedroom window they were positioned near, officers said. This is the same room where Coffee and Woods were lying in bed.
Reeves said he used a rake-and-break pole to knock out the window while Sarcinello yelled "sheriff's office search warrant." Reeves then detonated a flash bang into the bedroom.
"I heard a male's voice say 'oh (expletive),'" Reeves said.
Reeves said the room was pitch black before it illuminated sporadically from gunfire.
"Several shots came from inside the room," Reeves said. "It happened in a quick time frame."
Sarcinello said he took on gunfire right away.
"I saw a round muzzle flash. That means it was coming right at me," Sarcinello said. "I returned gunfire."
Investigators later learned the shots that killed Woods came from Sarcinello's rifle.
White, who was still on the other side of the home, said he heard Sarcinello yelling "Pat we're taking fire" on the radio. White then went to the window and yelled "show me your hands," the officers said.
White, who had a handgun, exchanged gunfire with Coffee, who he said hid behind the drywall in the hallway. Coffee eventually surrendered.
Deputies said they tried to render aid to Woods, but she had already died.
White, Reeves and Sarcinello are being sued in federal court by Woods' mother, Yolanda Woods, for misconduct. Coffee's trial was expected to resume at 9 a.m. Tuesday.