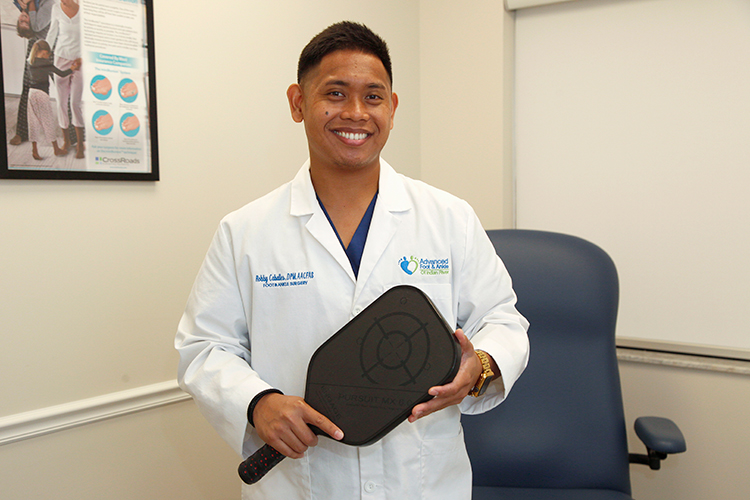 Pickleball is the fastest growing sport in the U.S. and pickleball injuries are growing right along with the fast, fun racquet game.
The Sports and Fitness Industry reported that the number of people playing pickleball increased by a fairly amazing 21 percent in 2020. Of the 4.2 million U.S. players counted in the report, 2.8 million were 'casual' players who play one to seven times a year, while 1.4 million were 'core' players who play eight or more times a year. Older adults are flocking to pickleball because it promotes competitiveness and socialization, and 60 percent of 'core 'players are 55 or older.
But, along with the increase in participation comes an increase in pickleball pain.
"Pickleball is a great playing field for the Average Joe to really excel in an activity even during later stages of life," Vero Beach podiatrist Dr. Robby Caballes said. "Seniors are excitedly hopping into the sport, but they are not doing enough stretching and not wearing the right shoes. So many of the injuries I see like plantar fasciitis, Achilles tendonitis, peroneal tendonitis and ankle sprains could be prevented with a little education."
According to Dr. Caballes, the No. 1 culprit of pickleball injuries is improper shoes. "So many new pickleball players show up to the court in running shoes which are not suited for the sport.
Players need to invest in a good pair of court or tennis shoes which typically have a flatter sole and have a different grip adapted to the surface of the tennis or pickleball court. It's a hard court so they need a lot more lateral stability in the structure of the shoe itself," he said.
Since running shoes are often constructed with a mesh material, they aren't best for the lateral ankle movement in pickleball or tennis. Supportive court shoes can be found online at sites dedicated to tennis shoes, specialty shoe stores or even from a catalogue in a doctor's office.
Players should run their shoe choice by their podiatrist as the doctor can make recommendations.
The second most important preventative measure is stretching. "This sport is cut from the same fabric as tennis and it's very demanding on the feet," Dr. Caballes continued. "Players should stretch before, during and after the match to keep the ligaments loose. A simple stretch is to face a wall and lean against it with your leg straight and the heel on the ground. If you can feel a tight pull on the calf, you are doing the stretch correctly."
Thirdly, players should have realistic expectations about their performance. "It's an easy sport to excel in and everyone wants to be the best," Dr. Caballes said, "but players should acknowledge their limitations and accept that they may not be able to run back and forth or side to side as much as they'd like to. With the right preparation and attitude, the benefits of exercise far outweigh the risks of injury in pickleball, but you have to play smart."
Most of the injuries associated with pickleball are soft tissue injuries that can take up to four weeks to heal. "I don't see too many fractures from the sport but soft tissue injuries like plantar fasciitis and tendonitis can be very painful and debilitating," Dr. Caballes warned.
The most common symptom for plantar fasciitis and tendonitis is heel pain. There is a deep tenderness in the back of the heel that makes it difficult to walk. Other patients experience lateral heel pain toward the outside of the heel. The pain is intense, especially when someone first gets up after sleeping, and it needs to be treated aggressively.
"The first thing we'll do is try to immobilize the patient as much as possible to calm the inflammation," said Dr. Caballes. "It can take up to a week for the swelling to subside. After that we can prescribe an anti-inflammatory medication and give them stretching exercises.
"Sometimes, in severe cases, physical therapy may be needed, but in most cases the injury will heal on its own with time, and rest."
Stretching is the passkey to recovery as well as prevention. Should you experience heel pain, a good remedy is the ice bottle roll. Simply freeze a water bottle and roll your foot back and forth over the bottle.
Another good stretch: When seated or in bed, use a stretching band to pull a straightened leg forward for a period of 10 to 15 seconds and repeat the repetitive motion for three or four sets.
Eventually the pain will go away. After that, it is wise to continue stretching daily, making it a part of your daily routine just like brushing your teeth.
While soft tissue injuries are fairly simple to treat, more serious injuries like an ankle or metatarsal fracture require more complex treatment.
"Not every fracture needs surgery," Dr. Caballes assured. "Some fractures can be treated conservatively as long as they are within an acceptable parameter with minimal gapping and anatomic alignment and the bone is not really displaced. If surgery is needed, I can do that as well. My patients don't need to go to an orthopedic surgeon for a foot injury. My training encompasses all injuries to the feet and ankles.
"The majority of what I do in this practice is surgical from flat foot reconstruction to total ankle replacement. The field of podiatry is a broad field and has advanced as a surgical field, so if the injury is below mid shin, a podiatrist can address it.
"We like to say our treatment covers the smallest tissue to the biggest issue."
Dr. Robby Caballes was born and raised in Miami where he played competitive high school tennis. He attended Florida International University and pursued his doctorate at Barry University School of Medicine. After he completed his three-year surgical residency at Bethesda Hospital in Boynton Beach, he moved to Vero Beach to join his brother Dr. Timothy Caballes in his podiatry practice – Advanced Foot and Ankle of Indian River County – which has offices in Sebastian at 13852 U.S. 1 and in Vero Beach at 3735 11th Circle, Suite 201. To schedule an appointment, call 772-299-7009.