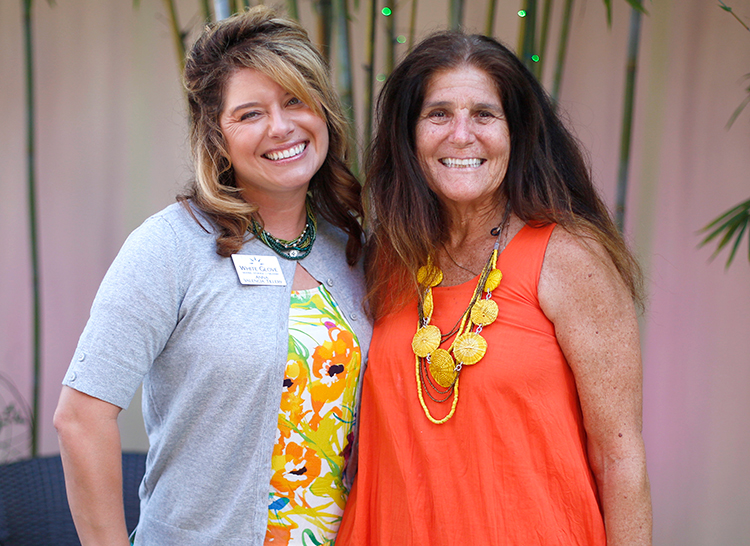 Supporters of the Cultural Council of Indian River County gathered at Post & Vine recently to attend a Cultural Arts Guide 2021-22 Reveal Party, where they were given a first look at the newly released publication, now in its 17th year.
The guide highlights the myriad arts and cultural opportunities offered to residents and visitors, with listings by date and in six sections: Theater and Dance; Concerts, Opera, Orchestra and Symphony; Fine Arts, Galleries and Museums; Speaker Series, Lectures, Literary and Film; Community Events and Festivals; and Children's Activities.
Board chair Alicia Quinn expounded on other projects being undertaken, including an expansion of Art in Public Places locations to the entire county. Currently, the alternating shows of local artists' works are coordinated by Mark Wygonik at the County Administration Buildings A and B, the Intergenerational (IG) Center and Vero Beach Regional Airport and by Lee Smith for the Indian River County Courthouse. The next location will be the Fellsmere City Hall, and they are working to secure a site in Sebastian.
Additionally, the Vero Beach Museum of Art invited Cultural Council members to take part in a juried exhibition of about 50 pieces in conjunction with their recently opened 'American Perspective: Stories from the American Folk Art Museum Collection.'
A call to artists was issued over the summer to CCIRC members and those affiliated with a member gallery or club to submit 2D or 3D artworks. The exhibition opens in the Patten Community Gallery on Oct. 27 and runs through Nov. 28.
"We're very much looking forward to it; it's a very exciting show of contemporary folk art," said Quinn.
Another project has just entered phase one, funded by a state grant, to address potential areas of need within the arts.
"The initial grant was to survey all of the arts organizations in our county, to get a feeling for what they establish as the needs of the artists and arts organizations, and suggestions as to how they feel things should move forward," said Quinn.
The goal, she said, is to develop a countywide arts plan that will address those identified needs. Cynthia Callander was recently hired as a contractor to oversee the first phase, and they are in the process of writing a grant request to fund phase two.
"That's just taking off, but I think it's going to go very well. The second part, if we get the grant, will be taking the results of this survey and applying them," said Quinn.
Looking ahead, she said they have applied for a grant from the National Endowment for the Arts to look into ways of augmenting their weekly e-newsletter, possibly through a podcast, to provide increased publicity about cultural and arts events in the county.
And they are working with the Arts Mid-Hudson group in New York's Ulster and Dutchess counties through an exchange of ads.
"There are many of the same kinds of arts establishments available in those areas," Quinn explained. "We're thinking people who want to get out of the cold climate in the winter might like to come to a place that has the cultural arts they're used to."
The Cultural Council is now situated within the IRC Chamber of Commerce Alma Lee Loy building, which Quinn says has increased their visibility.
"It's been wonderful. It's a great location for us and the collaboration with the chamber has been very good for us," said Quinn.
For more information, visit cultural-council.org.
Photos by Kaila Jones