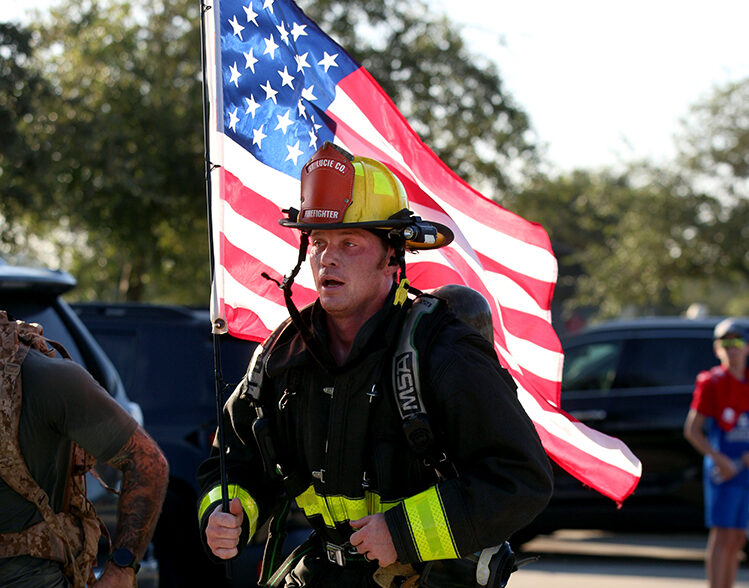 Because of the recent surge in COVID cases, it was a smaller than usual crowd of roughly 300 people who showed up last Saturday for the Vero Beach Tunnel to Towers 5K Run & Walk at Riverside Park to benefit the Tunnel to Towers Foundation.
"It got canceled last year; we weren't even allowed to be in the park," said Gina Kempf, race director. Despite all obstacles, she said the event raised more than $110,000. "Record breaking by a lot."
Tunnel to Towers originated in New York in 2002 as a tribute to all 2,977 victims of the Sept. 11, 2001, terrorist attacks, particularly the 343 NYC firefighters and first responders who sacrificed their lives by running toward danger. The New York City event, too, was canceled in 2020.
The race symbolizes the acts of Stephen Siller, a firefighter with Brooklyn's Squad 1. Upon learning of the terrorist attack, Siller ran through the Brooklyn Battery Tunnel, weighted down with 60 pounds of gear, to the World Trade Center's Twin Towers. He, and 11 others from that squad, would never return home.
Proceeds support numerous programs of the Tunnel to Towers Foundation, such as assisting first responders and military service members and their families. To mark the 20th anniversary, the foundation has pledged to deliver 200 mortgage-free homes in 2021 to heroes who epitomize that legacy of selflessness.
Additionally, a Never Forget Walk was undertaken by foundation chairman/CEO Frank Siller, Stephen's brother. On Aug. 1, he embarked on a more than 500-mile trek through six states in six weeks, making stops at the Pentagon and Shanksville, Penn., before ending on 9/11 at Ground Zero. At one of the stops, Siller related that the foundation was building a mortgage-free home for the pregnant wife of one of the 13 service members killed in Kabul.
Kempf said planning for Tunnel to Towers kicks into high gear in February. Although encouraged by the pandemic's downward trend this spring, they became disheartened by the ensuing summer surge, generated as much by ignorance as contagion.
"The Delta variant has changed the game completely, from the age group to the demographics to the location; from the believers to the not believers to all of it, the Delta variant really truly changed us and not in a good way at all," said Kempf.
"It is just so extreme in our county right now. The fact that we have a morgue truck backed up to the hospital really pretty much says it all. It's just been a very trying time. You can't just say 'we're going to have an event and just not worry about it,' because that would be irresponsible."
She received comments from both sides – some advising to cancel what could be a super-spreader event and others adamant that it take place, as it was outdoors. To minimize risk, their solution was to have a two-hour rolling start, individually timing those who wished it.
"So what we're hoping is to create a perfect environment of honor, respect and showing the world that Vero Beach has not forgotten."
One of the more commanding aspects of Tunnel to Towers is watching as firefighters and law enforcement personnel participate in full gear.
"Just to see them with that still powerful belief in their brethren and what that stands for, what it means to leave no man on their own, is always a very powerful part of our event. It just reminds us that this is what was happening on 9/11," said Kempf.
However, with COVID hitting our Fire Rescue particularly hard, their turnout was considerably smaller.
"I know that there's a very high level of people that are either out with COVID or are having to cover for people who are out for COVID. I believe right now the number is close to 50 percent who have had COVID-related issues. A lot of our Fire Rescue are having to work overtime to get through these very trying times," said Kempf.
"As much as I love to see them all out there the way we normally do, we can't possibly have that expectation when they're struggling, trying to make our county safe and get patients to the hospital and just do their day-to-day job."
She said Dan Richie, who introduced the event to Vero Beach in 2012, issued a push-up fundraising challenge to his friends as part of his walk, stopping periodically to do 343 pushups along the way. "As though walking 3 miles wasn't enough for him," Kempf said with a laugh.
Kempf annually places 405 images along the start of the route as a visual reminder of first responder lives lost in NYC on 9/11, representing 343 firefighters plus NYPD and Port Authority officers and the K-9 on duty that day.
Added this year were photos of the Kabul victims. Mike Hussey, director of the Sebastian River High School ROTC program, brought an honor guard to pay tribute with Marine, Army and Navy flags.
"I just pray that people will still feel some sense of connectivity back to 9/11. Hopefully they feel a connectivity back to 9/12; that's always my goal," said Kempf, speaking of the country's unity the day after the horrific attacks.
Photos by Kaila Jones