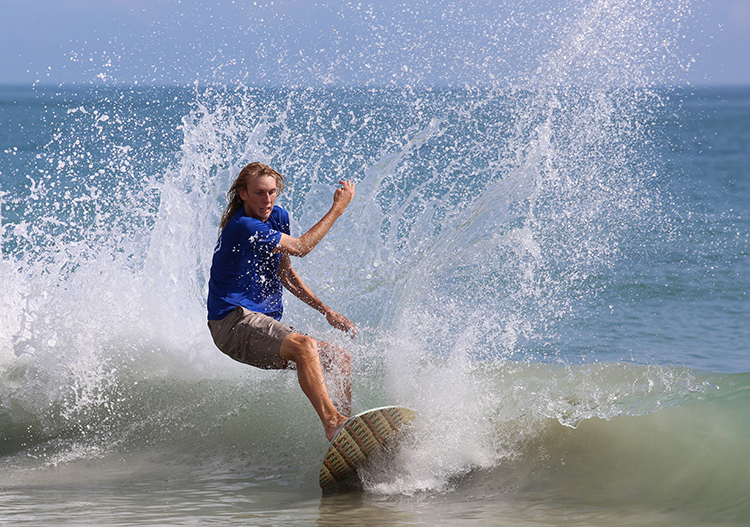 A line was drawn in the sand during the 14th annual Mulligan's Skim Jam at Sexton Plaza Beach, as amateur and professional skimmers descended on the shoreline just off Mulligan's Beach House to participate in the skimboard competition hosted by Shore lb.
Nearly 80 competitors turned out this year, all with visions of gliding across the water's surface to meet the perfect incoming and outgoing waves as they break onto the shoreline, and impressing the crowds with their tricks.
"We were down about 12 percent because of COVID-related travel concerns," said event organizer Chris Ellison, founder/CEO of Shore lb. Despite the pandemic, he said there were still quite a few participants that had traveled from across the country or internationally to take their best shot with the waves.
"The professional division winner was from Melaque," said Ellison, referencing Gerardo Valencia, an internationally recognized skimboarder from Mexico.
"The best waves were in the morning. Then the tide dropped out, but the competitors showed up really well. While the waves could have been a bit better, we were very happy" added Ellison.
It was a sentiment clearly shared by participants and their fans, who had gathered to watch the competitors defy gravity. The beach was dotted with tents providing shade for those planning to spend the day, while sunscreen-coated swimmers and paddleboarders watched from the water.
Additionally, the Sexton Plaza railing was lined with people drawn by the cheers who stayed to watch the drama as it unfolded.
The judging process isn't as simple as it appears, explained Ellison.
"Our judges look at the wave selection to see if the competitors are going after every wave or if they are waiting for a good wave. They also look at the tricks done on the outgoing wave and the tricks coming back in. And finally, the judges are looking to see if they are doing the same tricks over and over again or do they have different tricks in their pocket."
Each year, a portion of the proceeds from Skim Jam are donated to charities that align with the mission of Shore lb. As in years past, the Vero Beach Lifeguard Association was the selected beneficiary.
A former lifeguard, Ellison worked for the City of Vero Beach for 12 years and spoke from personal experience of the lifeguards' need for proper equipment in order to save lives.
"A lot of people don't realize it, but Indian River County is the furthest county north that lifeguards are on shift all year long. If you go just north of the Sebastian Inlet, they only have lifeguards from Memorial Day to Labor Day. You can actually come to our beaches and be safe year-round and have our lifeguards watch over you," said Ellison.
"We support them [VBLA] because we want to make sure that they feel the love of the community. Sometimes our guards are forgotten. They are out there 365 days a year. When everybody else is at home on Christmas morning, Thanksgiving having lunch, and all the other wonderful holidays they get to spend with their families, the lifeguards are actually out there working."
Despite all that they do, he said lifeguards aren't always viewed as being important until they are needed in a crisis situation.
"We're trying to raise awareness of our lifeguards. The city does take care of them, providing equipment and paying their salaries, but we want to supplement that and help them get any extra rescue gear that they possibly need," said Ellison.
He added that skimboarders are generally all-around water people, and that when they need assistance from a lifeguard it's because an accident has happened, adding: "None of us are too far removed from an accident."
The sun-kissed skim board contestants and their families finished the day with an awards ceremony hosted at Walking Tree Brewery.
Next up for Shore lb. is the 11th annual Bodysurfing Contest, Nov. 20 at South Beach Park. Then in March 2022, the first stop on the four-part Skim USA tour is the Shore lb. Throwdown at Sexton Beach.
For more information, visit shorelb.com or vbla.org.
Photos by Kaila Jones