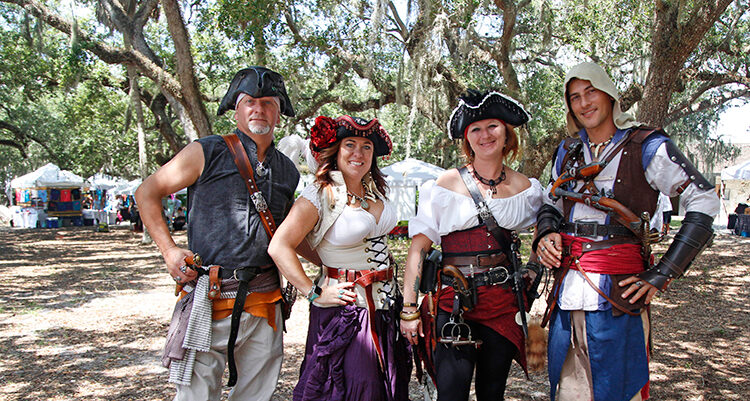 Arrrr! The annual Vero Beach Pirate & Caribbean Festival is where it's happening this weekend. The family-friendly event has atmosphere galore, with an extensive menu of Caribbean foods, tropical drinks, steel drums, calypso and reggae. And, yes, don't forget the rum, pirates and mermaids. The event is held beneath the cooling oak trees in Riverside Park. There will also be themed vendors, interactive games, treasure hunts and much more to keep the whole family entertained. The Bawdy Boys will bring some Irish-inspired tunes (think seafaring shanties and drinking songs). Sweet Justice reggae band will play music from its latest release. A duo known as Bamboo will perform festive island music and Keith Anthony Barbrie will perform on his steel drums and congas. The schedule of events, which is chock full of fun, invites you into a Living History Pirate Encampment where you can see how the crew would have lived on shore (they had to sneak around, they were pirates … arrrr) while waiting for repairs on their ship. There will also be demonstrations of pirate weaponry, thrilling pirate tales, a chance to fight a pirate and a kids' treasure hunt. Festival hours are 2 p.m. to 6 p.m. Friday, 10 a.m. to 6 p.m. Saturday and 10 a.m. to 4 p.m. Sunday. The festival will be held at Riverside Park, 3258 Riverside Park Dr. Admission is free, however organizers are happy to receive a $2 "buck-in-ear" donation per person. For more information, visit VeroBeachPirateFest.com.
Getting into the pirate mood even more, Running Zone Foundation has a "Pirates in the Park 2-Miler" beginning 6:30 p.m. this Saturday, Sept. 18 in Riverside Park. There will be a best pirate costume contest. Registration fees are $25 to $35 for individuals and $10 to $20 for children 12 years and younger. Proceeds benefit the Vero Beach High School cross country team. There is also a free kids short run for children. Free beer for all participants of legal drinking age. There is a random giveaway of a $500 Visa gift card. To register, go to RunningZone.com or 321-751-8890.
The inaugural "Out Run Hunger 5K Run/Walk" will be held 7 a.m. to 9 a.m. this Saturday, Sept. 18, at Causeway Cover Marina, 601 Seaway Dr., Fort Pierce. This course is USATF certified. All participants receive a T-shirt, finisher medal and chip timing. Awards will be given to the top three male and female finishers in various age categories. Registration costs $35. Proceeds will benefit the Treasure Coast Food Bank, which serves children, families and seniors. There will also be a virtual 5K Run/Walk. Packet pick-up is 4 p.m. to 7 p.m. Friday at Cobb's Landing, 200 North Indian River Dr., Fort Pierce. For more information contact StopHunger.org.
Enjoy an Autumn Jazz Concert Saturday afternoon at First Presbyterian Church of Vero Beach. The concert is the culmination of an intensive jazz workshop held earlier in the day. The student ensemble features Mason Farrow on drums, Pat Gordon on bass, Luke Larabie on guitar and Tanner Goulet on sax. The students will be performing with a couple of celebrated professionals – the church's music director, Jason Craig, on keyboards and Paul McCall on trumpet. Admission is free, but you do need to register for it so the church can maintain social distancing. The First Presbyterian Church is at 520 Royal Palm Blvd., Vero Beach. For more information, visit VeroVinoFestival.com.
The Environmental Learning Center invites you to join them at an outdoor cocktail reception for their resident artists. The 64-acre lagoon island campus has two galleries featuring nature art. There will also be music by Michael O'Brien as well as the unveiling of the recently renovated Discovery Station Immersive Flooring. There is a $5 suggested donation. The Environmental Learning Center is on Live Oak Dr., Vero Beach. To RSVP, email art@DiscoverELC.org. Of course, you may want to head there a couple times this coming week because on Monday, Sept. 20, the ELC will have a Full Moon Forest Therapy program from 8 p.m. to 10 p.m. This part of the organization's Nature Wellness program will take you for a moonlight forest therapy walk through its Wabasso Island campus. It's designed to be a slow and gentle walk so that you can unwind and not feel as though you have to get something done in as little time as possible. This is an immersive experience, so expect an amble, not a calorie-burning dynamo walk. The cost is $20 general and $18 ELC member. Call 772-589-5050 or visit DiscoverELC.org.