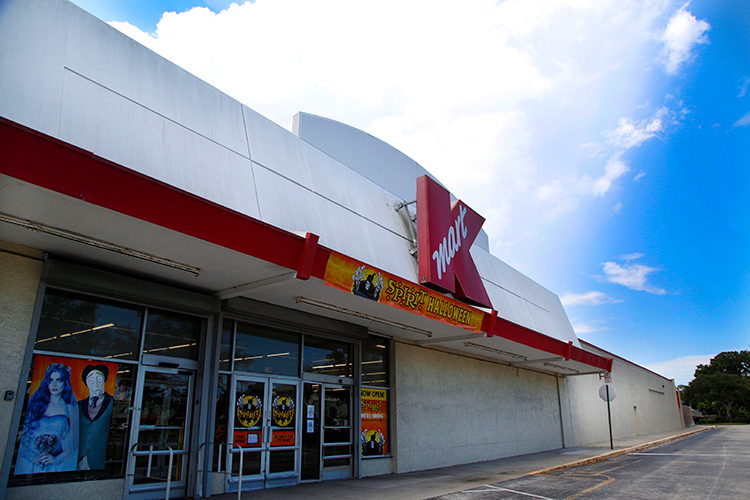 A new restaurant and retail plaza is coming to the Kmart center on U.S. 1 at the same time as impressive new tenants are being lined up for the old Kmart building itself, according to developer and landlord Michael Rechter.
And those are just two of what Rechter calls "a laundry list" of upgrades and additions coming to his U.S. 1 retail properties, which include Majestic Plaza as well as Kmart Plaza and encompass 34 acres stretching from Linus Buick to 16th Place on the west side of the highway.
A wine store that offers tasting events and a luxury salon brand are coming to Majestic Plaza; The Green Marlin is getting an expansive outdoor dining deck; and Rechter will close on the old Poinsettia Groves property in October, gaining space to add another brand that fits with his vision for his shopping centers.
Plans for the new restaurant/retail development filed with the city of Vero Beach show two 4,500-square-foot buildings separated by a dining patio going in at the front of Kmart Plaza on the site of an old retention pond.
Rechter says the design by Atelier d Architecture is flexible enough to accommodate two 3,000-square-foot restaurants with additional outdoor dining space along with a couple of upscale retailers or a 4,500-square-foot eatery in one building with smaller restaurants and shops in the other.
The plaza will front on U.S. 1, separated by a landscape buffer, with parking behind the buildings. Rechter expects it to be complete by late 2022.
"It is an awesome design – very COVID-friendly – and will attract national tenants who love high-traffic areas," says commercial real estate broker Billy Moss.
Meanwhile, Transformco, owner of the Kmart and Sears brands, which leases the Kmart building from Rechter, plans to put three national retailers in the vacant 85,000-square-foot building.
"Tractor Supply has signed a letter of intent," says Rechter. "Hobby Lobby and Floor & Décor are two other tenants that have been mentioned."
Tractor Supply, which handles a wide range of farm and ranch, home and garden, tool and hardware and other supplies, may not sound like a glamorous addition to Vero's retail scene but it is a highly successful brand that reported a 42 percent increase in revenue in the first quarter of 2021.
"We collect the same rent whether the building is empty or occupied but I love the idea Tractor Supply and the other stores going in there because they bring more life to the plaza," says Rechter. "The guy that comes in to buy fertilizer or a riding mower may stop for a smoothie or a meal at one of the restaurants."
Hobby Lobby is a multibillion brand that is steadily opening stores around the country, and Floor & Décor is another rocketing retailer where sales have more than doubled in the past five years, from $1.05 billion to $2.4 billion. Amazon doesn't pose much of a threat since people like to see and touch flooring products before buying them.
"Transformco has a below-market lease that I inherited when I bought Kmart Plaza in 2005 and they can make a good profit subleasing to other retailers," says Rechter.
When the pandemic hit, Rechter, CEO of Fort Lauderdale-based Integra Corporations, shifted his focus from expanding his Vero real estate holdings to upgrading his existing properties.
He estimates he has sunk half a million dollars into new impact glass, roofing, LED lighting and other improvements at the U.S. 1 shopping centers in the past two years, including $100,000 in new TV screens in Vero Bowl, which he owns and operates.
"We are hyper-focused on driving value through improvements and curation of better tenants," he says, noting that wine tasting events at the incoming Cellar Door are likely to attract the kind of clientele he is looking for.
With a movie theater, newly-renovated bowling alley, upscale billiard parlor with a full bar, and a dozen places to eat – including Green Marlin, Izziban Sushi and Spiro's Taverna Greek restaurant – Rechter sees his plazas as a lifestyle center, "a place where a couple can go on a date to see a movie or go bowling and then eat out and finish with a drink at Stix. There aren't many places in Vero like that."
The lifestyle component is supported by scores of utilitarian tenants that keep people coming and going seven days a week, including the Vero Post Office, Treasure Coast Community Health, two churches and a wide range of retailers and service providers.
According to Transformco's website there are 132,528 households with a median income of $51,758 within 10 miles of Rechter's U.S. 1 plazas, which are almost fully leased.
"Michael Rechter has a lot of vision," Moss says. "He has done a great job recreating Majestic Plaza. People buy with their eyes and the way he has brought it up to a contemporary look is fabulous.
"He is a progressive developer who brings in amenities you would find in a bigger city while still keeping a Vero feel. His plazas have a great rhythm. He has a lot of heart for Vero and has been a game changer in the retail scene here."
"I think Vero's future is really bright for a million reasons," Rechter told Vero Beach 32963. "It benefits from the megatrends of people moving to southern states for better weather or tax purposes.
"At the same time, the price of property in south Florida is giving people pause and causing them to look at places like Vero Beach that are a little quieter and more affordable. The drive to online work gives people the ability to live in Vero and keep their jobs in Miami."
"And then you have the country's aging demographic. Boomers are going to keep moving to places like Vero when they retire.
"Vero is a jewel. It really is. As more people realize that, it grows in geometric fashion, one person telling two others and so on."
Photos by Kaila Jones